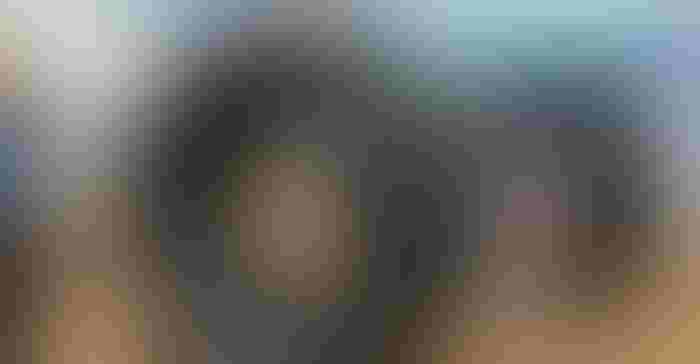 Gone are the days when you went to your tire dealer and told him you wanted the cheapest ply tire available for your tractor. Today's tractors, combines, sprayers and spreaders are tested in many more ways than your John Deere 4020 or Massey-Harris 44 of days gone by. More companies are in the U.S. market offering tires for agriculture today, and they're offering tires exclusively for various uses. You pay more than you used to, but tire reps counter that you get much more as well, including longer wear, better traction and less soil compaction, in many cases.
An earlier slideshow introduced several new tires offered for ag uses today. This slideshow completes the lineup of tires that various companies introduced and Farm Progress editors uncovered at farm shows.
The Michelin FloatXBib leading off this slideshow speaks for itself. If you need flotation in specific situations, this may be the tire for you. Both CEAT Specialty and Maxam introduced new tire models for larger tractors. It's the biggest tractor tire CEAT Specialty has ever produced, spokespeople told a Farm Progress editor. Meanwhile, the Maxam Agrixtra tire was designed specifically with four-wheel-drive tractors in mind.
Titan continues to develop and promote its Low Sidewall Technology tires, which run at lower air pressure in the field. The company is proud of an exclusive agreement with Kubota to supply tires for one of its newer tractor models now available on the U.S. ag market. You can get Titan tires on other Kubota tractors, as well.
Spokespeople for Trelleborg say radial tires in the VF and IF ratings are becoming the standards of the industry today. While Trelleborg didn't introduce a completely new model of tire, it introduced new sizes for several existing tires. This allows its tires to be used on more ag equipment.
You will also note that GRI, relatively new to the U.S. market, introduced a tire designed to hold up longer when used on irrigation rigs. Meanwhile, one of Firestone's new tires is designed exclusively for use on combines.   
Subscribe to receive top agriculture news
Be informed daily with these free e-newsletters
You May Also Like
---