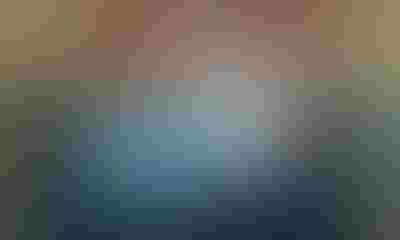 Dick Cates didn't grow up on a farm, but when he was 15 years old his father bought a farm near Spring Green in Iowa County. Dick's father, Dick Sr., had grown up on a farm in Maine during the Great Depression. He moved to Wisconsin in 1947 where he became an attorney. Dick Sr. and his wife had five children. In 1967 he thought farming would be a good way for Dick and his three younger brothers and younger sister to learn how to work.
"My dad didn't want us getting lazy in town," Dick says. "We all learned how to work on the farm and the value of hard work."

FAMILY OPERATION: The Cates Family members have all been involved in the family farm. From left are Dan Bloom, son-in-law, Shannon Cates Bloom, Kim, Dick, Eric and Kiley.
The farm was made up of woods, a weedy pasture with a creek running through it and some highly erodible land that was used to grow row crops.
"It was the most inefficient operation you could imagine," he recalls.
In high school, Dick became a star downhill ski racer. He was offered the opportunity to attend Dartmouth College in New Hampshire and compete on the top collegiate ski team in the nation. While at Dartmouth, he received a bachelor's degree in cultural anthropology and geography.
"That was fascinating to me, because at the heart of these subjects are basic agricultural questions, "where and how do civilizations grow their food and care for their land; and I knew then that I wanted to know more about the science and culture of our agriculture ," Dick says.
Following graduation, he returned to the farm.
"I realized I had too many questions," he says. So Dick decided to get a master's degree in soil science at Montana State University in Bozeman.
"Kim and I got married that summer in 1974 and moved to Bozeman. Kim worked and completed her bachelor's degree in ag resources while I got my master's."
In 1980, the young couple returned to Wisconsin and continued their education. Dick received his doctorate in soil science at University of Wisconsin-Madison while Kim earned her master's degree in soil science.
"My brother was working on the farm, so there wasn't an opportunity for us at that time," Dick explains.
After finishing his PhD in 1983, a friend of Dick's asked him if he wanted his job working on a large dairy farm in Saudi Arabia.
"This was my first job out of graduate school," Dick says. "It was quite an experience. My job was to feed 6,000 Holstein cows. When we left in 1986, there were 10,000 cows in the herd. I grew crops on 5,000 irrigated acres and had nearly 40 employees."
Dick and Kim returned to the Cates family farm near Spring Green.
"My brother decided to return to school to get his master's degree."
They were raising 30 beef cows. During the winter of 1987, Dick and Kim listened to a lecture about managed grazing.
"That was our 'aha' moment," Dick says. "We understood that we needed to keep this rough or wet land in grass and manage it properly."
They needed more cattle, but they learned they didn't have the right facilities and they didn't have the land to support more cows.
"I realized I was going to have to graze steers because better pasture for cows just creates fat cows," Dick explains. "I figured I would get better value out of our grass by raising a growing animal."
They were one of the first farmers in Wisconsin to switch to managed grazing. The rotational grazing system they set up was so effective they were able to withstand the drought in 1988. 
"We eventually raised 600 stocker steers and we'd graze 200 dairy heifers a year," Dick says.
They rented a 142-acre farm near Dodgeville and a 360-acre farm near Hollandale.
"We were grazing 700 acres of grass," Dick says.
In 1990, they started raising direct marketed steers and selling Cates Family Farm beef to family and friends. They raised their steers on pasture and finished them on grain.
"We went to farmers markets and we peddled our beef at a couple grocery stores and restaurants in Madison."
They also got involved in Something Special From Wisconsin. When grass fed beef took off, they switched to finishing their steers on grass and hay. By the 2000s, they were selling fresh beef in three stores.
"We had frozen beef in a lot of other stores and restaurants and more than 100 household customers," Dick says.
In 2013, their conservation efforts on their farm were rewarded with the Wisconsin Leopold Conservation Award. The prestigious crystal award and $10,000 honored their achievements in stewardship and management of natural resources. With the funds, Dick and Kim started a scholarship for graduates of River Valley High School who want to continue in agricultural studies; and they support the annual Iowa County Youth Conservation Day.
In addition to farming, Dick is a senior lecturer in the Department of Soil Science and associate director of the Center for Integrated Agricultural Systems at UW-Madison. In 1995, he co-founded the Wisconsin School for Beginning Dairy and Livestock Farmers. Some 500 students have been enrolled in the WSBDF during the past 21 years. Dick has helped hundreds of young people get started farming. He has also volunteered as a consultant with numerous farmer-to-farmer assistance projects throughout the world. For nine years, Kim worked for Sen. Herb Kohl as his agricultural liaison in Wisconsin.
Dick has held a variety of leadership positions. For the past 10 years he has served on (presently, as president) the River Valley School Board, and now also as board member of the Southwest Wisconsin Community Action Program. He served 10 years on the Wisconsin Department of Agriculture, Trade and Consumer Protection board of directors concluding as vice chair.
Dick and Kim are in the process of transitioning their farm to the next generation this spring. Their son Eric and daughter-in-law Kiley will be grazing 100 short bred registered Angus heifers. They will also be grazing up to 75 calves, heifers and dry cows for Andy Hatch and Scott Mericka of Grass Dairy in Dodgeville. Eric and Kiley will also continue the direct marketing business, as well, raising Jersey and Angus steers.
"They may decide they don't want to do any of these enterprises eventually. We hope they develop their own direction for the farm business," Dick says.
Dick and Kim will assist them, "as good old farm hands with some wisdom stockpiled…if they'll take us, of course." Dick also plans to continue teaching at UW-Madison, "Because I am privileged to be able to train some of the next generation of farmers and I really love it."
Subscribe to receive top agriculture news
Be informed daily with these free e-newsletters
You May Also Like
---