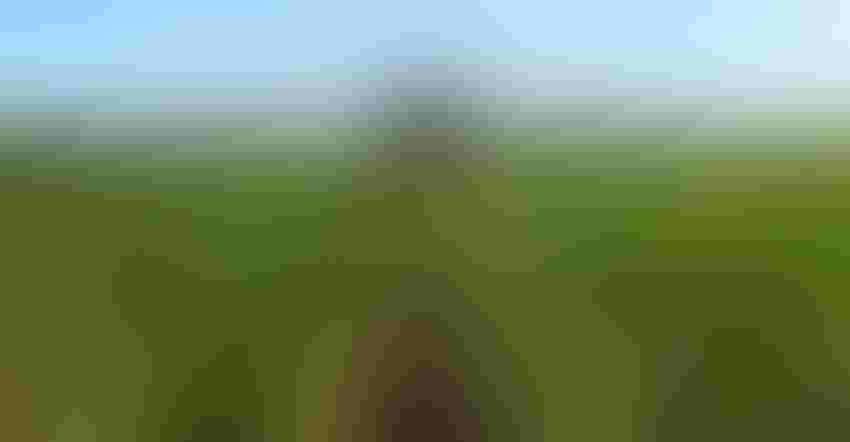 CROP MINDER: Once the planter has left the field, the 360 Rain system would be at work constantly providing the crop with needed water, nutrients, fungicides or other products. The machine goes into testing this year, with 2023 as the target launch date for the autonomous crop tender.
Courtesy of 360 Yield Center
Gregg Sauder admits when it comes to farming, "I love control." But getting control of everything that can influence your crop is no easy task. That hasn't stopped Sauder, president and founder of 360 Yield Center. And his latest move brings autonomy to in-season crop care in a totally new way.
The 360 Rain combines a familiar tool — the irrigation hose reel — with Y-drops and sophisticated autonomous management. "When Tim [Sauder] and I started on this, we wanted a device that lives in the field from planting to harvest and we're going to be in control," Sauder says. He acknowledges that windstorms and hail events can still be a problem, but water, proper liquid application and timing would not be an issue.
Sauder was looking for a way to tend a field with a higher plant population. "What stops me is that nagging feeling: 'What if in July and August, we get three weeks of dry weather and this thing burns up on me?' I'm going to kick myself if I'm above 35,000," he says.
The challenge he took on with his son, Tim, was to find a system that could support farmers across the whole Corn Belt. Irrigation gives a farmer much more control, but not every field can take a pivot, nor is there always enough water to manage the crop that way. That sent the Sauders to the drawing board, where they started looking at the problems to solve.
The finished product is served water through that hose reel, but the 60-foot-wide machine delivers the water precisely to the crop root zone. And that same system can also deliver fungicides, and fertilizer if needed. Add in data collection tools like cameras to be used to determine the presence of disease and insect pressure, and this rolling robot is a kind of precision ag applicator and data gatherer.
Testing and results
The machine has a three-wheeled design. Pulling its hose, the machine goes up the row until the hose ends, and then it comes back down the row, applying water, nutrients or crop protection products as needed. The electric vehicle draws power from a long extension cord, and the hose is supplied water from a well.
The surprise to Sauder was the crop response. In 2020, with replicated side-by-side trials, test strips showed a 65-bushel gain per acre with just 4.5 inches of water through the growing season from the 360 Rain. You read that right, a 32% improvement over the nonirrigated strips.
"That 65-bushel increase came off of a field that you and I would say 'well, that's definitely not Gregg's best field.' It's not. And then it's bumping 300 bushels, and I'm sitting there and I can't believe it," he says of the results.
He adds that the 4.5 inches of water were delivered over 12 trips across the field, so about one-third of an inch at a time. This lower flow means the system doesn't need a high-pressure well to do the job. The machine, depending on field size, would require 100 to 225 gallon per minute flow to the system. And the machine can water irregular shaped fields, providing 100% field cover.
Hose management challenge
Built on the concept of a hose reel, the 360 Rain makes a trip up and back, then moves over and does the same again. Each pass is 60 feet wide. But what about those irregular fields where the machine has to turn?
"As we lay down hose, we're laying it down at the exact same speed we're traveling, and we pick it up the same way," Sauder explains. "When we go around corners, we're also dispensing hose so as we turn off our 50-yard line in the center of the field to go down row number 64, for example, the machine lays down perfect. It won't touch the crop. That's what we really put a lot of time and effort into. It's been fun. Challenging, but fun."
Sauder's vision is that once the planter leaves the field, the 360 Rain enters and stays on the job until it's time to pull out before harvest. The machine would be a 24/7 tender of the crop, making sure adequate water and nutrients are provided regardless of what nature provides.
For 2021, Sauder will have a few machines working in six different fields in the central Illinois area near 360 Yield Center. "My goal is in 2022 to have 20 machines out in beta on multiple sites in multiple states, then in 2023 we do a full release," he says.
The goal between now and the 2023 release is to put these machines through 10 growing crops. From two crop seasons in Florida to running the machine in states across the Midwest, Sauder will hit that goal.
"I get a kick out of this," Sauder says. "I mean, you're putting water on, but you're also putting nutrients on that are very targeted. I guess the thing that is really interesting to me is you're doing things that really open up new possibilities."
Subscribe to receive top agriculture news
Be informed daily with these free e-newsletters
You May Also Like
---