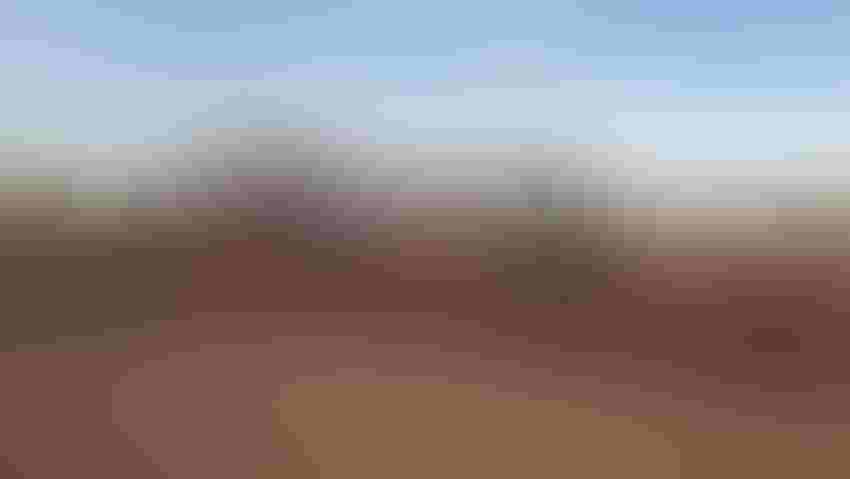 Who better to do it? The company that owns one of the first tractor brands ever to be put on tracks has now done the same thing for planters. Last month, AGCO, manufacturer of the high-end Challenger-brand wheeled and track tractors, took the wraps off a brand-new track planter designed for row-crop farmers in North America.
The White Planters 8936-30 LF was one of nearly 20 new products AGCO unveiled at a private, new-product preview for media held in conjunction with a Kansas City, MO, launch of new products to dealers. The launch was the largest in AGCO's history, covering all the major categories of farm machinery (see sidebar at end).
Of all the products launched, the planter got the most attention.
"This is the reason everyone showed up last night," says Greg Milstead, director of marketing for AGCO, the morning after the event. "The 8936 large-frame planter puts us in the realm of 'big planters.' It will outspec and outperform any of the competition."
Light footprint
The White Planters 8936-30 LF (large-frame) planter is AGCO's first entry in the large-frame planter business, joining a cadre of players that includes John Deere, Case IH, Kinze, and Great Plains.
As the model number denotes, the 8936-30LF has 36 row units spaced 30 in. apart and mounted on a 90-ft.-wide frame. Each section of the two-section wings flexes up to 21° up and 21° down in relation to the center section of the planter for a total of 42° of flex for each half of the planter, allowing the planter to hug field contours for more consistent planting depth.
Mounted on top are two 75-bu. seed tanks for a combined seed-carrying capacity of 150 bu. The planter also may be equipped with two 750-gal. optional liquid fertilizer tanks for up to 1,500 gal. of liquid fertilizer capacity.
"Our large-acreage customers asked for three key things in a planter to maximize their efficiency," says Gary Hamilton, senior product specialist for White Planters. "One, they want it big. They want a larger planter to cover more acres in less time. Second, they want more on-board fertilizer and seed-carrying capacity. And they want it to tiptoe across the fields to minimize soil compaction. This planter does all three things."
Hamilton says the planter's five-section, 90-ft. toolbar of 7- x 7-in. square tubular steel is the most robust in the industry, designed to support an industry-leading seed- and fertilizer-carrying capacity. Because of that capacity, the planter can cover 400 acres of corn without the operator ever having to stop and refill, Hamilton claims.
"Farmers running this planter can plant an entire section of corn, stopping only one time to fill with seed," Hamilton says. "And with the optional, on-board, 1,500-gal. fertilizer capacity, they can further extend their planting time without stopping."
Due to its high carrying capacity, the planter weighs 52,000 lbs., which is heavier than comparable-sized planters due to the structural weight of the frame and the rubber track configuration. To accommodate the weight, the planter is carried on two 30- x 67-in. rubber tracks. Each wing rides on four large-gauge wheels. Hamilton says the planter is the first in the industry to be factory-equipped with tracks in place of wheels and provides three times the flotation as a 16- or 20-row wheeled planter.
Fully equipped
The new White 8936-30 LF comes loaded with several high-end features. One is pneumatic down pressure on each row unit, which helps provide consistent down pressure across the width of the planter. Down pressure can be adjusted from the cab.
Also standard is dual-row, automatic row shutoff, controlled by a microprocessor terminal/monitor. This feature stops the seed meters (two rows at time) when the planter approaches headlands or irregular-shaped areas of the field that already have been planted.
A full list of attachments is offered as options to address individual field conditions and farming practices. These include tillage attachments and granular-chemical and liquid fertilizer tanks.
The White Planters 8936-30 LF planter will be available the first quarter of 2012. Base list price is $262,000, not including the liquid fertilizer tank and fill auger. Hamilton says the price is competitive with wheeled planters on the market.
For more information, contact your local White Planters dealer or visit www.whiteplanter.com.
New from AGCO for 2012
Seeding
White Planters 8936-30 Planter on Tracks

Sunflower 9800 Series Air Drill

Sunflower 9900 Series Air Carts

Sunflower 9600 Series Conventional Drill
Tillage
Sunflower 4600 Series Disc Ripper

Sunflower 1800 Series Tandem Disc Harrow

Sunflower 1700 Series Offset Disc Harrow
Combines
"All-New" Massey Ferguson 9500 Series Axial Combines
Tractors
Challenger MT500D Series High Horsepower Row Crop Tractors

Massey Ferguson 7600 Series High Horsepower Row Crop Tractors (150 to 180 hp)

All-new series of front-end loaders for Challenger and Massey Ferguson tractors
Haying
Hesston by Massey Ferguson WR9700 Series Self-propelled Windrowers

Hesston by Massey Ferguson 2170XD "Extra Density" Large Square Baler

Hesston by Massey Ferguson DM1300 Series Butterfly Mower System
Precision farming
System 350 Automatic Steering Kit
Chemical applicators
RoGator High-clearance Applicators

TerraGator High-flotation Applicators
For pricing and specs on these products, visit www.agcocorp.com.
Subscribe to receive top agriculture news
Be informed daily with these free e-newsletters
You May Also Like
---