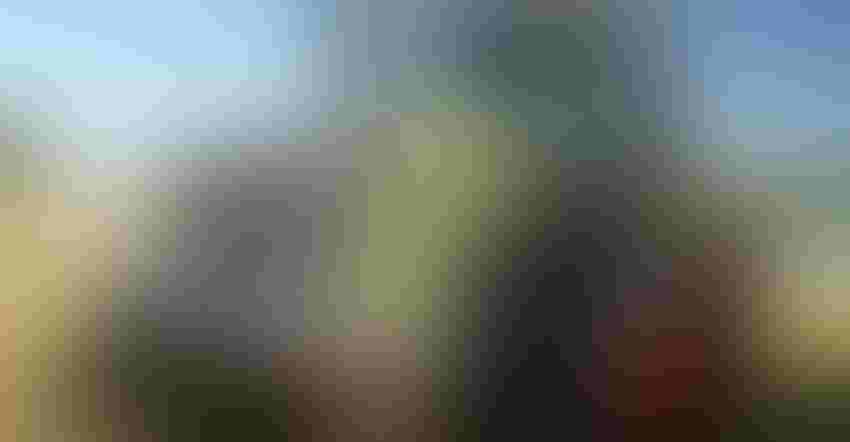 MOST HORSEPOWER ON TRACKS: The new Fendt Vario 1167 MT is the highest-horsepower tractor on tracks in the market today.
Agco
Agco took the wraps off four new tractor series and two new Ideal combine models in an impressive introduction of farm equipment for North America. The tractor introduction was led by the Fendt 1100 Vario MT tractors, which operate exclusively on tracks.
The other tractor launches included the Fendt 900 Vario Series, followed by the Fendt 700 Gen6 Series and the Fendt 300 Vario Series. The company also expanded the Ideal combine line by introducing the Ideal 10 and 10T models.
Here's a closer look:
Fendt 1100 Vario MT Series. Tom Turner, Agco strategic marketing manager, says engineers thought of everything imaginable in designing this series for farm use. It even features two Fendt exclusives. A hydraulic swinging drawbar allows for closer turns with planters and tillage equipment. Tractors also can be equipped with a steerable three-point hitch, which helps when on contours or if turning with mounted equipment.
Key features of the series include fuel-efficient, Fendt ID low-rev engine management, which allows tractors to operate at lower rpms than many other models, plus the smooth, continuously variable VarioDrive transmission and a patented MTS Smart Ride track system. A high-capacity, dual-circuit hydraulic system allows the tractors to handle the hydraulic needs of any implement on the market.
Models include the 1151, 1156, 1162 and 1167 at 511, 564, 618 and 673 hp, respectively. The largest model, the 1167, is equipped with a 16.2-liter MAN diesel engine.
Fendt 900 Vario MT Series. A lighter footprint than mechanical front wheel drive or competitive track tractors in this size category is a hallmark of the 900 Vario MT lineup, spokespeople say. These tractors also feature a smooth ride in a tracked model, and come with the Gold Star Customer Service package, also standard with the 1100 Series.
Three models are available in the 900 Series: 938, 940 and 943, at 388, 405 and 431 hp, respectively.
Fendt 700 Gen6 Series. Agco bills this series as premium high-horsepower tractors. Fendt introduces the FendtOne interface with this series. The operator station features two standard and a third optional large display screen. The dashboard is a 10-inch digital screen mounted on the steering column. Tractor, implement and hitch controls are located on the armrest, either on the new joystick or integrated into the armrest itself.
Six models from 14 to 237 engine hp will be available.
Fendt 300 Vario Series. Four models ranging from 100 to 133 engine hp all feature the FendtOne operator station introduced on the 700 Gen6 Series. That puts a lot of high-tech features in a line of large utility-size, versatile tractors.
Earlier versions of this series have made a name for themselves in Europe, but this series is brand-new for North America. Orders can be taken next year, but these tractors won't arrive on farms until 2022.
Ideal 10 and 10T combines. These models join the Ideal 7, 8 and 9 models introduced in North America in 2018. They can produce up to 790 engine hp, with 20% more throughput capacity than previous models. Agco will build a 50-foot draper head for these machines. New lines of corn heads for both Ideal and Gleaner combines are coming soon.
For 2021, you can get IdealDrive, the first joystick on a major-line combine, on the 10T and all Ideal TrakRide-equipped combines. It eliminates the steering wheel, providing more visibility.
Subscribe to receive top agriculture news
Be informed daily with these free e-newsletters
You May Also Like
---