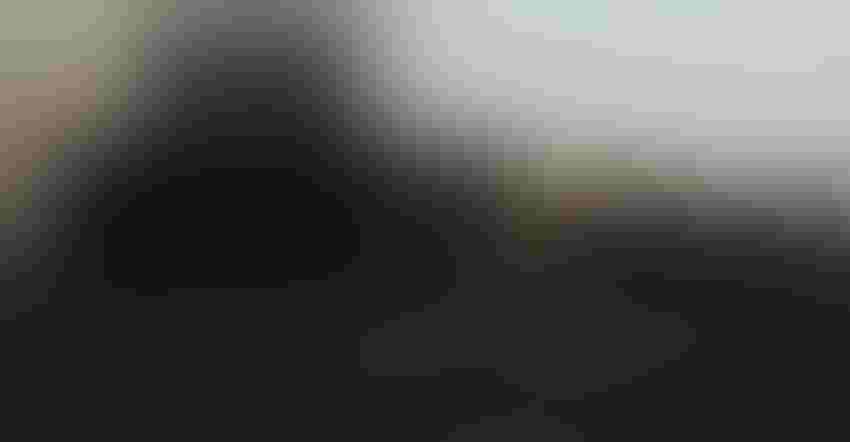 TILLAGE TIPS: Soil billows up behind a tractor pulling a tillage implement in dry soil.
Dave Franzen, North Dakota State University Extension specialist, has four "do's and don'ts" for fall tillage:
1. Don't rip or use a subsoiler. You might think the ripper will penetrate the clay pan, and the water will drain through it. But this isn't true. In the Red River Valley, for instance, the clay pan is 50 to 200 feet thick. "Deep tillage will not make the water go away. It will allow more water to penetrate and produce a soil that is similar to a thin pudding. It will also dilute organic matter, which is already diluted in many areas, and will bring up lime and salts from deeper depths. Sub-soiling is a very poor soil management technique in our region and in many fields it can be destructive. Wet/dry, freeze/thaw cycles in our soils largely take care of deeper spring/harvest compaction."
2. Don't use residue management as an excuse to chisel plow. You can equip planters with a residue manager (looks like a chain sprocket with long teeth, two set on angles in front of the planter opener), and you will achieve excellent seed placement.
3. Do use a top-of-the-line residue chopper and spreader system on the combine.
4. If planning to no-till or strip till after corn, do let the cornstalks stand as high as you can. "The residue won't drift together in a high wind, and the stalks will remain out of the way of the planter openers. The soil will be able to dry out and warm up better in the spring than if the residue is chopped." Strip till in most row widths works well with soybeans and wheat. If growing corn on corn, strip till would be much more successful if the rows were 30 inches wide, rather than 20 or 22 inches wide.
Source: NDSU Crop and Pest Report
Subscribe to receive top agriculture news
Be informed daily with these free e-newsletters
You May Also Like
---