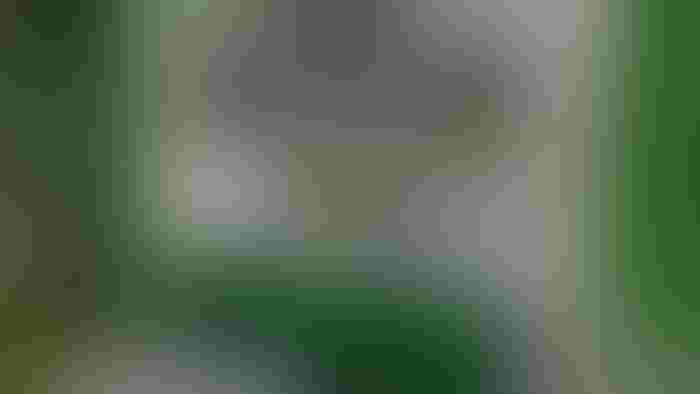 World Dairy Expo may be best known for its champion dairy cows, but visitors had plenty of new technology to see.
Among the highlights were a new automatic colostrum filling station produced by a company in Wisconsin; new trim chutes; portable solar arrays; calf stalls and more. Click through the gallery to see some of the new technologies rolled out at Expo.
Some notable companies also held previews of upcoming product offerings:
Deere-DeLaval partnership
While it will make its official launch at the Agritechnica show in Hanover, Germany, next month, representatives from John Deere and DeLaval gave a preview of their new Milk Sustainability Center (MSC), a cloud-based digital tool that will combine data on the farm into one platform to provide a more holistic view of a dairy farm — from crops to milk production.
It will launch in two phases. First, a free version is scheduled to roll out early next year that will allow producers to monitor nutrient-use efficiency for nitrogen, phosphorous, potassium and carbon dioxide equivalent for the entire farm, specific fields or even the herd.
A second subscription-based version is scheduled to roll out late next year that will allow producers to simulate the effects of certain farm practices on crop and milk production, set benchmarks, or even compare performance to other farms sharing data.
Dairy Data Warehouse BV (DDW), a Dutch company, is building the platform.
"It's focused on two things really: one, first and foremost, customer profitability, but then also sustainability," says James Petersen, dairy and livestock tech integration manager for John Deere. "We will focus on key performance indicators for farmers and develop new and predictive models to understand how things are changing on the farm to meet some of your profitability goals. On the other side is sustainability, so better using nitrogen, potassium and phosphorus, the carbon footprint, that is a big focus, too."
While the two companies say the service will be brand agnostic — meaning if you have New Holland or Case IH, or if you have Lely robots, you'll still be able to use it — the system, at this time, will only automatically pull data from John Deere Operations Center and DeLaval Plus. All other data from other companies will likely have to be manually entered.
"We see the future of data, in the dairy industry, must come through the integration of data," says Joaquin Azocar, solution manager of farm management solutions for DeLaval North America. This will further enable systems such as MSC to be better at predicting results and, eventually, to give prescriptive advice based on what's happening on the farm.
Ketosis predictor
Ajinomoto, a Japanese company, is launching AjiPro-Health next year, a service designed to better detect disease issues in cows — mainly ketosis.
AjiPro-Health includes on-farm testing of high-risk cows, treatment and a cloud-based digital platform to keep track of it all.
Cows will be screened at dry-off using an algorithm that takes in farm data, including milk production and health records, to flag potentially high-risk animals. Then, three weeks before calving, blood samples from the high-risk cows will be taken using a portable analyzer the company claims can provide a test result in five minutes. At-risk cows will then be fed lysine, an amino acid, or be treated individually based on a veterinarian's advice.
The cost will range from $1 to $2 per head per month based on performance. The company promises a milk production increase of 2.6 pounds of milk per cow that is at risk of metabolic disorders and a reduction in "days open" for high-risk cows of 16 days.
The company hopes to launch the service in 2024.
Subscribe to receive top agriculture news
Be informed daily with these free e-newsletters
You May Also Like
---