Family legacy: Youth restores tractor bought by great-grandfather
Family legacy: Youth restores tractor bought by great-grandfather
Slideshow: Current tractors have all the bells and whistles to get the job done efficiently, but South Hamilton (Iowa) High School senior Tjerdan Johnson recently restored a tractor purchased by his great-grandfather in 1960.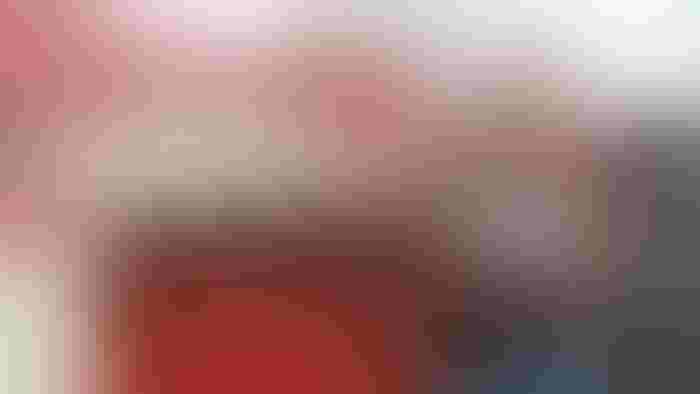 FAMILY TRADITION: Tjerdan Johnson holds a picture of his great grandfather Lowell Wirtz with the same Farmall 460 tractor. The original photo was on the cover of Wallaces Farmer in 1962.Jennifer Carrico
New technology and advancements are seen every year when visiting tractor dealerships. No matter if it's red, green, blue, yellow or gray, tractors in 2023 have all the bells and whistles to do the job at hand, but many still like to use the older implements — which oftentimes means restoration.
Lowell Wirtz purchased a McCormick Farmall 460 brand-new in 1960. The red gem was used every day on the Boone County farm according to his son, Bob. At that time, the narrow-front, gas-fueled tractor was used for plowing, cultivating, planting, hauling manure, and mowing and raking hay. It was the main tractor on the farm and was well-used. Through the years, the family has continued to use the all-purpose machine mostly during harvest not only to run an auger, but also to do other small tasks. With a hitch on the front of the tractor, it makes it easier to maneuver wagons or hay racks into a shed.
The tractor has over 9,300 hours of use and clearly is well used on their farm. When Bob's grandson, Tjerdan Johnson, wanted to restore the 460, he thought it sounded like a great idea to provide more hours of use of the tractor on their farm.
Learning by doing
Johnson, now a senior at South Hamilton High School, in Jewell, Iowa, enrolled in the school's power and paint class — and his agricultural teacher, Carlton Ness, was very helpful in the process. "He wanted us to learn how to do the restoration ourselves, but guided us along the way," Johnson says. "He helped us find the resources we needed. I took lots of pictures and labeled everything as I took it off, which made the process much easier in the long run."
Learning to do new things is part of the class. Johnson was fortunate, as the tractor didn't need much work mechanically. A rear axle had to be replaced, but the biggest part of the restoration was the paint job. Once the parts were bagged and tagged and other parts were taped, the tractor was sandblasted to prepare for the painting.
"The painting took the most time, making sure all the parts were covered properly," he says. The paint had to be mixed to the right consistency and sprayed on evenly. The 460 sign was harder to find, as it was back-ordered, but it finally arrived.
In the past, different programs have provided parts for agricultural youth who were restoring tractors, but with fewer of these programs around, it took more research to see what possibilities there were. Hy-Capacity, a tractor supply company based in Humboldt, Iowa, has a program to provide FFA members who are restoring tractors with a new seat for their projects. Johnson was excited when his new seat arrived on his birthday, which he shares with Grandpa Bob. "It was a great birthday present to get to complete the look of the tractor," Bob Wirtz says.
More projects
Johnson says it did feel good to complete the tractor and be able to see the finished product. He's thankful his grandparents were willing to fund the project. Now they are unsure whether they really do want to use it this fall as the auger tractor — because it looks so good all shined up.
Johnson and a group of his friends took on another project in the agricultural shop, which they have exhibited at the county and state fairs. They restored a six-row John Deere planter to make it a precision planter.
"There were five other friends of mine involved in this project. We received guidance from Koop Ag Solutions and Brelsford Ag," he explains. "Our thoughts are it could be used as a test plot planter and has the capabilities to plant different hybrids in the boxes, since they are all separate." The group hopes to sell the planter to a seed dealer looking for a planter to use in a test plot.
Johnson says he has hopes of going to electrician school, but also wants to continue to help on the family row crop farm after he is done with school. Being able to restore a tractor that has been in the family for so many years means a lot to both him and his family — a restored legacy.
Subscribe to receive top agriculture news
Be informed daily with these free e-newsletters
You May Also Like
---