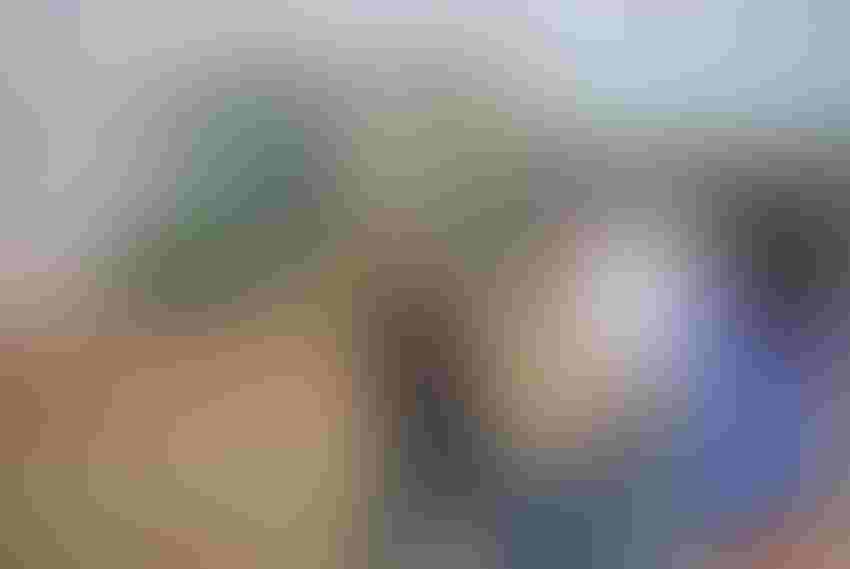 The working farm at the Sunbelt Expo with its harvesting and tillage demonstrations is what sets the Expo apart from most agricultural trade shows. A major component of this farm is the agricultural research that has taken place there every year for the past 40 years.
During 1978, the Expo's first year, the major concern was whether or not the land would actually support crop production. The land was poorly drained, and the soil in the farm fields was compacted from heavy machinery used during the construction of the Spence Field runways.
Extension cotton irrigation recommendations were based on extensive studies conducted during the early years at the Sunbelt Ag Expo farm.
Conservation tillage was a foreign concept to almost all farmers in the Southeast when the farm show was first held in 1978. Yet during that first year, no-till soybeans were among the crops planted in the Expo's small plots. In the years since, conservation tillage planting has become more widely accepted as a production practice and as a practice that helps prevent soil erosion.
World-renowned research by the University of Georgia's College of Agricultural and Environmental Sciences scientists is featured at the Expo's annual field day. More than 600 acres of agricultural research conducted by various UGA commodity teams as well as industry scientists are on display during the field day at the Darrell Williams Research Farm.
A research farm
The research farm is named after the late Darrell Williams, longtime farm manager at the Sunbelt Expo who died in 2009.
This year, the Expo farm is growing 90 acres of grass hay, 163.44 acres of peanuts, 90.02 acres of corn, 15.24 acres of soybeans and 197.81 acres of cotton.
When Expo began, center pivot irrigation was just entering the mainstream of farming technology in the Southeast.
The working experimental farm at Expo has contributed greatly to the advancement of agriculture in the Southeast. For instance, four-row cotton pickers were first introduced at Expo as were four-row and self-propelled peanut combines. The Expo farm was the site where the cotton irrigation scheduling method was first developed and perfected through years of practice. In more recent years, Expo has introduced farmers to new technology in precision farming such as auto-steer tractors and variable rate application of crop inputs.
Cotton's resurgence

Perennial peanuts, a promising high quality forage crop, made its debut at the 1988 Expo. The Expo's perennial peanut stand lasted for many years until the stands simply played out. The perennial peanuts at Expo peaked during about 1996 when the stand was considered among the best in the state of Georgia, with yields of four tons per acre.
During the early years of the Expo, University of Georgia Extension horticulturist Jim Barber planted a gigantic vegetable garden with 20 or more vegetable crops representing all vegetables commercially grown in South Georgia.
He timed the plantings so that each vegetable would produce ripe fruit during the mid October show dates. One of his biggest challenges during the show was preventing visitors from picking the vegetables and taking them home to eat.
Barber would grow these vegetables with and without plastic mulch, and with and without soil fumigation. Barber retired after the 1985 Expo and the farm's garden was never the same after that.
Cotton was a declining crop in Georgia and the Southeast during the 1960's and early 1970's, mainly due to damage from boll weevil and other pests, and from low prices.
Former University of Georgia Extension ag engineer Gene Seigler was a frequent visitor to the Expo farm during the late 1970's and early 1980's. Seigler used the Expo farm, and its center pivot irrigation, to develop Extension recommendations for when to irrigate cotton.
In doing so, he helped bring about the resurgence of cotton farming in Georgia and the Southeast. He also was able to produce Expo cotton yields in excess of two bales per acre, thanks largely to frequent irrigation.
In addition, Seigler conducted a wide number of cotton studies at Expo, for instance on skip row spacing, in then-new 30-inch row spacing, and on stripper harvesting. One year, Seigler planted cotton in circular rows. Another time, he grew okra-leaf cotton varieties and purple-leaf cotton varieties.
Seigler's work on cotton at Expo coincided with boll weevil eradication. As a result, cotton has been able to expand in the Southeast and become again the major crop that it was in prior years.
Age of resistance
If anyone has inherited Gene Seigler's mantle as the agricultural scientist who makes the most extensive use of the Expo farm, it is Stanley Culpepper.
A University of Georgia weed scientist, Culpepper has been conducting studies at the Expo farm during the past 17 years. He's most appreciative that the Expo makes available 22 acres that he can use for his weed control studies. "By having access to this farm, I'm able to do four times the amount research I would be able to do without this farm," says Culpepper.
Culpepper appreciates the Expo farm for his work because the site has a naturally large weed population. "I can also do both small plot research and large plot research here," he says. He notes that available land to conduct such studies is limited at state experiment station farms. "It's great that I can conduct a study on a 12-acre plot, and verify information before recommending a practice to growers," adds Culpepper.
When he started his studies at the Expo farm, Roundup Ready was the newest technology that needed to be tested before it became available for general farm use. Within a few short years, Roundup Ready technology became the standard for weed control in major row crops. Culpepper says this was before Palmer amaranth pigweeds developed resistance to glyphosate, the active ingredient in Roundup.
Culpepper's studies on the Expo farm have helped shape recommendations for dealing with herbicide-resistant pigweeds.
In recent years, Culpepper's Expo research has focused on auxin herbicides such as 2,4-D and dicamba, and especially how these herbicides fit into weed control programs on cotton and soybean varieties genetically engineered to tolerate these chemicals. He has also been studying how particle drift and volatility.
In fact, all current University of Georgia Extension recommendations regarding herbicide volatility and particle drift are based on studies Culpepper conducted at the Expo farm.
Culpepper says he has worked with great farm managers at Expo, starting with Darrell Williams and including the current farm manager Cody Mitchell who was a student worker supervised by Culpepper.
"I love the Expo because I can do research here that might end up killing six acres of a crop," says Culpepper. "I would never want to do that on a commercial farm, but at the Expo farm I am able to do that."
Not everything tried at the Expo farm ended up being a success. For instance, kenaf, citrus and kiwi fruit all failed to meet expectations.
Kenaf was developed as a potential fiber crop but it never caught on in the marketplace. Kiwi fruit is a widely accepted item among consumers, but it is just difficult to grow in South Georgia.
During the late 1980's, the Expo farm grew its first group of citrus trees, on raised beds in an area just behind the current Expo farm shop. These citrus trees died from a severe freeze after just a few years. It may be time for citrus again at the Expo farm, given the recent renewed interest in growing citrus in South Georgia.
Peanut research
Twin row planting is now commonplace for growing peanuts. The Expo farm grew its first twin row peanuts during 1980. The 1980 growing season was one of severe drought in the U.S., and few cotton farmers irrigated cotton that year. However, irrigation on the Expo farm produced yields of more than 1,000 pounds per acre during a dry growing season, and that accomplishment helped expand the use of irrigation on cotton farms in the Southeast.
The peanut industry's first leaf spot-resistant variety, Southern Runner, was planted on the Expo farm during 1987. While Southern Runner never became widely grown, it has become a parent line of many of today's widely planted peanut varieties.
The 1989 Expo hosted studies by University of Georgia ag engineers of a wide-span tractor to demonstrate controlled traffic and minimal soil compaction. The wide-span tractor was developed in Israel and brought to the U.S. for the University of Georgia studies. Also, cotton was grown in 1989 in 30-inch rows to be harvested by a new picker introduced by John Deere.
During 1992, the experimental herbicide Cadre was first applied to peanuts. Cadre has since become a widely used peanut herbicide.
Also during 1992, the Expo farm received its first weather monitors that were used to predict when to spray peanuts for leaf spot. Today, a new WeatherSTEM weather station collects a wide variety of continuous data on the Expo farm. The WeatherSTEM data can be customized to automatically send alerts to users, depending on weather conditions.
University of Georgia Extension peanut agronomist John Beasley conducted many of the peanut demonstrations at the Expo farm until he retired several years ago from Georgia to become an administrator at Auburn University in Alabama. During 1992, Beasley conducted peanut tests on the Expo farm for planting dates, row patterns and seeding rates. "Expo is a way to get valuable information to producers because it is a demonstration site for applied research that we can use to come up with answers," he said.
Firsts
During 1993, the Expo farm hosted some of the first tests of the AUPeanuts model developed at Auburn University to help famers predict when to spray leaf spot fungicides. That same year, a USDA-developed peanut irrigation scheduling model called EXNUT was used at Expo for the first time. This model later became widely used by farmers under its new name, Irrigator Pro.
By 1994, the Expo farm was able to show an 11-year average cotton yield of 1,102 pounds of lint per acre. A renewed emphasis on conservation tillage was made in the Expo fields that year, all in an effort to help farmers meet new conservation compliance requirements from the farm bill.
The 1995 Expo was notable for having the first high-oleic peanuts in the field plots. Also that year, Amadas introduced and demonstrated the industry's first eight-row self-propelled peanut combine.
In 1996, the Expo farm grew close-row cotton for stripper harvesting. This cotton was planted in eight-inch rows. Stripper harvesting was never a wide success in the Southeast, mainly because such cotton received severe price discounts in the marketplace.
Also during 1996, the Expo expanded its planting of Roundup Ready cotton and soybeans, along with new plantings of additional high- oleic peanut varieties.
During 1997, the Expo farm was the site of the first transgenic doublecropping ever planted in the U.S. The plot included laurate canola followed by BXN cotton from Stoneville. The BXN cotton was genetically engineered to be resistant to the herbicide Buctril. The laurate canola was from Calgene and was known for producing an oil that replaced coconut oil and palm kernel oil in products as varied as cosmetics and edible chocolate.
By 1998, Georgia Green had become the main peanut variety on the Expo farm and on farms in the Southeast. Georgia Green became widely planted because of its resistance to the tomato spotted wilt virus that had destroyed the peanut stands of vulnerable varieties such as Florunner during previous years.
Throughout its history the Expo farm has been in the forefront for introducing new irrigation technology. In 1999, for example, the Expo farm added new irrigation drop nozzles, only about eight feet from the ground. These nozzles offered new efficiency and reduced water loss compared to high impact sprinklers that were widely used on irrigated farms in the Southeast.
During 2001, a center pivot at the Expo farm was equipped with one of the first flow meters aimed at measuring the amount of water used during the growing season. Information from the flow meters was needed by state officials who were concerned over the limits of water resources and the amount of water used in farming.
During 2000, the Expo farm planted its first Bollgard II cotton varieties that would become widely available in 2002. The Expo farm also used the first Strongarm herbicide that would become widely used in peanuts, and Valor herbicide that would become widely used in both cotton and peanuts. New turfgrass plots on the Expo farm during 2000 introduced farmers to this potential alternative crop.
During 2001, the summer field day featured a corn silage harvesting demonstration. Also during 2001, the Expo farm grew its first DP 555 BG/RR cotton variety. This variety would later become the most widely planted cotton in the Southeast. This variety yielded 1,996 pounds of lint per acre on the Expo farm during 2002. At the time, this yield was one of the highest recorded during the 2002 season.
Autonomous, self-driving tractors have been recently developed and covered in great detail by the agricultural news media. Those visiting the Sunbelt Ag Expo farm saw something similar during 2004 when University of Georgia ag engineers brought a remote controlled robotic tractor to demonstrate in the Expo fields.
Some of this country's first farm-related tests of unmanned aerial vehicles, widely known as drones, took place on the Expo farm several years ago. Additional testing in recent years on the Expo farm and elsewhere is bringing this new technology into the mainstream of modern farm and crop management.
Forage
One of the research studies on the farm this year is focused on the bermudagrass stem maggot, an emerging pest in bermudagrass hay fields. The study is being conducted by University of Georgia postdoctoral researcher Lisa Baxter. She's evaluating six bermudagrass varieties to see which are most susceptible to the new pest.
Her findings so far indicate that Alicia is the most susceptible variety while Tifton 44, Russell and Coastal are intermediate in susceptibility. The least susceptible bermudagrass varieties in her test are Tifton 85 and Coastcross II.
University of Georgia Extension forage agronomist Dennis Hancock says yield losses in Alicia can reach 60-80%, while Coastal's yield losses will typically be 20-40%. Losses should be les than 15% for Tifton 85 and Coastcross II.
The Expo farm has also demonstrated that alfalfa can be grown in South Georgia. Hancock says an alfalfa stand was planted on the Expo farm in 2005. The Bulldog 805 alfalfa variety was interseeded with Tifton 44 on the Expo farm, and some of this alfalfa is still growing at Expo. Hancock says bermudagrass growing with alfalfa does not need nitrogen fertilizer to produce high quality forage.
About the Author(s)
Subscribe to receive top agriculture news
Be informed daily with these free e-newsletters
You May Also Like
---