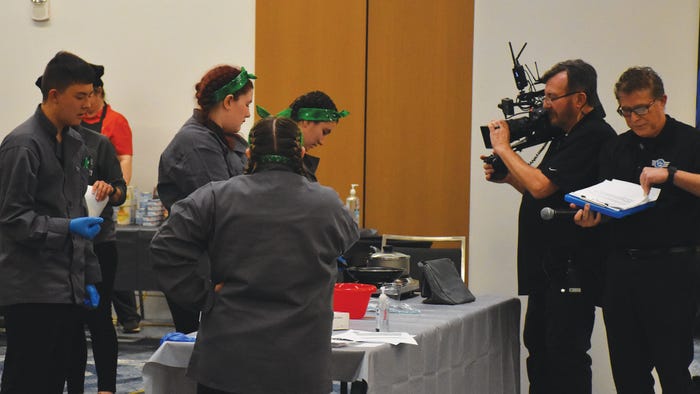 Competitors prepared their meals while being asked about their meals as cameras rolled.Brent Murphree
Eleven teams competed in this year's 4-H Chopped Meal Preparation Challenge at the 2023 Mid-South Farm and Gin Show. The teams from Arkansas, Louisiana, Mississippi and Tennessee competed in the food challenge which tested their skill to adapt ingredients into healthy meals.
The competition was much like The Food Network's Chopped. The contestants received specific ingredients, available at local retailers like Dollar General or Walgreen's, from which they created a recipe. Tim Price, show manager, said there are many rural communities which may be considered 'food deserts.'
Food deserts are those parts of the country that don't have access to fresh fruits and vegetables and other whole foods. Lack of grocery stores, farmers' markets, and other healthy food providers don't serve these areas or are in very limited locations.
"While many retail outlets like Dollar General and Walgreen's are offering more disposable items, residents still have challenges accessing fresh, whole foods. This competition is designed to highlight easily accessible food ingredients which can be made into nutritious recipes," he said.
As part of the competition, teams described their creation, including what they made, ingredients in the dish, and nutritional content such as calories and macronutrients. The teams were judged on preparation, presentation and taste by Cathy Pope, president and CEO of the Mid-South Food Bank, and Ernie Mellor, owner and pitmaster at Hog Wild and past president of the Memphis Restaurant Association.
"This competition is really exciting," Price said. "It is energizing to watch the contestants work together and develop unique recipes."
Price said that the dishes developed in the high energy competition could easily be adapted by families using the same ingredients.
The Louisiana team, Spice Girls, with Lauren Poole, Gracelyn Chevallier, and Chloe Whisonant, took first place. In second were the Seniors with Spatulas from Arkansas — Sarah Lamb, Anna Kate McKinnon and Christian Trombley. Third place went to the Blazing Cookers from Tennessee — Jenny Sanders, Macy Sanders, Emily Burks and Reason Brown.
Cash prizes were awarded to the top three teams, and all participants received a certificate of participation.
The competition was held on Saturday, Feb. 25, at the Renasant Convention Center in Memphis, Tenn.
Subscribe to receive top agriculture news
Be informed daily with these free e-newsletters
You May Also Like
---