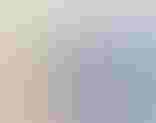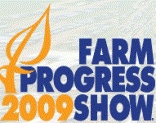 The world's largest outdoor farm show opens for a three-day run in Decatur, Illinois, tomorrow. It's the third show out of 10 scheduled at the semi-permanent site near Decatur, Ill. The site is conveniently located just off Interstate 72 on the northwest side of Decatur, less than a 3-hour drive from downtown Indianapolis.
Hoosiers will be represented in Decatur. Indiana Prairie Farmer is co-sponsor of the show, along with Prairie farmer, the Farm Progress magazine in Illinois. Indiana Prairie Farmer editor Tom Bechman will spend time in the Hospitality Tent, but will also head up the new products team, looking for the latest innovations. Many companies save their world debuts of new products for this show. In fact, sometimes products are so new they aren't yet priced, and occasionally are still prototypes, not even painted. Exhibitors are looking for farmer reaction before they put the finishing touches on their latest version of whatever implement they're producing.
Indiana companies will be exhibiting, including CountryMark, with a large display. CountryMark has been an enthusiastic supporter of the Farm Progress Show for many years, including since the move to a semi-permanent site. Belinda Puetz, marketing director for the fuel supplier for much of Indiana's crop land, says they've been pleased with the number of Indiana farmers who come by and say hi in Decatur. She and the staff will be looking for you this week.
Purdue University will not be present with programs, but two departments, Ag engineering in the presence of Bill Field, and Agronomy through Gary Steinhardt, have roles in the show. Field and his staff will participate in the Health Tent coordinated by Illinois staff. Field says they'll be displaying Breaking New Ground Equipment for farmers with special needs, including those crippled by arthritis. Field has been a staple and a supporter of farm safety and health promotions at the Farm Progress Show for decades.
Steinhardt is the technical source of expertise for the 4-H and FFA soils judging contest, slated for Sept. 1, opening day. Several teams from both Indiana and Illinois will compete for cash awards, sponsored by various Farm Credit groups that cover the two-state area. It's a tune-up contest for teams in both states for the upcoming season, and one of the few, if not the only, contest that carries significant cash awards.
The practice pit will be located just off the southeast corner of the south parking lot, and will be open to visitors after the conclusion of the contest Tuesday afternoon. It would be a chance for Hoosiers to see what a prairie soil looks like below the surface. However, the actual contest includes both prairie and timber soils, making it a unique training experience for students.
We'll expect to see you in Decatur this week! Stop by and say hello!
Subscribe to receive top agriculture news
Be informed daily with these free e-newsletters
You May Also Like
---