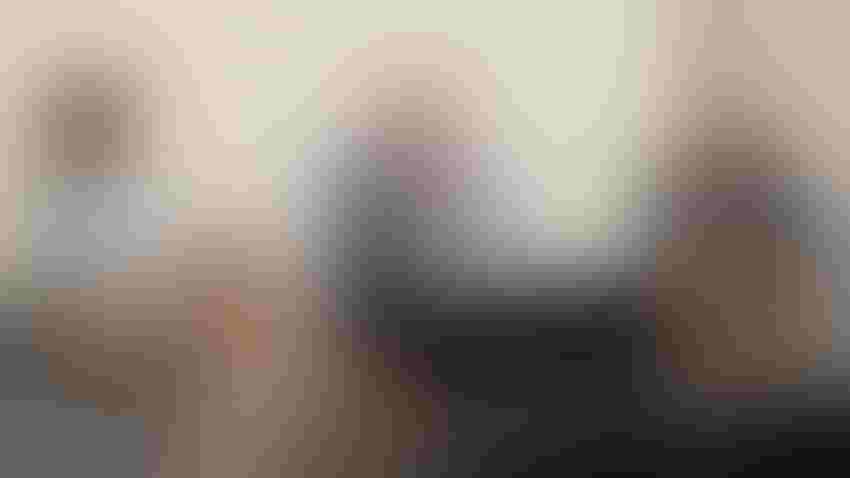 TALKING FARM BILL: Katie Schmitt of the Council on Dairy Cattle Breeding moderated a discussion on the farm bill at World Dairy Expo. It featured Gregg Doud, chief operating officer of National Milk Producers Federation, and Pete Kappelman, senior vice president of member and government relations at Land O'Lakes.
Photo by Chris Torres
With the House of Representatives in a state of chaos — there isn't even a permanent speaker in place — the chances of a new farm bill passing Congress by the end of the year look more and more unlikely.
"They won't get it done," said Gregg Doud, chief operating officer of National Milk Producers Federation (NMPF), on Oct. 5 at World Dairy Expo.
The key question people in agriculture should be asking is: Will the new speaker put the farm bill at the top of his or her priority list? Doud said that's anyone's guess at this point.
"The answer is we just don't know, and until we know that, it's impossible to answer your question in terms of the timeline," he said.
Doud said that a written farm bill will be formally presented to the chairpersons of the Senate and House ag committees in a few weeks. After that, the bill will go through a markup process, first in committee and then on the floor of each chamber.
The current farm bill expired at the end of September, but that's a generic date, said Pete Kappelman, senior vice president of member and government relations at Land O'Lakes. The real deadline is the end of the year. That's when certain commodity and dairy support programs expire and revert to laws and price supports drafted back in the 1930s and '40s, also known as "permanent law."
For example, in the case of dairy, Kappelman said USDA would have to purchase enough milk, butterfat and cheese to get the farm-gate milk price to $50.70 per cwt, calculated by taking the 1910 and 1914 average price, adjusted for inflation, and paying 75% of parody pricing.
Don't get excited yet. Each farm bill has suspended this permanent law, and Kappelman said that he expects at some point this will happen again.
Doud said the real reason for including this permanent law provision is to force lawmakers to write a new farm bill every five years. If a new farm bill isn't written by the end of the year, he said to expect an extension of the 2018 Farm Bill into next year, but for how long is unclear given next year's presidential and congressional elections.
"Based on talks I've had in D.C. and my 31 years of experience, don't expect an extension to be a slam dunk," he said.
Dairy priorities
Tweaking the Dairy Margin Coverage program to reflect current production numbers is one of NMPF's biggest priorities for the farm bill, Doud said.
Dairy Margin Coverage, previously known as Margin Protection Program Dairy, was first authorized in the 2014 Farm Bill. It was tweaked and renamed Dairy Margin Coverage in the 2018 version.
Through July of this year, Kappelman said more than 17,000 dairy farms in the U.S., more than 60% of dairy farms, have signed up for coverage with the program paying out more than $1.1 billion, an average of $66,000 per producer.
"The risk management piece is working, and that's an important piece for that first 5 million pounds of milk, but then after that, we've got those RMA programs, crop insurance-type programs like DRP and LGM-Dairy, that are helping producers with risk management," he said. "So, I would say for dairy producers coming off of 2018, we made some really good strides through the years, and 2018 got something pretty close to what we wanted."
But some have argued the program is flawed, especially in the way it calculates production history. Right now, production history is established using the highest of an operation's marketings from the 2011, 2012 or 2013 calendar years. Doud said production history should be updated by using 2019 production history to better reflect improvements and efficiencies dairy producers have made.
Farm bill by the numbers (Congressional Budget Office):
• The farm bill costs $1.5 trillion over 10 years.
• 81.1% of the farm bill is earmarked for nutrition, including SNAP (food stamps).
• Crop insurance takes 6.7% of farm bill.
• Conservation programs take up 4% of farm bill.
• Research, trade, energy and other things take up a combined 1.3% of the farm bill.
Subscribe to receive top agriculture news
Be informed daily with these free e-newsletters
You May Also Like
---