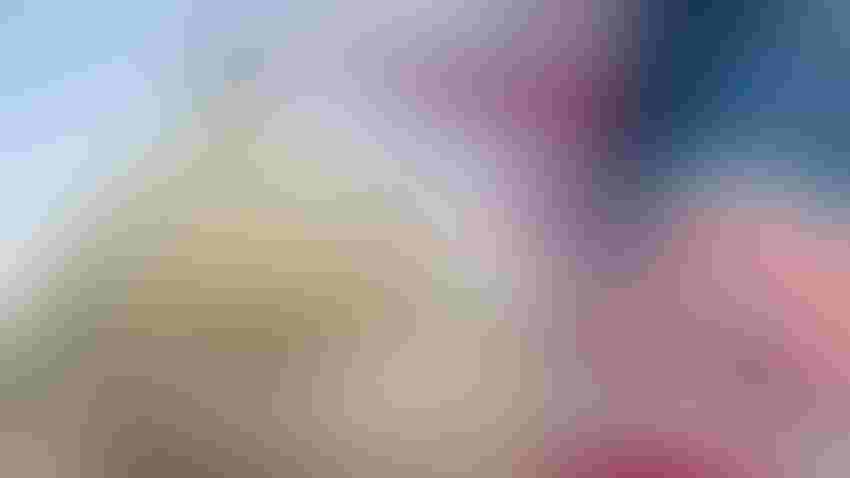 Getty Images/franckreporter
There's never a shortage of agriculture news. Here are a few policy stories you may have missed over the past week.
Farm bill extension details revealed
Details on the potential farm bill extension are now coming to light. If Congress manages to pass Speaker Mike Johnson's two-tiered continuing budget resolution, the 2018 Farm Bill will be extended through Sept. 30, 2024. It would go into effect as if the extension had been authorized by this year's September deadline.
Crop insurance programs will continue because they are authorized by permanent law with mandatory funding. The Supplemental Nutrition Assistance Program, or SNAP, will also continue unabated, though its funding could be affected by a government shutdown since Congress establishes its budget through the appropriations process.
Title 1 commodity programs, which include the Price Loss Coverage, Agriculture Risk Coverage and Marketing Assistance Loan Programs, would be available for the 2024 crop year. However, additional funding in the 2018 Farm Bill to implement commodity program changes have not been extended.
Dairy Margin Coverage, including supplemental DMC for small and medium-sized producers, would be extended for the 2024 calendar year. Dairy operations that received premium support in 2023 would see that support extended as well.
The proposed extension includes additional funding for several conservation programs including the Grassroots Source Water Protection Program, the Voluntary Public Access and Habitat Incentive Program and the Feral Swine Eradication Control Pilot Program.
Other programs that would receive funding through the farm bill extension include the Farm to Food Bank Program, Rural Economic Development Loan and Grant Program, the National Organic Certification Cost-share, Emergency Citrus Disease Research, the Wool Apparel Manufacturing Trust Fund, the Pima Cotton Trust Fund, Wool Research and Promotion and Sheep Production and Marketing Grants. The bill also allocates money to three research initiatives including $37 million for Foundation for Food and Agriculture Research and $10 million for scholarships at 1890 land grant institutions.
Additional programs remain authorized, though their working budgets could change depending on the government appropriations bill.
Congress is expected to consider Johnson's extension proposal this week. How they will vote remains a mystery so far. The deadline to pass something before the government shuts down is Nov. 17. 
Miller introduced Farm to Fly Act
Rep. Max Miller, R-Ohio, introduced a bill he believes will expand aviation fuels resources, spur rural development and create new markets for farmers. The Farm to Fly Act would clarify the types of aviation fuels eligible for federal bio-energy programs. Supporters say this would expand markets for crop producers.
The bill also calls for greater collaborative efforts for aviation biofuels, including private partnerships. Additionally, it would establish a common definition for what USDA classifies as a sustainable aviation fuel, something ethanol and other biofuel producers have been clamoring for.
Reps. Mike Flood, R- Neb., Angie Craig, D- Minn., Brad Finstad, R- Minn., Nikki Budzinski, D- Ill., Ashley Hinson, R- Iowa, Jasmine Crockett, D- Texas, and Randy Feenstra, R- Iowa, have all signed on as cosponsors.
Organizations endorsing the legislation include the American Soybean Association, the National Corn Growers Association and the National Sorghum Producers, as well as multiple fuel and airline advocacy groups.
Senators say bill will help expand rural broadband
Sens. Tammy Baldwin, D- Wisc., and Joni Ernst, R- Iowa, introduced legislation to expand broadband internet in rural communities. The Access to Capital Creates Economic Strength and Supports Rural America Act, commonly referred to as the ACCESS Rural America Act, would allow rural telecommunications service providers to submit streamlined financial reports to the Securities and Exchange Commission. Supporters believe the bill will provide financial relief to smaller companies by exempting them from SEC regulations they say were never intended for them.
"Wisconsinites in rural communities rely on high-speed internet to start a business, manage their farms, work remotely, and attend school online, and I'm committed to ensuring families in every corner of the state have the internet access they need to participate fully in our economy," Baldwin said in a statement announcing the bill.
Cosigners to the ACCESS Rural America Act include Sens. Krysten Sinema, I-Ariz., Kevin Cramer, R-N.D., and Chuck Grassley, R-Iowa.
North Carolina legislators object to proposed tobacco rule
Two North Carolina House Agriculture Committee members are speaking out against an FDA proposal to ban menthol cigarettes. Last week, Republican Rep. David Rouzer and Democrat Rep. Don Davis penned a letter to President Biden calling on him to rescind the proposed rule.
"This is a clear attack on North Carolina's farm families and thousands of hardworking residents," Rouzer says. "The tobacco industry has brought generations out of poverty, sent children to college, and solidified North Carolina as the epicenter of a global enterprise."
While menthol ban supporters say the bill would save hundreds of thousands of lives, Rouzer and Davis contend it will harm North Carolina farmers. They say the menthol cigarette industry is responsible for more than 6,0000 jobs in their state alone. The two Congressmen also argue the ban will have an especially negative impact on black farmers, who have produced tobacco in the region for generations.
"My path of working in the tobacco fields of eastern North Carolina to walking the halls of Congress was only made possible by the employment opportunities I had as a young child," Davis says. "Not only would the proposed ban on menthol cigarettes increase the presence of illicit tobacco products on the market, it would also put eastern North Carolinians out of work without any viable employment alternatives."
For more ag policy news, read these recent stories:
NCBA criticizes plan to allow Paraguayan beef imports
Congressional ag leaders agree to farm bill extension
What's next for the farm bill?
Vilsack says new poultry rule adds transparency and accountability
Subscribe to receive top agriculture news
Be informed daily with these free e-newsletters
You May Also Like
---