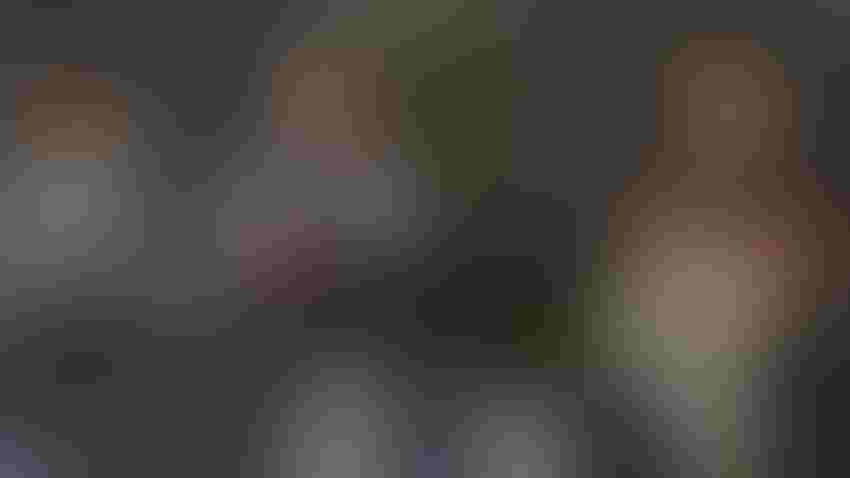 TALKING POLICY: Nebraska Gov. Jim Pillen (center) and Sherry Vinton (left), director of the Nebraska Department of Agriculture, joined Nebraska Farmer editor Curt Arens for a conversation about state ag policy on stage Sept. 14 at the Hospitality Tent at Husker Harvest Days.
Photos by Mindy Ward
It was a whirlwind, but crucial and successful, international trip to trade partners Japan and South Korea for Nebraska Gov. Jim Pillen in mid-September.
When he joined Nebraska Farmer on the Hospitality Tent stage Sept. 14 at Husker Harvest Days, Pillen was energized by his meetings with those trade partners. He, along with Sherry Vinton, director of the Nebraska Department of Agriculture, shared optimism about agriculture for the state during the on-stage interview.
Trade mission
"We just completed a 10-day trade mission trip to South Korea and Japan," Pillen said. "We, Nebraska agriculture, feed the world. We raise way more than we can use, so we have to sell Nebraska goods to the world, and our goal is to find really tremendous markets. We were in Vietnam in July and now to South Korea and Japan. These trips are tangible, as we work to build relationships."
He called his interactions as Nebraska's governor with world leaders "humbling." But Pillen quickly noted the opportunities trade provides to the state's producers. Clean energy and sustainability are important to other countries.
"I can speak for myself as a farm guy, but there are times when we start hearing about carbon, and we get defensive," he explained. "But the hard reality is that we are the best in the world at sustainable agriculture. We've been doing it, but we've just been doing it and not bragging about it. That's why I'm excited about the new bioeconomy."
Pillen noted Nebraska's frugal use of water, in spite of being the top irrigation state. He also noted the move by many producers from diesel irrigation engines to electricity. "The more things we can make from corn, Nebraska water and agriculture, we will just keep bragging about Nebraska until the cows come home," he said.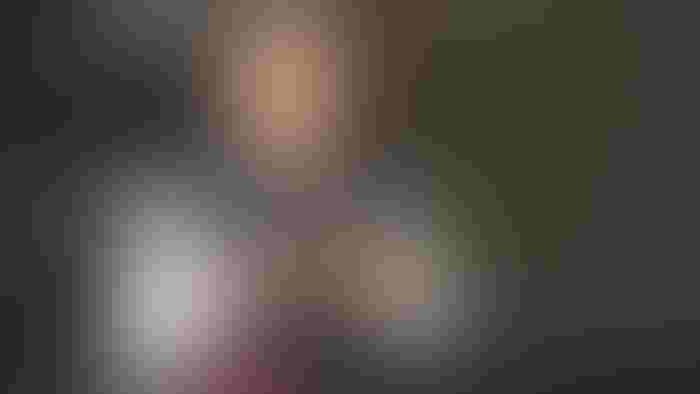 TRADE TRIP: Pillen discussed his interactions with leaders in South Korea, Japan and Vietnam during recently completed trade mission trips, including the most recent trip concluded just before HHD. He touted these trips as building relationships with international trade partners who are excited about buying Nebraska agricultural products.
On a personal note, Pillen mentioned the fact that his father was a Korean War veteran, so the trip to South Korea and that region was dramatic for the governor. In meetings with Vietnamese and Korean people, he noted their great appreciation for the U.S. and what the country has done for those nations.
Pillen also noted the opportunities that exist to do more business there, because of a more Westernized culture and opening markets. "There is a tremendous need for more soybean meal to be exported to the region," he said, "and with new crush plants in Norfolk and David City, there is potential to fill that need."
Property tax relief
"If you go by what you read in the paper, you thought it was as crazy as can be," Pillen said about the recently completed 90-day Unicameral session. "We had focused on kids, taxes and agriculture. We had 10 priority bills, and every one got through. Some people were worried that the business of the state wouldn't get done, but the people's work got done."
Pillen said that his goal as a conservative is for less government, but the Unicameral introduced more than 1,000 bills this session. "We need to look at old state statutes that need to be done away with," he said, as one way to reduce government.
Pillen touted property tax relief and transformative funding changes for schools as two important accomplishments this session.
Vinton echoed those sentiments and went further. "There were three important things in my mind," she said. "The No. 1 thing was property tax relief."
LB243 offers provisions affecting property tax credits, increasing the minimum relief allowed under the program from the current $275 million to $550 million by 2029. Plus, the bill places a cap of 3% revenue growth each tax year for schools, with some exceptions.
Secondly, funding for schools was changed through LB583, which beefs up state aid for public schools — allocating $1 billion to the new education future fund to ensure the sustainability of additional state funds for school foundation aid and special education.
Finally, Vinton mentioned LB562, which increases a state income tax credit for retail dealers for each gallon of E15 sold during 2024 and beyond.
What Nebraska needs 
Pillen said the state's residents need to share more about agriculture and opportunities within Nebraska with younger generations. "We need to brag a lot more about the state, so our kids recognize what an incredible future they have here," he said.
People who move into the state cite the Nebraska people themselves and safety as two of the state's great attributes, Pillen said.
"It doesn't matter what party you are in, because of agriculture and because our state is a leader, there are extraordinary career opportunities," he added. "We are the 'Silicone Valley' of the future, and we need to share that idea with our children."
He cited changes in school funding, more skill development and support for community colleges and trade schools as ways to prepare the next generations for all kinds of careers. "We want to connect kids in high school with businesses and careers early on," Pillen noted.
Vinton challenged producers and youth to speak up for agriculture more. "In our FFA programs, students are honing their public speaking skills, learning parliamentary procedure, so we have to start showing up, telling our story with purpose and tailoring our story to our audience," she explained. "We have to start going to hearings if we are going to grow agriculture in Nebraska. We want value-added ag. That means processing, citing new livestock facilities and citing processors in rural Nebraska."
Vinton said rural prosperity is on the line. "We need people in agriculture who are producers to show up at planning committee and zoning committee meetings, to be comfortable being uncomfortable, as the governor says, and start learning how these meetings can be run properly," Vinton said. "We don't want our prosperity to be hijacked by people from the outside."
Subscribe to receive top agriculture news
Be informed daily with these free e-newsletters
You May Also Like
---