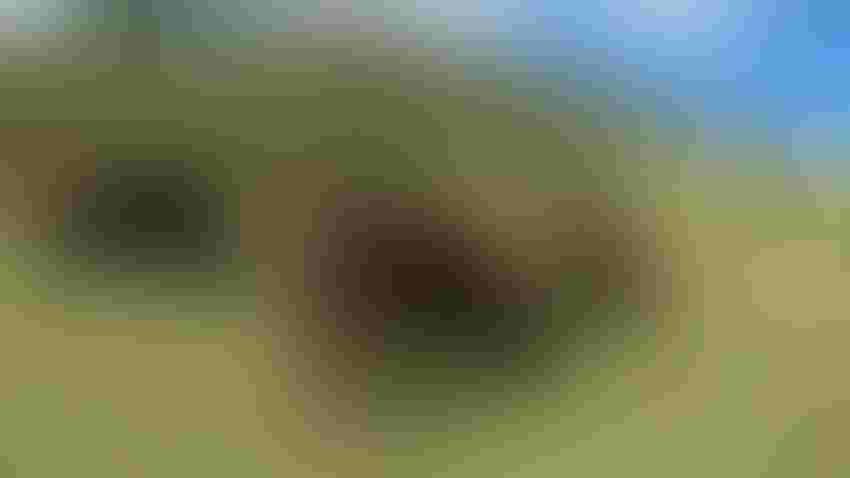 Cattle graze on a hillside.
UCANR
Republican U.S. Rep. Dan Newhouse of Washington state, who chairs the Congressional Western Caucus, advanced a budget amendment this week that would prohibit funds from being used to implement the proposed Public Lands Rule.
Federal officials claim the new U.S. Bureau of Land Management rule would restore critical habitat and clean water and protect lands in the face of increasing drought and wildfire.
But Western governors say the rule would restrict use of public lands to the detriment of livestock grazing, resource development and other activities.
Newhouse on July 19 offered an amendment to the Interior and Environment Appropriations bill to block spending on the BLM's planned "Landscape and Conservation Health" rule, which the congressman says would hinder access to public lands for energy and critical mineral development, grazing, forest management, and recreation.
With more than 90% of BLM's 245 million acres located in the West, critics say the rule would have an outsized effect on Western states and their residents. The amendment was adopted by voice vote.
"Not only is this proposed rule illegal, it would also have drastic effects on energy prices, food costs, and recreational opportunities," Newhouse said in House testimony. "In the midst of record-high energy prices and food costs, this Administration wants to exacerbate the problem by proposing a regulation that would reduce resource development—including renewable energy—and ranching on public lands.
"The BLM is confusing conservation for preservation by sidestepping Congress," he said. "They do not have the authority for this proposed rule and I urge all of my colleagues to support my amendment."
Conservation elevated
Introduced in April, the BLM rule elevates conservation under the multiple-use mandate to be equal to resource development, grazing, timber harvesting, and recreation on public lands.
Opponents say this move is contrary to congressional intent under the Federal Land Policy and Management Act (FLPMA) of 1976, which statutorily set multiple-use sustainable yield on BLM land. The public comment period, which closed July 5 after a 15-day extension, drew more than 150,000 comments, according to the Center for Western Priorities, a Denver, Colo.-based conservation group.
The group claims a sampling of 10,000 of the comments found that 92% were in favor of the rule.
"Americans know that public lands are central to the Western way of life, and that they will play a pivotal role in the nation's response to the climate crisis," said Jennifer Rokala, the center's executive director. "The support expressed during the comment period shows that the BLM is on the right track to restoring balance across the West."
Federal officials say the proposed Public Lands Rule would establish a framework to ensure healthy landscapes, abundant wildlife habitat, clean water and balanced decision-making. They contend the BLM would still support multiple uses of lands but put conservation on an equal footing with other activities.
With money from the spending bills approved last year by Congress, the new regulation would direct land managers to identify landscapes in need of restoration and develop plans, prioritizing places based on land and water health, opportunities for partnerships and local benefits, according to BLM.
But opponents contend the finalization of this rule would allow conservation easements to reduce resource development, grazing, timber harvesting, and recreation on public lands as a backdoor way to implement President Joe Biden's 30x30 initiative, its opponents contend.
Groups supporting Newhouse's amendment included Public Lands Council, the American Farm Bureau Federation, the National Cattlemen's Beef Association and the Western Energy Alliance.
Governors blast rule
The amendment comes after Idaho's Gov. Brad Little, Wyoming's Gov. Mark Gordon and four others sent a letter to U.S. Interior Secretary Deb Haaland describing the rule as a solution in search of a problem. They pointed to existing conservation measures on BLM and other federal lands.
The other signers were Utah Gov. Spencer Cox, Montana Gov. Greg Gianforte, Nevada Gov. Joe Lombardo and South Dakota Gov. Kristi Noem. Gianforte has also sent a letter to BLM Director Tracy Stone-Manning requesting the agency withdraw the proposal.
Gordon and Noem testified before the U.S. House Natural Resources Committee in June in favor of nullifying the rule.
House GOP appropriators have sought to rescind more than $115 billion in funding previously allocated to agencies like the IRS, the Environmental Protection Agency, the General Services Administration and others, according to The Hill newspaper.
The push portends multiple budget showdowns between the Republican-led House and Democrat-controlled Senate this fall.
Subscribe to receive top agriculture news
Be informed daily with these free e-newsletters
You May Also Like
---