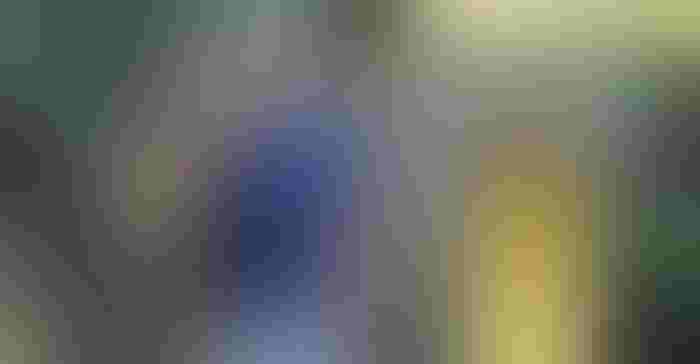 Sometimes, the farm life appeal is too strong to deny. With a master's degree in engineering from Western Illinois University and five years at John Deere under his belt, Jeff Grady never planned on returning to the family's Knoxville, Ill., farm.
But after he saw his future wife, Katie, holding a new calf during a holiday trip home, Jeff left the corporate world behind at the end of 2016. Katie, an industrial engineer and North Dakota native, commutes to John Deere's harvester division in East Moline several days a week. 
What was Jeff's first order of business upon returning home? Finding efficiency wherever possible. "In the engineering world, if you can shave seven seconds off a process, you can save money," he says. "The same thing can be done with farming."
Jeff and his dad, Tom Grady, farm corn, soybeans and hay, and manage hog finishing and cow-calf enterprises. After reviewing the overall operation and rankings from the Illinois Farm Business Farm Management Association, Jeff found two opportunities to cut time and save costs.
First, they purchased a sprayer to handle all applications in-house. "Not only did that save us application costs, but it saved us time, too. We don't have to wait on any applications," Jeff says. He hopes to use the application cost-savings to upgrade their storage facility, another expensive line item he'd like to address.
Next, the Gradys changed where and how they store cattle feed to cut down on hauling time, especially during the winter. They centralized the herd and moved tractors, loaders and silage carts to one location, cutting winter chore time down by three hours.
Now, Jeff has his eye on The Climate Corporation's FieldView technology for scrutinizing their farm data and finding more ways to optimize their operation.
"I'm really big on efficiency," Jeff says. "There's a lot of money to be saved, and I like free time."
Jeff uses some of his downtime to interact with fellow young farmers at Ag Leaders of Tomorrow and the Knox County Farm Bureau. He enjoys attending Precision Planting conferences, checking out new trends at a nearby research farm and visiting with seed representatives or agronomists.
"I just really like to learn," he says, adding that he sometimes feels a few years behind after working off the farm. "I read a lot of books and go to a lot of meetings, but some things you have to learn through experience."
The Cultivating Master Farmers program has helped Jeff and Katie meet young couples and farmers facing similar struggles, such as acquiring more land or paving their new roles on the farm. The two-year mentorship program facilitates relationships between Master Farmers and a select group of young farmers. Jeff and Katie had a chance to connect with Russ and Marilyn Rosenboom, Clifton, over dinner and learned about the kind of wisdom and patience you only gain through experience.
"You can tell Russ learned throughout life that you have to keep things in priority, and you have to be able to roll with the punches," Jeff says. "I really like listening to these experienced farmers talk."
Cultivating Master Farmers is sponsored by Prairie Farmer, Growmark, Illinois Farm Bureau, Monsanto, Compeer Financial and Farm Credit of Illinois.
Check out the slideshow to see photos of the Gradys' operation.
About the Author(s)
Subscribe to receive top agriculture news
Be informed daily with these free e-newsletters
You May Also Like
---