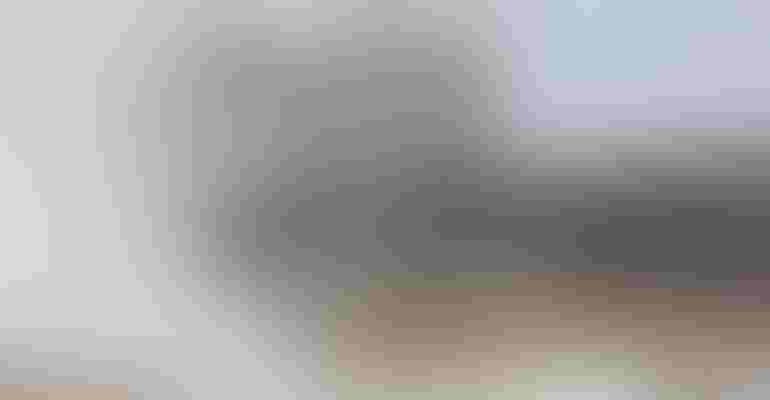 Wildfire recovery efforts continue apace in northwestern Oklahoma, with trucks hauling much-needed hay for area agricultural operations a common sight across the blackened terrain.
Photo by Todd Johnson
The wildfires that raged across western Oklahoma in April may have passed, but questions continue to come into the Oklahoma Cooperative Extension Service about who to call for specific assistance services.
Oklahoma State University Cooperative Extension has been working closely with the State Office of Emergency Management and is the organization to contact for agricultural-related relief efforts. To request assistance or make a donation, call 405-590-0106.
Dana Bay, Woodward County Extension agricultural educator, said OSU Cooperative Extension is still getting calls for items such as hay, supplemental livestock feed and fencing supplies to restore boundaries and protect wandering animals.
See 34 Complex Fire reduces family home to ashes but not human spirit
"If you need these types of items, or wish to donate them or your time, energy and effort in helping producers to rebuild their operations, please do not hesitate to call us," she said.
Monetary donations for agricultural enterprises are being handled by the Oklahoma Cattlemen's Association Foundation. Information on how to make a donation is available online by visiting http://www.okcattlemen.org.
"Fully 100 percent of all received donations are going to impacted families," said Michael Kelsey, OCA executive vice president. "It is our hope these funds will help families get back on their feet and keep their agricultural operations in business."
In the wake of the April wildfires, the Oklahoma Farm Credit Associations – Farm Credit of Western Oklahoma, Oklahoma AgCredit, Farm Credit of Enid and AgPreference, along with Farm Credit of New Mexico, High Plains Farm Credit and American AgCredit from Kansas – established a $200,000 relief fund to support those affected by the fires. Cobank matched those funds, contributing an additional $200,000. Additional donations were made by the Woodward Elks Rodeo Association and private parties.
See Cattle operation losses exceed 26 million
"As of May 9, $368,000 has been disbursed to those affected," said Kristin Zollinger, a 2003 OSU agricultural communications graduate and member of Farm Credit of Western Oklahoma's Woodward office.
In addition to the fund for donations, Farm Credit of Western Oklahoma has rolled out a loan program specifically for wildfire victims. The program is offering zero-percent interest loans for six months to those operators who have been negatively affected by the fires and are in need of immediate operating funds. Additional information on this special loan program may be found by contacting local Farm Credit of Western Oklahoma branches, going to the online website at http://www.farmcreditloans.com or by calling the organization at 580-256-3465.
The Oklahoma Farming and Ranching Foundation, a 501(c)(3) non-profit organization, has created a matching program to partner with Oklahoma's 4-H clubs and FFA chapters to raise funds for rural volunteer fire departments located in areas affected by the wildfires. The foundation has been matching donations up to $1,000 from each 4-H club and FFA chapter. More information on the program is available at http://okfarmingandranchingfoundation.org online.
See Oklahoma fires leave houses in ashes, kill livestock
John Foster, director of claims for American Farmers and Ranchers, said the most expedient way for clients to make a claim is by either going to and following the directions on the AFR website at www.americanfarmersandranchers.com or by contacting their local agent.
Oklahoma Farm Bureau provides an easy-to-use website to assist those making claims. The online address is https://okfbinsurance.com/claims-center. As with other insurance providers, assistance also is readily available by contacting a local agent.
"There have been so many generous and talented individuals and entities stepping forward to assist agricultural families," Kelsey said. "The OSU Cooperative Extension offices have been and continue to be critical in organizing much-needed resources such as hay and veterinary supplies. Oklahoma's Extension educators have gone well above and beyond."
Kelsey and Bay both point out that while American agriculture is a huge economic engine, agriculture itself is a small world that operates on a good neighbor policy when Mother Nature devastates an area.
"When it comes to Oklahoma and American agriculture, neighbors are not simply those living nearby but pretty much everyone involved in farming and ranching," Bay said. "The generosity of people reaching out to help their fellow agricultural producers is always overwhelming."
The Oklahoma Cooperative Extension Service is one of two state agencies administered by OSU's Division of Agricultural Sciences and Natural Resources, and is a key part of the university's state and federally mandated teaching, research and Extension land-grant mission.
Subscribe to receive top agriculture news
Be informed daily with these free e-newsletters
You May Also Like
---