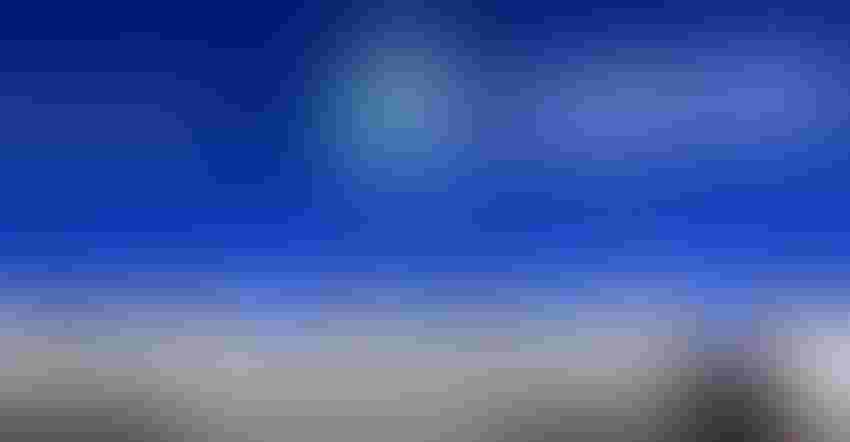 AG AS CLIMATE SOLUTION: Agriculture Secretary Tom Vilsack (left) along with partners form across the globe focused on catalyzing greater public-private investment and cross-sectors partnership in a climate-smart agriculture and food system innovation, raising global ambition and underpinning more rapid transformative climate action at the OP26 in Glasgow, Scotland on November 4, 2021.
USDA
Leaders from around the world gathered at the 26th UN Climate Change Conference of the Parties, or COP26, for a range of events and announcements focused on the United States' commitment to working with international partners to combat climate change. Here at home, the agricultural department is taking action to advance climate-smart agricultural practice adoption and understanding.
Agricultural stakeholders offered insight for USDA's request for information from the public on development of its new Climate-Smart Agriculture and Forestry Partnership Program. The program will be paid for through the Commodity Credit Corporation with the goal to encourage adoption of climate-smart agriculture and forestry or CSAF practices by growers and promote markets domestically and abroad for climate-smart commodities.
CSAF, announced by Secretary of Agriculture Tom Vilsack in September, is an initiative to partner with agriculture, forestry and rural communities and to finance the deployment of climate-smart farming and forestry practices to aid in the marketing of climate-smart agricultural commodities.
Vilsack says nearly 400 comments were offered to the agency as it now works to develop a framework in helping advanced the adoption of climate-smart agricultural practices. Vilsack says he hopes to announce the framework by the end of the year so USDA can begin taking applications in the first quarter of 2022 and start seeing investments shortly after in the first and second quarters.
Vilsack says he's excited about getting the pilots in place to help the agency "walk before we run" and measure data to help farmers understand the impact of climate-smart changes on their farming operations. He adds any of the initial actions being employed by USDA follow recommendations offered by the Food and Agriculture Climate Alliance, which consists of more than 80 organizations representing farmers, ranchers, forest owners, agribusinesses, manufacturers, the food and innovation sector, state governments, sportsmen and sportswomen and environmental advocates. 
Here are several themes identified by those who commented on how USDA should develop the program.
Government should offer voluntary, incentive-based approach to encouraging actions. The bulk of program funding should go to producers to incentivize climate-smart practice adoption. While the program itself may be outcome-based, a practice-based approach will be fastest and easiest to implement. Direct support, cost-share, technical support and grants loans, and loan guarantees would all be acceptable uses of program funds, FACA says.
Funding and opportunities available to all. The organizations representing FACA believe voluntary carbon markets should be available and accessible to all producers and landowners despite regional differences, crop and production types, total acreage under crop production, farm and forest size, race or gender.
The AGree Initiative also suggests that the program should ensure that all American agricultural producers and forest owners can participate, with a particular focus on including Black, Indigenous and Latinx farmers, young and beginning as well as established farmers, small-scale and large-scale farmers, and farmers who grow a diversity of crops and/or operate integrated crop-livestock systems.
Early adopters should be considered. FACA encourages USDA to develop meaningful opportunities for early adopters of CSAF practices to recognize their contributions and support the advancement of their work. FACA has endorsed a one-time payment to early adopters, contingent upon participation in a new, USDA-approved incentive program (such as the CSAF Partnership Initiative) or an existing conservation program.
Research should strategically align with outcomes desired. A climate-smart agricultural research enterprise should be developed that coordinates economic, social and environmental sustainability research across USDA mission areas, the U.S. government and non-federal research partners and builds the research infrastructure needed to facilitate this important work, AGree says.
Uniform carbon intensity needed for biofuels' contribution. Growth Energy asked USDA to credit farmers for instituting carbon-friendly agriculture practices and take them into consideration when rating carbon intensity scores for biofuels, particularly for programs like sustainable aviation fuel and overall efforts to address climate change.  
In comments from American Coalition for Ethanol CEO Brian Jennings, he considers the proposed CSAF Program as an opportunity to expand upon the recently announced $7.5 million Expanding Soil Health Through Carbon Markets Regional Conservation Partnership Program project, which ACE is leading with project partners South Dakota Corn Growers, Dakota Ethanol, South Dakota State University, Cultivating Conservation and collaborator Sandia National Labs. ACE's comments on the program reflect this objective by outlining how USDA can implement the CSAF Program in a manner that allows for the scaling of farmer access to Low Carbon Fuel Standard markets through the establishment of validated, non-proprietary verification protocols.
In the case of ACE's RCPP project, Dakota Ethanol estimates if California credited its farmers for adopting NRCS approved no-till practices with the LCFS program, it would mean between $10 and $12 million a year in premiums for their ethanol. This translates to an approximated $0.39 per bushel for corn grown using climate-smart agriculture practices.
Incorporating financial risks should also be examined. A program should also better align financial incentives in the risk management and farm finance systems to promote conservation, e.g., by utilizing crop insurance products like the recently approved Post-Application Coverage Endorsement for farmers who split-apply nitrogen fertilizers.
AGree says it is imperative that pilots be established to explore incorporating the risk-related benefits of climate-smart practices into credit risk ratings, underwriting processes and other valuations. Likewise, it is critical to align incentives for producers adopting climate-smart practices and remove barriers currently limiting the development of new market opportunities for climate-smart commodities. This includes creating financial incentives and protections for producers transitioning to new conservation practice adoption as well as creating clear standards and authorities regarding emerging climate-smart commodities markets.
Partner with local, farmer-led conservation projects. Edge Dairy Farmer Cooperative, with members throughout the Upper Midwest, encouraged USDA to focus on local farmer-led conservation projects. Edge President Brody Stapel says the co-op sees great potential in financial incentives for dairy farmers who are committed to incorporating nontraditional farming practices aimed at reducing their carbon footprint.
He pointed specifically to local farmers working together voluntarily to leverage innovative ideas and financial resources. Stapel said Edge supports a model developed in part by a sister organization, Farmers for Sustainable Food, that focuses on farm-level sustainability projects. That group and a set of partners developed a comprehensive framework for replicable projects and are piloting it with a local farmer group in Wisconsin. The nationally recognized project incorporates economically viable conservation.
Seed innovation seen as foundation of climate smart agriculture. American Seed Trade Association President and CEO Andy LaVigne submitted comments on the behalf of the U.S. seed industry and explains quality seed plays a foundational role in enabling climate-smart agriculture production and forestry programs.
"Seed innovation, from the latest breeding methods to seed treatments and new cover crop varieties, is what will allow us to adapt to the new and emerging challenges facing agriculture production and forest health, and to drive the solutions of tomorrow, for the benefit of our planet and our food," says LaVigne. Appropriate policies can incentivize investments in plant breeding innovation such as gene editing while creating new jobs and market opportunities and boosting sustainability along the entire food value chain.
Subscribe to receive top agriculture news
Be informed daily with these free e-newsletters
You May Also Like
---