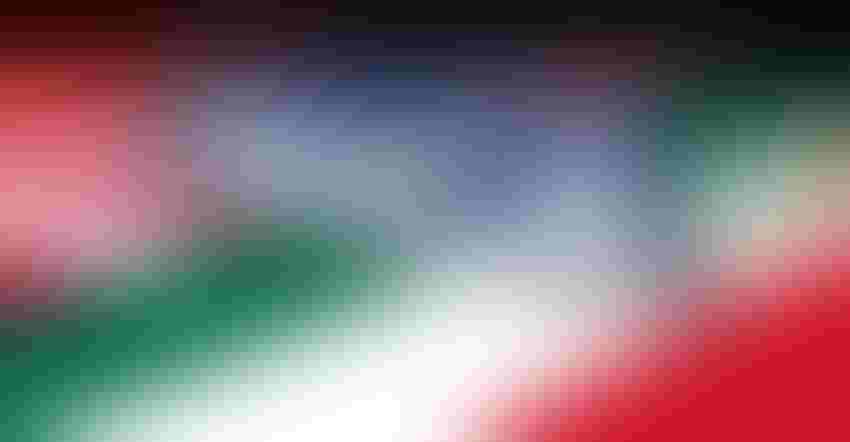 MEXICO FALLS SHORT ON USMCA: Mexico's move away from agricultural biotechnology does not meet standards set in USMCA trade agreement.
wildpixel/iStock/GettyImagesPlus
U.S. Trade Representative Ambassador Katherine Tai will host the inaugural Free Trade Commission of the United States-Mexico-Canada Agreement on May 17-18. Mexican Secretary of Economy Tatiana Clouthier and Mary Ng, Canada Minister of Small Business, Export Promotion and International Trade, will attend the virtual meeting which Tai says will include discussions on Mexico's biotech acceptance and Canada's dairy provisions.
The ministers will receive updates about work already underway to advance cooperation under the agreement and will hold robust discussions about USMCA's landmark labor and environmental obligations, which set the standard for future trade agreements, according to a readout from USTR.
"The FTC is the first step toward realizing the full potential of the agreement and building an inclusive trade policy for North America that fosters broad-based and equitable growth, spurs innovation, protects our shared environment, and helps people from all walks of life," USTR notes.
Mexican President Andrés Manuel López Obrador's government has failed to issue biotech import approvals since 2018 and establish a regulatory approach to gene-edited products. He also issued a decree on December 31, 2020, to phase out imports of biotech corn for human consumption by 2024. 
Tai appeared before the Senate Finance Committee on Wednesday and the House Ways & Means Committee on Thursday to discuss President Biden's 2021 trade agenda and where members expressed concerns about Mexico's treatment of ag biotech. During the hearing, Tai said she would bring up the topic of ag biotech approvals during the meeting with her counterparts during the first USMCA Free Trade Commission.
Sen. Chuck Grassley, R-Iowa, and Rep. Adrian Smith, R-Neb., raised Mexico's failure to adhere to USMCA commitments and issue biotech import approvals as well as its recent decree to phase out biotech corn. Similarly, Senate Finance Ranking Member Mike Crapo, R-Idaho expressed concerns about Mexico's treatment of ag biotech in his opening remarks. 
Canada's dairy provisions
Also ahead of the FTC meeting, a group of 67 day companies and associations urged Tai to initiate a dispute settlement case with the Canadian government over its dairy tariff-rate quota administration if ongoing consultations and the USMCA Free Trade Commission meeting do not result in immediate resolution.
USTR started consultations in December 2020 with Canada over its TRQ policies as part of its obligations under USMCA, a step that the National Milk Producers Federation and the U.S. Dairy Export Council strongly supported. Several months post-consultations, it is not readily apparent that progress has been made on resolving Canada's circumvention of its trade obligations. In a letter sent to Tai, the U.S. dairy industry urged USTR to establish a Dispute Settlement Panel in the event there is not an immediate, positive resolution in the consultations. 
"The U.S. dairy industry proudly worked with USTR and members of Congress on a bicameral and bipartisan basis during the 116th Congress to secure strong, enforceable dairy provisions in the USMCA. Even while we knew it was important to secure strong text in the agreement, we also knew it was going to be just as critical for the provisions to be properly implemented and enforced. This is why we need USTR to take bold action to ensure the U.S. dairy industry fully benefits from the hard-fought wins included in the USMCA," says Krysta Harden, president and CEO of USDEC. 
USDEC and NMPF have closely monitored Canada's actions regarding its USMCA commitments even prior to the agreement's entering into force. Canada's TRQ allocations are designed to discourage the full utilization and value of the TRQs, limiting U.S. dairy-product imports. Specifically, Canada is reserving the bulk of quota access to Canadian processors and is not providing fair or equitable procedures in administering the TRQs. 
"America's dairy farmers appreciated USTR initiating consultations with Canada on its dairy TRQ allocation measures and the decision to hold USMCA Free Trade Commission discussions to pursue reforms. But Canada has always been obstinate on dairy, and at this stage it is increasingly clear that further action is needed to ensure a fair and transparent enforcement of USMCA. This is why America's dairy farmers are asking USTR to initiate a dispute settlement case should talks with Canada this week fail to yield a full resolution," says Jim Mulhern, president and CEO of NMPF. "We look forward to working closely with the administration as they pursue every option available to them to ensure America's dairy farmers fully benefit from the USMCA's market access provisions."
During her appearances on Capitol Hill, Tai says she's "keenly aware of how important dairy commitments were to successfully closing out USMCA negotiations" and adds she takes concerns that the U.S. dairy industry has "extremely seriously."
She says she's raised the dairy concerns with her counterpart in Canada on their first call and also will be conducting assessments at USTR to determine the best next steps.
"The tools that are in USMCA are in there for a reason," she says, adding that USMCA was an improvement upon the North American Free Trade Agreement because it allows for enforcement if trading partners don't meet promised commitments under the agreement.
Subscribe to receive top agriculture news
Be informed daily with these free e-newsletters
You May Also Like
---