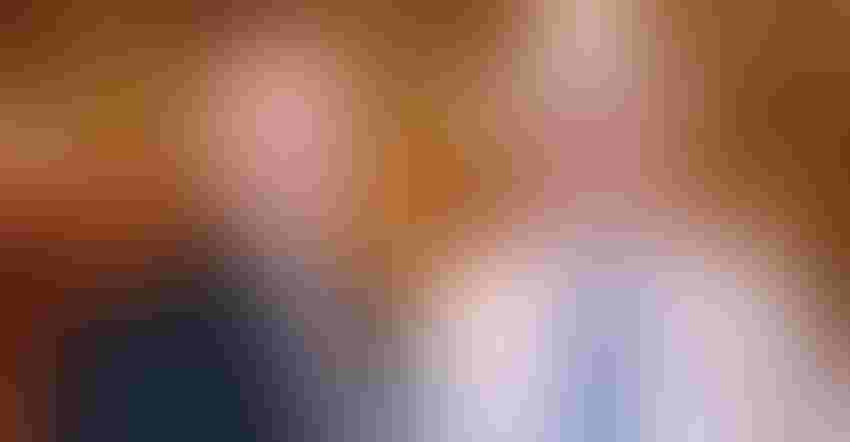 Steve Williams, left, SCPA's outgoing president, welcomes Texas Commissioner of Agriculture Sid Miller to the SCPA annual conference.
Sid Miller, Texas commissioner of agriculture and president of the Southern Association of State Departments of Agriculture, brought some Lone Star observations on trade, immigration and ag policy to the recent Southern Crop Production Association annual conference in Asheville, N.C.
Agricultural trade is crucial for Texas, Miller said. "Texas is the second largest agricultural state in the country, behind California. I hate to admit being behind California in anything, but we are the leader in agricultural exports.
"Some 80 percent of NAFTA comes through Laredo," Miller said. "So, NAFTA has been important to Texas as well as the country. It's good to have free and unfettered trade with these countries."
He added that the tariffs currently in place on steel and aluminum create concern, but he hopes to see that resolved soon.
He also noted that the new agreement, the U.S.-Mexico-Canada Agreement (USMCA), must be ratified by Congress. "The Democrats may push back on it a little," he said, "but I don't think anyone has the will to take it on again."
Cuba Trade
He hedged a bit on the importance of trade with Cuba, citing the country's lack of resources to pay for imported agricultural products.
"Cuba is important," Miller said. "We have sent trade delegations, and we are already selling agricultural products under the humanitarian clause."
He said rice would seem to be a good option, "but the quality of U.S. rice is too good." He said Cuba buys lower quality, cheaper rice.
Cuba likely will be interested in farm machinery, primarily used equipment, he said.
"Cuba has 11 million people," he added. "But they don't have any money. I'm not saying we will not pursue Cuban trade; the location is an advantage, but we will focus most of our efforts elsewhere."
China remains the plum and has been a target in a Texas Global Initiative, a program Miller implemented his first year in office. He cites pecans as a positive trade opportunity with China because of a reduced tariff. "And we have U.S. beef back in China. We sent the first shipment of beef in 14 years to China last June. I think we got the ball rolling."
He said the current trade dispute with China illustrates "a bad business model." China, he added, accounted for too big a percent of trade in some commodities, as much as 60 percent.
He said Texas had sorghum loaded onto several ships headed for China during some of the most heated trade disputes. China was requiring a deposit on the sorghum, just to unload it.
His trade representatives looked for other markets. "Spain said they would buy milo," Miller said. They picked up other buyers in Dubai and Peru. "Then China said they would take off the deposit requirement." He said no thank you and was pleased with discovering new markets.
South Korea
He said new a trade agreement with South Korea will be good for Texas citrus. "And talks with Japan and the European Union seem to be moving close to an agreement."
Miller, responding to a Farm Press question on immigration, said the country has two options: "We can import our food, or we can import the labor to grow our food. It's that simple.
"Currently, farmers' solution to labor shortage is automation. They simply can't find labor."
He said Congress is making headway with an improved H-2A program. We have to expand and reform that program," he said.
With unemployment at "an all-time low, we have no workforce to pull from," Miller said. "Farmers tell us that low prices and labor shortages are hard on agriculture."
In a few, more random, comments, Miller said, "Our youth is our greatest natural resource. We have to train young people to produce our food and fiber."
He said the farm bill likely will not include an increase for agricultural research and sees "a good possibility that it will get less."
In a response about how to handle questions regarding the importance of crop protection to agriculture, he said: "Tell them that without agriculture they will be hungry, naked and sober all the time."
He said dicamba damage has been less of an issue in Texas than in other Southern states. "We had less than five dicamba complaints in the last 12 months."
Miller said during the 2016 presidential campaign he was asked to head an agricultural advisory committee for then candidate Donald Trump. "We had a seat at the table," he said. "We had issues we were able to address."
Immigration reform, he added, was on that list.
Subscribe to receive top agriculture news
Be informed daily with these free e-newsletters
You May Also Like
---