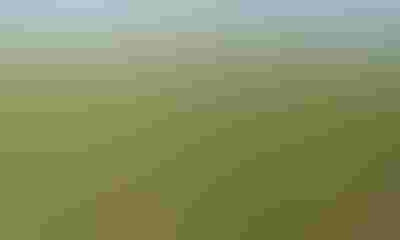 Kansas farmers are already scouting winter wheat fields for stripe rusts, leaf rust, soilborne mosaic virus and other dangers. Stripe rust has already been widely detected in Texas and Oklahoma and is showing up in more and more Kansas counties.
This year's strains and which resistances packages will hold are still to be determined.
For the next 48 years, you can add keeping an eye on the thermometer to the concerns.
Temperatures across south central Kansas -- where the wheat was jointing two weeks ago -- are forecast to hit 29 degrees overnight tonight and Saturday night.

FROST DANGER: Temperatures are forecst to drop to 29 degrees overnight tongiht and Saturday. Tht will be enough to create frost that will burn leave of wheat but likely not enough to feeze the growing point.
That's  not enough to qualify for a hard freeze according to guidelines from the office of Kansas State University state climatologist Mary Knapp. A hard freeze is temperatures of 27 degrees or less for a period of three or four hours.
If the temperature drops to 29 for a few minutes right before sunrise, it probably won't do a lot of damage, simply because the ground is quite warm after an abnormally warm February and March and it will take more than a couple of days of cooler weather for the soil temperature to drop enough to put the growing point of the plant in danger of freezing.
The cold snap this weekend is forecast to be short-lived, with temperature rebounding to highs near or above 70 on Monday.
For the northern part of the state, especially the high plains of the northwest, it could be considerably colder and there is even a chance for light snow.
However, the crop in that area of the state is not nearly as far ahead of normal development as it is in the southern half of the state. It is also not as dry as the southwest corner of the state, which came out of drought with El Nino-driven precipitation over the fall and winter only to fall back into worrisome abnormally dry conditions in the last couple of months.
The crop overall is in good shape at this point, but agronomists are urging producers to scout for foliar diseases and to remember that the crop is well ahead of the normal growing schedule.
If you spot rust, now is the time for a fungicide application.
Subscribe to receive top agriculture news
Be informed daily with these free e-newsletters
You May Also Like
---