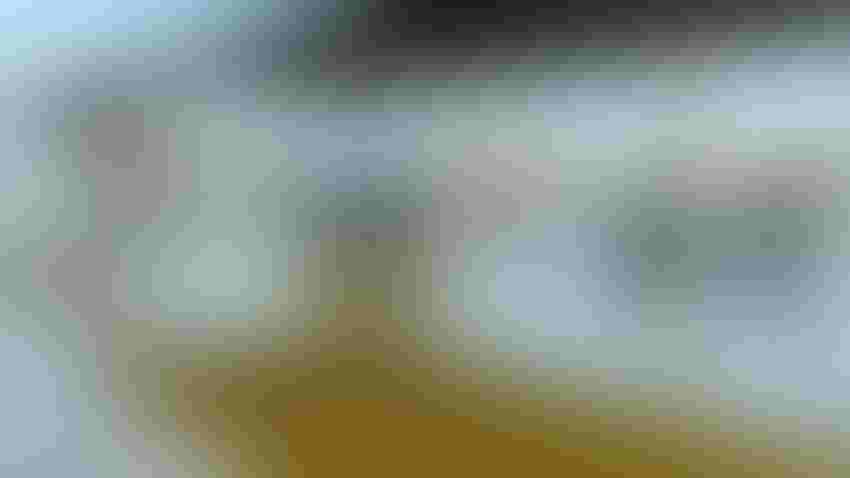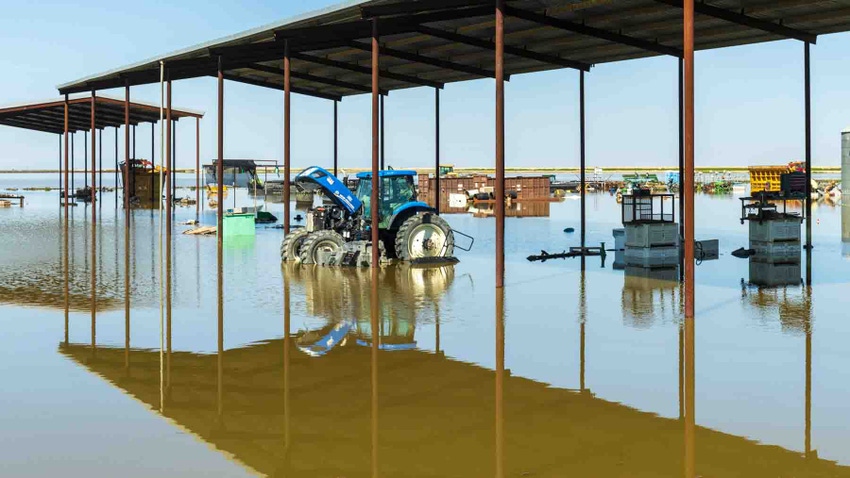 Flood waters inundate equipment at Hansen Farms near Corcoran, Calif.
Todd Fitchette
Kings County, Calif. officials voted in closed session in late March to cut a levee near the lowest point of the old Tulare Lakebed after the damage was done to homes, farmland, and farm shops south of Corcoran.
The move was meant to alleviate pressure in other parts of the lakebed and spread what could be over one million acre feet of runoff aimed at the lowest point in the southern San Joaquin Valley.
The decision in a declared emergency session came after public testimony by officials with J.G. Boswell Company, who were asked by supervisors to defend their decision to unilaterally breach levees in an area of the lakebed that spared their farmland and infrastructure from flooding.
The hastily called meeting came as landowners in the Tulare Lake basin in the southern San Joaquin Valley watched water consume their homes, farmland, and farm shops. Hansen Ranches, one of the impacted farms, had hours to evacuate equipment from a farm shop in the lakebed. Hansen Ranches received the Farm Press High Cotton award in 2021.
The area of Tulare Lake where the Hansens' farm is has never flooded, according to Phil Hansen, a partner in Hansen Ranches. Other areas of the lake have – in 1983 and in 1969, according to farmers who lived through it.
The county supervisors meeting, recorded online at https://tinyurl.com/4kjs4xzk, was called after county officials met with J.G. Boswell representatives and asked them to attend and defend their decisions to cut levees in certain parts of the lake bottom region. These cuts spared J.G. Boswell land from flooding while farmland and at least one home owned by the Hansen family were inundated with water.
Included in the public meeting from J.G. Boswell Company were Chief Operating Officer George Wurzel, Dominic Sween, water engineer, Mark Unruh, water department manager, and Gabe Cooper, Corcoran ranch manager.
Saving Corcoran
Sween used charts and maps to describe how water is stored and conveyed in the lake bottom region. Some of those assertions were challenged by farmers speaking after Sween.
Boswell officials defended their decisions to breach levees and protect their land and infrastructure. Wurzel stressed several times during the two-hour meeting that a primary concern of his was protecting the city of Corcoran from flooding. He said Corcoran is where many of his employees live.
"There are a lot of levees on the lake bottom," Wurzel told supervisors. "Decision are made all the time on where to move water, and sometimes that is not the lowest spot in the lake bottom."
Hansen called the move by Boswell "premeditated," and challenged Wurzel's notion that protecting Corcoran was a top concern. Hansen Ranches farms several thousand acres of permanent and field crops in and around the Tulare Lake region.
"That argument about Corcoran is ridiculous," Hansen said of Wurzel's notion that flooding an area closer to the city – arguably the lowest portion of the ancient lakebed – would have negatively impacted the city. Boswell representatives were later pressed by supervisors on that notion. They agreed that flooding the nearby Reclamation District 749 first, rather than Hansen's farming operations south of there, would not have negatively impacted the city.
The region of the lakebed flooded first is in what a Boswell map calls the Southeast Lake area. It sits on higher ground than portions northwest of there in an area known as R.D. 749. There are other zones with various names covering the lake bottom region. Many of these are their own zones, protected by their own levee systems that allow higher elevation regions to hold water, sparing the lower regions.
"We need that Southeast Lakebed and El Rico (an adjacent region, according to a Boswell map) to fill to maximum capacity," Wurzel said.
Hansen said one of his concerns was the decision to first flood the area of the lake he and his family farms, rather than allow flood flows to go to the lowest portions of the lakebed in R.D. 749.
"In my opinion it was premeditated. They flooded the El Rico first, and they knew it would flood on us," Hansen told supervisors.
Pressure relieved
Supervisors voted after the public meeting to cut the levee at R.D. 749 to move water there and relieve pressure on other regions of the lakebed. It appeared from the meeting that farmers on both sides of the argument are convinced that the entire lakebed will eventually flood, though Hansen asserted that early decisions by Boswell forced flood waters to quickly inundate his cousin's home and their farm shop south of Corcoran.
Hansen told Farm Press while the tanks were being relocated that he plans to move some of his farming operations to other portions of the San Joaquin Valley not affected by the Tulare Lake flooding. Some of that ground is in more challenged water districts.
County supervisors at the special meeting indicated they had calls on Lemoore Naval Air Station and the state prison on the south edge of Corcoran to consult with officials at those locations about flood contingencies, since both are located within Kings County.
One of the farmers at the meeting indicated the likelihood that an uncontrolled spill from Pine Flat Reservoir on the Kings River – a likely scenario given the amount of snowpack in the Kings River watershed upstream from Pine Flat Dam – could significantly impact Lemoore NAS. Supervisors indicated that the commanding officer from Lemoore NAS would be added to a future meeting agenda to explain the Navy's concerns and plans.
County impacts
Dusty Ference, executive director, Kings County Farm Bureau, said it's still early to know the full impacts of the flooding. Updated numbers in early April suggested just under 50,000 acres of row and field crop land was flooded. He could not offer a good idea on how much permanent crop land was damaged, though he said it could be considerable.
Kings and Tulare counties, which neighbor each other at the south end of the San Joaquin Valley, seem to have taken the brunt of flood damage, Ference said. A YouTube video shot from an aircraft showed significant flooding in neighboring Tulare County that inundated dairies, a milk processing plant, farmland, and a University of California veterinary facility just south of Tulare.
Estimates suggest farm ground in the lake bottom will remain flooded for at least two years in part because there is no natural outlet to the lake and the soil below the lake is impervious to groundwater seepage.
Subscribe to receive top agriculture news
Be informed daily with these free e-newsletters
You May Also Like
---