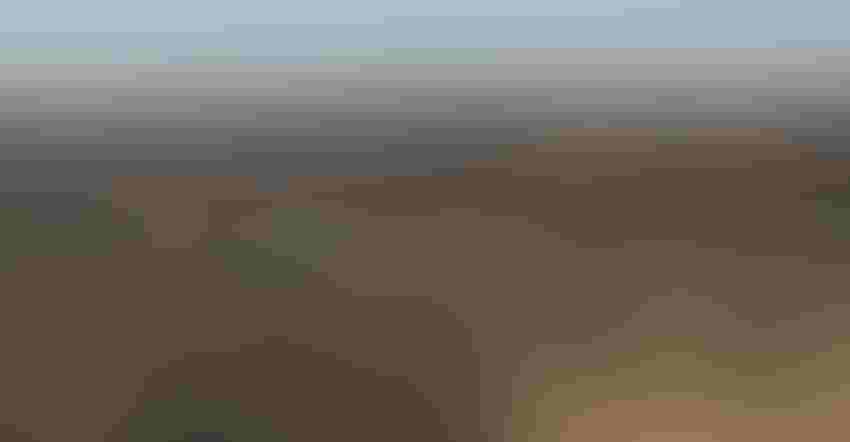 MOONSCAPE: The aftermath of the Starbuck Fire in Clark and Comanche counties left more than 500,000 acres of mixed-grass prairie looking like a vast wasteland.
The second week of March made one thing abundantly clear. Kansas does not have the resources it needs to fight wildfires of the size and scope that struck the state March 6-8.
The largest of the fires, the Starbuck Fire, burned more than 500,000 acres in Clark and Comanche counties. Smaller blazes in 21 other counties added up to almost a million acres of burned grass, along with some no-till residue on farm fields. Thousands of head of cattle were killed, hundreds of miles of fences went down as posts burned, and outbuildings and more than 30 homes were destroyed.
As bad as that sounds, it could have been much worse. Only one person died in the fires, and the cities of Hutchinson, Dodge City and Ashland were saved. The town of Englewood was not as fortunate and several buildings burned.

BURNED FARMSTEAD: More than 30 homes were burned in wildfires that struck 23 counties in Kansas in early March. All that remains of this home in Clark County are ashes and twisted metal.
"We were very fortunate that we did not lose firefighters or ranchers," says fire protection specialist Jason Hartman with the Kansas Forest Service. "We do know that for handling this kind of situation, we need more resources."
The Kansas Legislature has already advanced a bill to provide some more money for the Kansas Forest Service, and moved quickly to join an interstate compact that will make it easier to ask for help from adjoining states. The lack of a compact agreement meant that Kansas was not able to accept an offer for an Oklahoma airplane to fight the Starbuck fire.
Volunteers are the backbone of firefighting efforts in most of rural Kansas, where most departments are staffed by volunteers and equipment is hand-me-downs. When a fire is out of control, farmers routinely join the firefighters, putting tanks in the beds of pickup trucks and filling them with water. Farmers hook up disks and attempt to throw up enough dirt to slow or stop a fire.
"Everything starts at the local level," Hartman says. "A local fire chief decides when he needs to ask the county for help. Then the county asks for help from adjoining counties, and if that isn't enough, they ask the state and the state can ask for help from the National Guard or from other states."
On March 6, it didn't take long for local fire departments in Englewood and Ashland to know they needed help. The problem was that many of the people who would be there to help were already fighting fires of their own. The Starbuck fire burned for a full 24 hours and wiped out 85% of the county before sufficient help arrived to get it under control.
That happened because of the number of fires burning across the state and in Oklahoma and Texas as well. The biggest numbers of people and equipment were mustered in Reno County, where fire threatened the city of Hutchinson, and in Ford County, where Dodge City was at risk. While it only made sense to fight where the greatest number of people were in harm's way, it left no resources to help the less-populated areas.
When it comes to resources, Kansas is far behind its neighboring states. The Kansas Forest Service budget for 2016 was about $3 million. Oklahoma's Forestry Service's budget is about $87 million.
Hartman says that Kansas has lagged behind in part because of a lack of large, forested areas in the state. However, it does have large acreages of grassland, which create fire risk, as the last two years have proven.
"The difference is our fires get bigger, faster. They may not last as long, but they move quickly and they burn hot," he says.
Kansas will be looking to neighboring states including Oklahoma, Texas and Colorado as a model of how to be in a better position to respond to fires.
Oklahoma and Texas, for example, pre-positioned firefighters and equipment in the most dangerous areas. Kansas attempted to do that as well, but there was not enough equipment or people to cover all of the critical areas.
Hartman says there may also be a need for a cultural adjustment when it comes to asking for help.
"We have a culture of self-sufficiency that has gotten us through some tough times," he says. "Our local departments try their hardest to handle things on their own before they call for help. We may need to encourage them to ask for help sooner. We need to make it clear that there is no shame in asking for help, even it turns out to not be needed."
The most critical areas of the state are the Flint Hills tall-grass prairie grasslands, covering more than 6 million acres in the eastern part of the state, and the Red Hills mixed grass prairie, which covers more than 1 million acres along the southern border and extends into Oklahoma.
Population in the east is greater, which means more firefighting resources. Prescribed burning is also a more common practice in the Flint Hills, which helps reduce wildfire danger, as well as contributing to equipment and experience with fire.
Pre-staging more equipment has been shown to be valuable in controlling a wildfire quickly, Hartman says.
"There was an instance in Utah where firefighters were reluctant to spend the money to use the big air tanker," he says. "But it turned out that the money spent on trucks, small aircraft and personnel actually cost more money in the long run than using the big tanker would have cost. And more acres burned."
Agencies plan, practice for disasters
There are a number of agencies at the local and state level that plan and practice together to respond to disasters, including wildfires.
For fire management, the state oversight comes from the Kansas Interagency Wildfire Council. The local fire chief in each community is the first line of response. But they train with county emergency management crews, along with representatives from the state emergency management team and the Kansas Forest Service, who are their "go-to team" when local resources are not enough.
A major partner is the National Weather Service, which issues "red flag" warnings when weather conditions are ripe for fires to start and spread quickly. Kansas has experienced several consecutive years of weather that creates ideal conditions for wildfire — wet springs and later-summer months with rapid growth of grasses and brush, followed by warm, dry, windy winters and early-spring months.
Agencies routinely practice disaster response, and progress has been made in coordinating communications, equipment and personnel.
"Mostly, I think we just need to beef up what we are already doing," says Jason Hartman, a fire protection specialist with the Kansas Forest Service. We have to be thinking not about the 'what if' but about the 'when' the next big fire will come, because it will come."
Subscribe to receive top agriculture news
Be informed daily with these free e-newsletters
You May Also Like
---