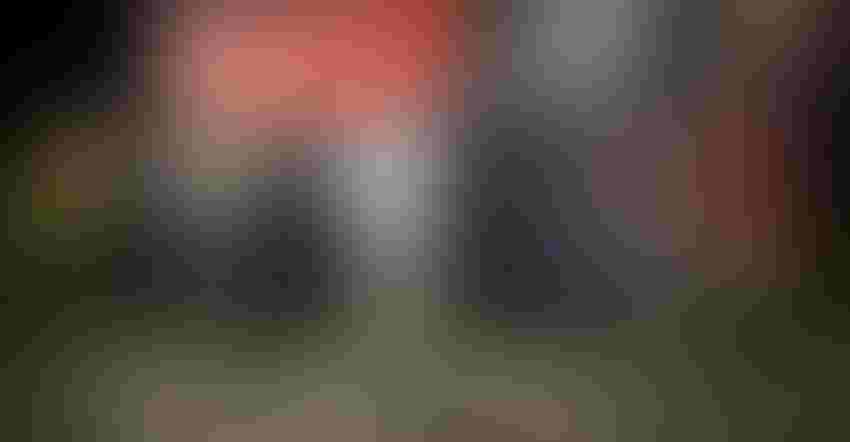 READY: The Lewistown Fire Protection District hopes it never has to use this grain rescue tube, one of 21 nationwide donated by Corteva Agriscience. But should the call come, the department has both the tools and training to help save a life.
Lisa Welker
As harvest finally commences, grain has started to move all across the Midwest. And with it: a safety reminder, especially around grain bins.
"We're now producing, moving and storing more grain than at any time in U.S. history, and unfortunately, we're starting to see the engulfments, the injuries and the fatalities also growing," says Dan Neenan, director for the National Education Center for Agricultural Safety.
According to NECAS, 15 to 20 documented grain entrapments occur annually in the U.S. Of course, that's just the documented cases; many nonfatal incidents go unreported. Of those documented entrapments, 55% are fatal, and 70% occur on the farm. And 45% of known entrapments involve corn.
Entrapments occur as grain fills the bin and makes a crust of several inches. Grain is emptied from the bottom of the bin, which creates a void that can be anywhere from 6 inches to 30 feet or more. A person walks on it, the crust collapses, and they become trapped.
Neenan's group and other safety organizations have sponsored simulated grain entrapments to give farmers and agricultural workers a better idea of how quickly they can become trapped in grain. He says most people don't realize they'll become completely trapped in grain up to their knees, sinking as they fight it. One cubic foot of grain weighs 50 pounds. In the simulator, they sink people to their waist, and they can't move.
And while the best-case scenario is not getting trapped in the first place, experience has shown that the right tools and training for first responders can make the difference between life and death. Grain tubes have become a successful way to rescue people trapped in grain bins, including the Great Wall of Rescue and GSI's Res-Q-Tube.
Typically, these tubes are made of six panels that slide into place around the victim. Once inserted, the tube halts the flow of grain and relieves the pressure on the trapped individual. Without the tube, grain can continue to collapse on the victim as fast as rescuers remove it.
Corteva Agriscience recently donated a rescue tube and auger to the Lewistown Fire Protection District in Lewistown, Ill., one of 21 grain rescue tubes donated nationwide.
Saved by the ball cap?
"On the family farm, where OSHA's not covering, it's important for folks to know the proper procedure for entering a bin," Neenan says. "There really don't need to be any grain bin engulfments or fatalities if we follow the right procedures."
Proper procedures, according to Neenan are:
No one under age 18 is allowed to enter the confined space.

Lock out and tag out power to augers, both to the bin and the sweep auger; they can't be running.

Do air quality sampling to be sure there's enough oxygen in the bin.

Wear a harness and be tied off at the top of the bin.

Make it a two-person job. One person enters and one person stays outside monitoring the rope and remaining in constant contact with the person inside.
And if you do get trapped? Neenan says your first instinct is to fight to get out. If you can't do that and you're going under, take off your cap — what almost every farmer wears — and put it over your mouth and nose to keep grain out. "As you go under grain and get grain in your nose, your automatic response is to open your mouth — and then you have grain in your nose and your mouth," he explains. "That's what causes fatalities."
Beyond that, he recommends every farm create an emergency plan for what to do if someone becomes entrapped. Make sure your local emergency department is trained for grain bin rescue and has the proper rescue equipment. 
Subscribe to receive top agriculture news
Be informed daily with these free e-newsletters
You May Also Like
---