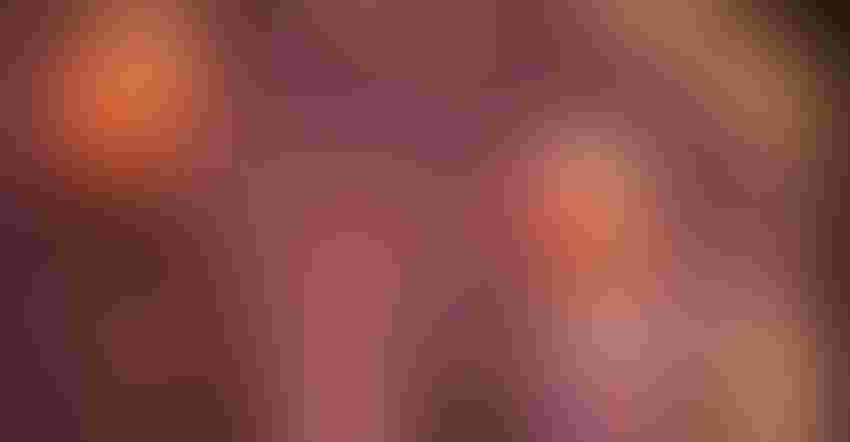 STAYING OPTIMISTIC: Secretary of Agriculture Sonny Perdue (right) says he hears a lot of concern and anxiety about low prices and trade disputes but is optimistic that new, better deals will be struck, and that farmers will be rewarded. He is shown here with 1st District Rep. Roger Marshall.
U.S. Secretary of Agriculture Sonny Perdue says he is hearing a "lot of concern and anxiety" in farm country about depressed commodity prices and the role that ongoing trade disputes play in shutting off markets.
Responding to questions from the audience and the media following delivery of a Landon Lecture speech at Kansas State University, Perdue said that he believes better trade deals will be completed, and that farmers will be better off as a result.
"We have a better deal in the USMCA than we had under NAFTA," he said. "We have agreement with South Korea and we are moving to get talks started with the European Union and Japan. And the U.S. is ready to trade with China when it is ready to play by the rules."
Perdue said he believes that President Donald Trump's policies are getting the point across to China.
"It's a long game," he said. "We won't be patsies. It looks like there will be another meeting between President Trump and President Xi."
Perdue said that he is "99.9% certain" that there will be a second round of trade disruption payments to farmers. "I think we'll see another round starting around the middle of December," he said., "We're trying to give our negotiators time, but it's becoming pretty clear that these trade disputes are not going to be settled by the end of fall."
At the same time, Perdue said, he doesn't see another appropriation for the 2019 growing season.
"The problem this year was all this came after farmers had already made their decisions and had a crop in the field," he said. "But our farmers are great businessmen. I have confidence that they will make planting decisions with market problems in mind. We won't need a mitigation program in 2019."
Perdue also addressed the need for immigrant labor for agriculture, saying the Department of Labor is already in the process of making it easier for farmers needing workers to meet the advertising requirements that are required before than can ask for H2-A workers.
Perdue said he does expect disaster aid packages for victims of Hurricanes Florence and Michael, but he hopes that an additional appropriation won't be needed.
He also expressed home that a farm bill will be passed during the lame duck session of Congress. Kansas 1st District Rep. Roger Marshall, who accompanied Perdue on the K-State visit, said he is also confident a bill will pass.
"I think it better pass or I may not be able to come home for Christmas," Marshall joked. Marshall, who easily won a second term on Nov. 6, took some heat during the campaign from constituents who have a keen interest in seeing a farm bill pass.
Perdue added however, that should there not be a bill completed by the end of the year, a resolution to continue the 2014 for a year to give the new Congress time to write a new bill, is likely.
He said there is "no backup plan" to fix the dairy margin program, something that is addressed in the Senate version of the farm bill now stuck in conference committee. Other programs 'orphaned' by the expiration of the 2014 bill, including popular and heavily used conservation programs, will also be in limbo if an extension occurs, because they depend on new appropriations.
Subscribe to receive top agriculture news
Be informed daily with these free e-newsletters
You May Also Like
---