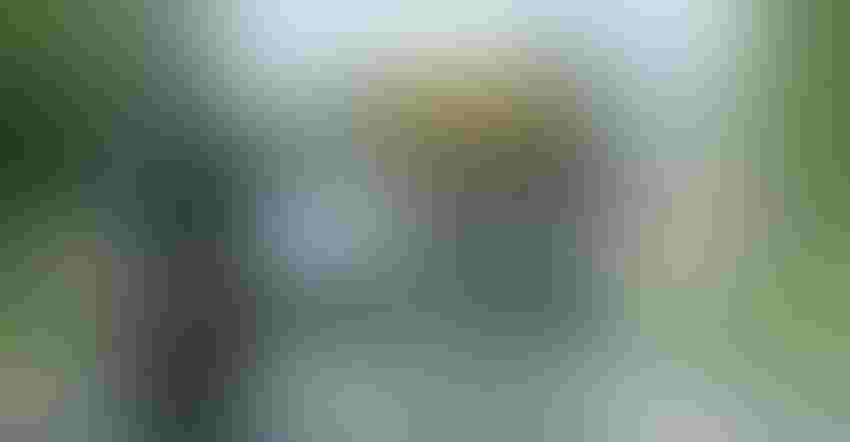 COMMON SENSE NO BARRIER: Neither common sense nor the hill will discourage some motorists from passing a slow-moving spreader, sprayer, combine or tractor.
Fred Whitford, Purdue Pesticide Programs
A slow-moving fertilizer spreader truck has just topped a steep hill. A car is behind it with an anxious driver looking for a chance to get around the spreader. Then there's a man on a motorcycle behind the car. He's already pulled to the left of the car, despite being on a hill. Surely he won't try to pass the car and the spreader on a hill?
It seems like nine times out of 10, he will. Custom applicators say they've not only seen that move, they've seen motorcycles zip under their high-clearance sprayer. The first time they realize the motorcycle is there, it's tearing off in front of them. One operator says he even had a small sports car zip underneath his rig and come out the front without ever slowing down. Thank goodness for high-clearance sprayers.
Perhaps the topper is the farmer who sent Fred Whitford, director of Purdue Pesticide Programs, a cellphone video of a school bus passing slow-moving traffic on a double yellow line. Of course, the guy driving the sprayer wasn't the safest either, shooting video as he drove, Whitford quips.
BE SEEN OR BE HIT!  Standard lights on some farm vehicles, especially rear lights, aren't as visible as you might think. Fred Whitford says you may want to consider an aftermarket solution.
If you can't assume motorists will use commons sense or pay attention to the rules of the road when it comes to your slow-moving vehicle, what can you do? Whitford says one thing you can do is make sure your vehicle is well lit from the rear. Some high-clearance sprayers he has worked with have rear lights that aren't overly bright. It can be difficult to tell when the operator is signaling a turn.
Make sure the lenses are clean, not dirty, and consider aftermarket equipment, including bright turn signals to indicate a left turn, for your vehicles, he concludes.
Subscribe to receive top agriculture news
Be informed daily with these free e-newsletters
You May Also Like
---