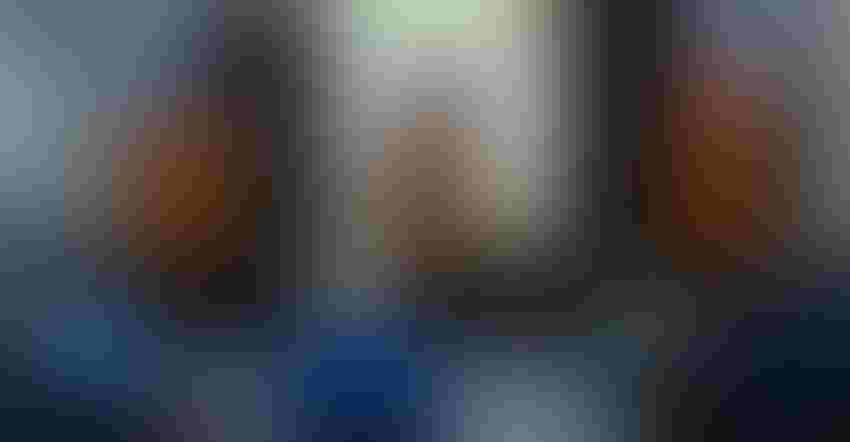 CANDIDATES SQUARE OFF: Linda Lawson (left), William Henry and Suzanne Crouch field questions from a panel of agricultural reporters during a debate for Indiana's office of lieutenant governor.
Darrell Boone
The three candidates for Indiana's lieutenant governor squared off in Lebanon to debate their visions for the future of Hoosier agriculture. It's an important debate because the lieutenant governor is also secretary of agriculture in Indiana by virtue of the office.
Representing the Democrats was Linda Lawson, while William Henry represented the Libertarian party and Lt. Gov. Suzanne Crouch represented the Republicans. The event was hosted by Indiana AgriInstitute and sponsored by the Indiana Farm Bureau, the Indiana Soybean Alliance and the Indiana Corn Growers Association.
Each candidate highlighted his or her qualifications during opening statements:
Linda Lawson. "I'm new to agriculture, having served as a police officer in Lake County for nearly 24 years, and I recently moved to Brown County. I have served on a school board, and education is dear to my heart. I also served 20 years in the Indiana General Assembly."
William Henry. "I'm an advocate, an activist and a photojournalist. I lived in rural Indiana during the early years of my life. I served in the Indiana National Guard and was deployed to Afghanistan, where our units helped with agribusiness development. I also served as a state-level administrator with the American Legion, working with county and state commissions. I believe I can use those skills to help the state agriculturally and organizationally."
Suzanne Crouch. "Gov. [Eric] Holcomb and I know that 21st century agriculture is high technology, which is why we are investing $100 million in expanding broadband in rural Indiana. As lieutenant governor, I oversee the Office of Community and Rural Affairs, and we work daily to develop our rural communities. I'm proud of the work that the Indiana State Department of Agriculture is doing to promote conservation and sustainable practices. We've also worked with Indiana Farm Bureau to address the unique health care challenges that farm families face."
Topic talk
Here are the candidates' responses to several key questions:
How should the state address and fund the inadequacies of rural broadband in Indiana?
Lawson: I know that the Holcomb administration has done a lot of work on this the last few years. But for me, it's a day late and a dollar short. We need this desperately, including telehealth, to be able to help farmers if they can't get to a doctor's appointment.
Henry: I think we can possibly reduce some regulations on these co-ops that are laying some of this broadband out, and give them some relief to be able to put more out quickly and cover a lot more area.
Crouch: COVID-19 has shown us that rural broadband is no longer a luxury, but a necessity. Of the $100 million that Gov. Holcomb and I have invested in rural broadband, we've already awarded $28 million in grants, which has resulted in a $51 million investment from the private sector. We're now in the second round of grants, and that is just the beginning.

AG SECRETARY'S VIEW: Suzanne Crouch, Indiana's current lieutenant governor who is running for reelection, talks about key ag issues.
Growing hemp is now legal. How should Indiana manage this opportunity?
Henry: As chairman of Indiana NORML, which is a national organization to reform marijuana laws here in Indiana, I believe all forms of cannabis should be completely legal in the state, for both medicinal and industrial applications.
Crouch: Hemp is extremely important in Indiana because it offers our farmers another source of income. The challenge is to be sure that we have markets. It's been exciting to see a $10 million plant open in Westfield. We will continue to work with ISDA to ensure farmers have markets for hemp.
Lawson: It's a niche option for our farmers that just makes sense to me. You can make all kinds of things out of it, and I say, "Go for it."
2020 has been difficult for farmers because of the COVID-19 pandemic and the resulting market destruction and lower farm prices. What can be done to help Indiana farmers?
Crouch: One thing we've done through ISDA is help them share information to get what they need. And through OCRA [Office of Community and Rural Affairs], we implemented a COVID-19 response grant program to provide assistance to our rural communities. ISDA also helped provide personal protective equipment to rural businesses, including processing plants, to help keep our food supply chain moving.
Lawson: I think we did too little too late. There are a lot of hog farmers who wish they had their animals back, rather than having to dig holes to put them there. They've got some support from the state, but certainly not enough. I think we need to support our farmers better.
Henry: It would have been great to have had some kind of task force for Indiana agriculture during this emergency, to seek out farmers to find out what they're going through and react faster to help them during these situations. Not doing this is doing them a great disservice.

DEMOCRATIC CHALLENGER: Linda Lawson makes observations about what she would like to do if she were Indiana's lieutenant governor and secretary of agriculture.
Do you think a coordinated effort to promote soil conservation by providing tax incentives for planting cover crops or enhanced funding for soil and water conservation districts is needed now, and would you support that?
Lawson: Absolutely. I've seen the results of erosion firsthand in my community, and I believe we need to be using cover crops and other techniques, and the state of Indiana should be supporting that.
Henry: We really need to pay attention to the hydrology around these fields, because if the water isn't leaving the area right, it's going to damage roads and cost a lot of money to fix.
Crouch: To do our best with conservation, we need to have partnerships, and we've seen those partnerships be successful in making Indiana a leader in conservation, and in reducing soil erosion and nutrient runoff. I am certainly open to exploring new ways of keeping Indiana natural resources safe for future generations.
What is your vision for the future of Indiana agriculture?
Crouch: I see even better partnerships between our federal, state and local partners. I see an ISDA that continues to lead the way, finding new markets for our products abroad and here in our own country. I see an Indiana where farmers can thrive, survive and make enough money to keep future generations on the farm. And we need expanded broadband to help keep our young people on the farm.
Lawson: While agriculture brings $31 billion into our state's economy, we're almost the poorest-funded agricultural business in the U.S. We're not putting our money where our mouth is and offering farmers money to do what they need to do — whether through tax credits, or otherwise treating farmers like big business. We need to be doing better.
Henry: We need to support vocational training for agriculture. We need people who are trained in welding, carpentry and other ag specialties. We need to support our FFA, 4-H and our university programs that support agriculture. We've got to communicate, organize and support our farmers.
Boone writes from Wabash, Ind. Watch the entire debate online.
Subscribe to receive top agriculture news
Be informed daily with these free e-newsletters
You May Also Like
---