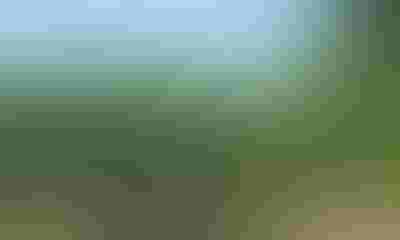 When the rains of April and May finally relented to the sun and heat of June, farming activity lurched in full swing, as farmers raced to get corn, soybeans and cotton planted and combines readied for a wheat harvest rapidly approaching.
By the time heavy rains came again on June 15, wheat harvest had moved rapidly but sporadically northward, with cutting at least begun and in many counties in the southern tier, nearly completed.
For the week ending June 12, the result of the wet spring was a moisture report that showed topsoil moisture at 2% very short, 17% short; 76% adequate and 5% surplus. Subsoil came in at 2% very short, 12% short, 82% adequate and 4% surplus.
TALL CORN: Corn planted early and not flooded by the heavy rains of May literally jumped out of the ground in June. This field in Cowley County was nearing tassel by Wednesday.. 15.
In parts of the state, the very wet May meant stream and even some rivers -- including the Missouri and the Neosho -- going above flood stage which resulted in some low-lying farm fields going under water.
In spite of that, corn condition as of June 13 -- which reflected data collected a week earlier -- was 0% very poor, 2% poor, 31% fair. 72% food and 2% excellent. Most of the corn crop, 96%, had emerged and some 1%, was already silking. Those numbers are about average for mid-June.
For soybeans, about three-quarters of the crop had been planted -- again about average but well ahead of 50% last year, a reflection of the fact that spring rains began earlier and ended sooner than they did last year.
About 40% of soybeans were emerged and were rated in 2% poor, 31% fair, 63% good and 4% excellent.
About 63% of the sorghum crop had been planted as of the June 13 report ahead of 50% last year.
More than half of the sunflower crop, 51% had been planted, well ahead of 38% last year and the average of 48% for mid-June. About 14% of the sunflower crop was up and growing.
For pastures and rangeland, the news was also good. Conditions were rarted 2% poor, 20% fair, 65% good, and 13% excellent. None of the crop was rated very poor. Stock water supplies were also in good shape with only 6% short of very short and 88% adequate and 6% surplus.
With the growing year off to a good start, Kansas farmers celebrated the first year of many that showed none of the state suffering drought conditions at the beginning of summer.
The national drought map showed drought persistent over much of California, into southeastern Oregon and in southern Arizona and southwestern New Mexico.
A small area of severe drought also persists northern Georgia and Alabama and in southern Tennessee.
In the 90-day forecast from the Climate Prediction Center of the National Weather Service, Kansas, Oklahoma, Nebraska and South Dakota can expect an equal chance of either above or below average temperatures and like most of the country, an equal chance of either above or below normal rainfall.
The map clearly predict lower than average rain for Oregon, Idaho and southern Washington and higher than average rain for extreme southeastern Texas, southern Mississippi and Alabama, all of Florida, most of Georgia and South Carolina and the eastern half of North Carolina.
Part of the reason for the "equal chance" forecast in the Plains states was the official end of an El Nino in May and the return to neutral Southern Oscillation conditions.
Forecasters are predicting a 75% chance of an emerge La Nina in the winter of 2016-2017, which could signal a return to colder and dryer than normal conditions for Kansas.
For the summer months, the uncertainty resulting from the changing conditions in the equatorial Pacific make predictions of both temperatures and precipitation a toss-up.
One thing to keep in mind: In Kansas weather, there is no real "normal." The thing that goes in the books as normal is the average of the extremes that actually occur during a typical season.
Subscribe to receive top agriculture news
Be informed daily with these free e-newsletters
You May Also Like
---