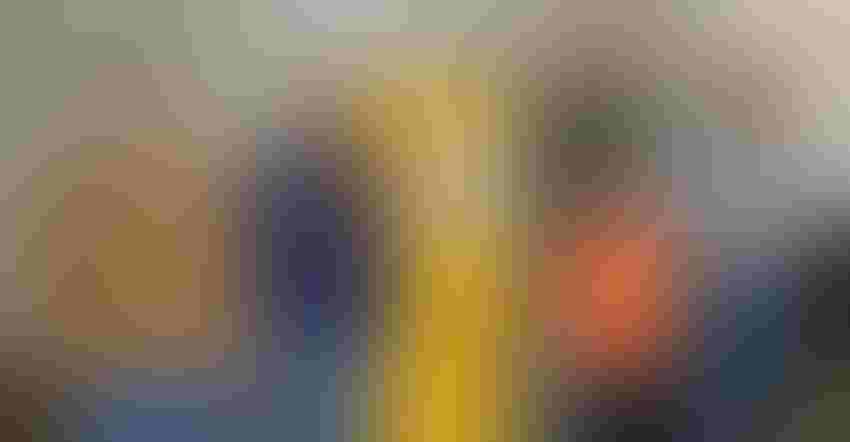 TUBE PRESENTATION: Bartholomew County 4-H tractor club members present a grain rescue tube to Coy Smith (right), representing the Elizabethtown Volunteer Fire Department. The 4-H'ers include Brady McNeely (left), Jaden Decker, Joel Beck and Logan Downey.
Dan Arnholt
Learning about tractors and tractor safety is a worthwhile effort all by itself. But this story is about one county 4-H tractor club in Indiana that went above and beyond to help its community.
"Our 4-H tractor club typically focuses on safe operation of farm and lawn equipment during the year," explains Dan Arnholt, a leader for the Bartholomew County 4-H tractor club. In 2019, the club included 46 members, ranging from third graders to high school seniors.
"We showed a video last February about how to use a grain rescue tube to safely rescue someone trapped in a grain bin," Arnholt says. "It piqued the interest of several members. They asked me to find out if any fire departments in our county had a grain rescue tube."
When it turned out no departments did, it motivated the 4-H tractor club members, Arnholt says. The club decided to find seven local businesses that would donate $500 each so they could purchase a grain rescue tube. Older members did the asking and found seven businesses willing to help.
Donors for the grain tube project included Azalia Elevator; Beck's, through Kenny Kendall; Consolidated Grain and Barge; L&M Glick; Loyd Seed Corp.; Sudan Farms Inc.; and Trico Farm Supplies.  
More than a tube
Once the rescue tube arrived, the 4-H members donated it to the Elizabethtown Volunteer Fire Department. That department agreed to make it available to all emergency responders in Bartholomew County. In fact, it's also available to emergency responders in surrounding counties.
That wasn't the end of the project, however. Arnholt arranged for Bill Field, Purdue University Extension ag safety specialist, to come to the Elizabethtown fire station and train first responders how to use the rescue tube properly in an actual grain entrapment. Field is a proponent of teaching grain bin safety principles to farmers and first responders.
Volunteer firefighters from various departments attended the training, Arnholt notes. In fact, even several members of the Columbus Fire Department took part. Field also covered the basics of why grain entrapment can be so deadly.

TEACHING 1ST RESPONDERS: Bill Field with Purdue teaches first responders and 4-H'ers about grain bin safety and using a grain rescue tube at the Elizabethtown fire station.
The 4-H tractor club members chose the occasion to officially present the grain rescue tube to the Elizabethtown VFD. Many 4-H members listened as Field explained how quickly someone can become entrapped in grain, and why it's important to stay out of grain bins with augers running, gravity wagons and truckloads of grain. If grain can flow, entrapment is a risk.
"We hope first responders never have to use it, but the kids were so appreciative that community businesses stepped up to make this possible," Arnholt says. "It's just a great example of 4-H in action."
Subscribe to receive top agriculture news
Be informed daily with these free e-newsletters
You May Also Like
---