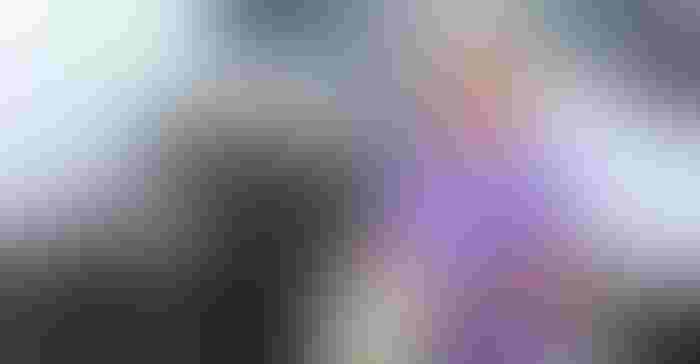 When Sandy Ashmore picks arugula to take to a farmers market, she never knows for sure if the greens she's grown will ever end up in someone's salad. But when she packs up produce for delivery by Ohio Valley Food Connection (OVFC), she knows it has a buyer. "You're not just picking and hoping that it sells," she explains. OVFC uses an internet-based ordering system to link food producers with restaurant chefs and household cooks who want fresh, local food.
Ashmore farms near Clarksville with her husband, Guy, at That Guy's Family Farm. They've found that selling through OVFC is more efficient than selling through farmers markets. Besides picking only what's ordered, they don't have to wait around for buyers like they do at farmers markets. "You have to stay there four hours, and you're not assured your sales," she points out. They still sell at the Deerfield Farmers Market in Mason, but they have dropped three others.
The Ashmores started selling through OVFC when it was started in 2015; now, about a quarter of their sales are through OVFC. They also continue to sell through the Dorothy Lane Markets in Dayton and a farm-based CSA (Community Supported Agriculture). OVFC helps them reach customers they weren't able to reach through other market outlets, Ashmore points out. Selling produce to individual restaurants wouldn't be a good use of their time, she adds. "If I would have to make five drops somewhere, it might take me all afternoon."  Instead, twice a week she meets up with an OVFC delivery van and drops off orders for multiple restaurants. After an OVFC staff member checks off her orders and loads them in the van, she's on her way.
Multiple suppliers
That Guy's Family Farm is one of more than 50 local food suppliers who are marketing foods they grow or produce through the OVFC. Louise Gartner is another farmer who markets through OVFC. She raises a variety of vegetables, including multicolored carrots, year-round at Foxtail Farm near New Richmond. Gartner has sold some produce to local grocery stores, but OVFC has allowed her to connect with buyers throughout the Cincinnati area. "They're the primary buyer of what I grow," she notes.
The marketing service started in June 2015, and it had totaled over $500,000 in sales by the first quarter of 2017. That's a drop in the bucket compared to the total food sales in the greater Cincinnati area, notes OVFC founder Alice Chalmers, but those sales show there's a demand for local foods — and that there are producers willing to fill that demand. OVFC was started to give local food producers a better way to reach buyers, and to give buyers easy access to a wide range of local foods through one supplier, explains Chalmers. "We saw the need in the marketplace on both sides."


Alice Chalmers, founder of OVFC, in 2015
Career change
Chalmers began working to promote sustainable farming and local foods after a career in finance and strategic planning. Before starting OVFC, she spent three years as executive director of Future Harvest CASA in the Chesapeake Bay area. Most of the financing for OVFC came from Chalmers' own life savings. She also helped pay for labor, equipment and farmer recruitment with grant funds from the Kentucky Agricultural Development Fund; the city of Cincinnati; Duke Energy; and Green Umbrella, an alliance of organizations in the greater Cincinnati region devoted to preserving the area's green space.
OVFC currently has more than 100 restaurants and specialty food stores registered as wholesale buyers. The marketing service also has more than 500 households registered as buyers, but the majority of sales are coming from restaurants at this point, says Chalmers.
Restaurant customers like seeing local foods on menus, but that's not the only reason chefs are ordering through OVFC. "Chefs like to support local foods, but what they really like having is high-quality food that's going to last a long time," she explains. Since deliveries are made twice a week, chefs can serve food that is only a few days away from the farm.
Many choices
Buyers can choose from a wide variety of vegetables, fruits, meats and dairy products, as well as locally produced artisan foods such as breads, jellies and chips. The best-selling products for OVFC are mushrooms, tomatoes, eggs, lettuces, arugula, kale, sweet potatoes, apples, potatoes, winter squash, peppers and cucumbers.
But OVFC handles more exotic items too, such as quail eggs, ground buffalo and sunflower shoots. Demand is growing for dairy products, notes Adam Cady, who handles food pickups and deliveries for OVFC. One Cincinnati coffee shop recently put in a standing order for 24 gallons of organic milk a week. That order, and other sales through OVFC, have doubled the direct sales for the dairy farmer supplying the milk.
OVFC also helps chefs track down unusual items that aren't typically offered by producers, Cady adds. For instance, one innovative chef wanted a large order of pigs' ears to fry, and OVFC was able to locate a hog farm that could supply them.
OVFC's ordering system uses software from Local Orbit, a Michigan-based company that develops computer platforms for food supply networks. Farmers and food artisans who sell through OVFC can log in twice a week to enter the products they have available, and the quantities and prices. The sellers set their own prices, although OVFC will offer suggestions and does not allow one producer to significantly undercut the prices of another. OVFC adds a price markup to cover processing deliveries, and handle invoices and payments.
To order foods, buyers log in and make their selections twice a week. Orders placed by Sunday night will be delivered on Tuesday, and orders placed by Wednesday night are delivered on Friday. On Mondays and Thursdays, sellers harvest and assemble their orders, tagging them with computer-generated labels that list the name of the buyer, product, farm origin, date and quantity.
On Monday and Thursday afternoons, Cady drives a pickup route, meeting sellers at three locations in greater Cincinnati and one in northern Kentucky. Additional orders are dropped off at OVFC headquarters in Newport, Ky. By late afternoon on Mondays and Thursdays, OVFC staffers and interns are scrambling to sort the incoming products and repack the van for the next day's deliveries, as well as prepare additional orders for pickup.
More flexibility for restaurants
Having more convenient access to local food has helped chefs increase the quantity and variety of local foods on their menus. Patrick Hague, chef at Dutch's Larder in Cincinnati's Hyde Park neighborhood, had previously sourced some local foods directly from farmers and from farmers markets, but the process was time-consuming — and accounting was often messy. "Sometimes we were invoicing on paper bags," he recalls. Through OVFC, he has a comprehensive list of what area farmers have available and a reliable supply of high-quality food, he says. Invoicing and record-keeping is also much simpler and more precise, so he can more easily manage costs and inventories. "From a business standpoint, it's a game-changer for us," he says. "And it makes the numbers guys happy at the end of the month."
Dutch's Larder has a flexible menu, and Hague likes making changes based on what local foods are in season. He's come up with menu items he never would have considered before seeing the foods available through the OVFC ordering site. For instance, he took advantage of an abundant supply of local kohlrabi to make bread-and-butter pickles. He's also ordered unusual items, like sunflower shoots, just to try them in various dishes. "Each week we have different orders," he notes.
Another restaurant that buys local foods through OVFC is Tela Bar + Kitchen, just north of Cincinnati in Wyoming, Ohio. The restaurant opened just before OVFC and has been using local foods from the beginning. Chef Nathan Mantia uses the OVFC product listing to prepare seasonal menus. "I change my menu every month to conform to what's available," he explains. Dealing with Chalmers and OVFC helped Mantia realize it was possible to find local sources of food, he adds. "Because of her [Chalmers], I learned to reach out," he explains. On his own, he has connected with local farmers to buy beef, bacon and eggs, in addition to buying through OVFC.
Developing the restaurant market for local foods was the first phase of development for OVFC. The marketing team is also working to expand sales to households, the second phase. They are partnering with retailers that are willing to provide cooler space to hold household orders for pickup. The goal is to identify partners that can benefit from the increased traffic the food deliveries offer, explains Chalmers. One is a wine shop and another is a bar. There are six locations now, but a few more are being planned. The third phase of development for OVFC is to partner with businesses that want to provide access to local foods as part of their corporate wellness programs.
In addition to developing the market demand for the existing supply of local foods, OVFC is working on expanding or finding a supply of local foods to fill unmet demand. Products that are particularly in demand include berries, stone fruit and off-season greenhouse products.
For additional information, visit http://www.ohiovalleyfood.com.
About the Author(s)
Subscribe to receive top agriculture news
Be informed daily with these free e-newsletters
You May Also Like
---