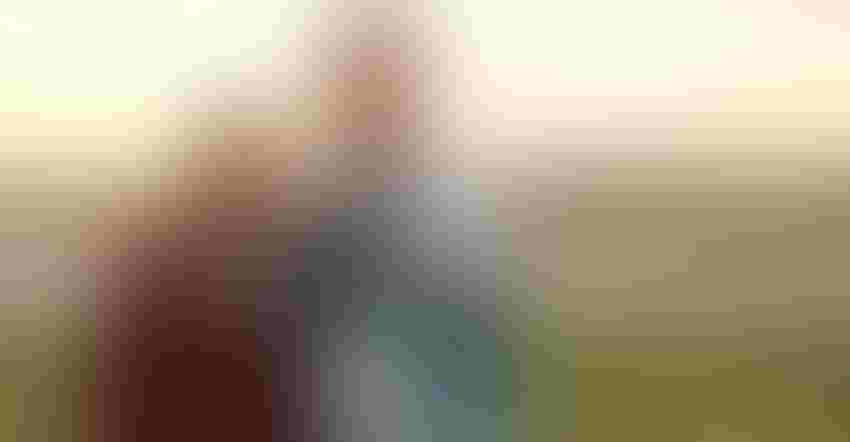 ON FARM: Tony and Amber Baird are adjusting to an unexpected return to the farm from careers in IT and nursing.
Tony Baird may not have planned to take over his grandfather's farm, but five years ago, he left a career in information technology and did just that
"It was kind of something that came out of nowhere. My grandparents Lee and Marilyn are getting older, so the opportunity only recently presented itself to bring some new life into the operation," he says of the 2,300-acre corn and soybean farm in east-central Illinois. He now farms full time on his grandparents' operation, Ryan Farms.
Tony and his wife, Amber, are current participants in the Cultivating Master Farmers program, which links new farmers with Master Farmers throughout the state as they start their farming careers.
"I like the program because I'm able to get a lot of information and hopefully avoid some mistakes or pitfalls," Tony says.
The couple have lived in Martinsville for nearly their whole lives, and Tony grew up helping his grandfather farm. Amber, a nurse, says the change in Tony's career plans has introduced new difficulties for their growing family — Ryland, 10; Emmalyn, 8; Jacksyn, 6; Kayden, 5; and Coltyn, 10 months. Namely for her, it's meant caring for a baby solo. Tony used to work from home, but like all farmers, now he's often gone from sunup to sundown during planting and harvest.
"He used to work from home, so when I needed him for something, he was there. Now he is getting the hang of tractor babysitting when I have to take a kid to a school function," Amber says.
From IT to farming
Tony's experience in IT is helping the family's operation make better use of data.
"We've had yield monitors on this farm for many years. But all it did was take the information, chuck it in a folder, and that's where it sat," Tony says.
He built his own database to record weigh tickets on grain taken to town or weighed at the farm. That's all entered, along with moisture information. The program then calculates yield, and he can sort and know the results of various hybrid trials he runs every year.
Tony uses a simple 4K imagery drone. He currently doesn't pay for Normalized Difference Vegetation Index, or NDVI, imagery services, though he's interested in building out the capabilities of his custom drone program to potentially make use of images. Right now, however, he's using the drone to scout for drainage problems and weed pressure.
"If we can see where there's not much green mass with a drone, we can go out and scout it, and see if there's disease pressure, see if something's there. And then we want to address that as soon as possible," Tony says. "We don't want to just take [images], let somebody else stitch it together and then wait for somebody to get me the information."
Managing for cost
The drone is also proving an invaluable resource in determining where Tony uses his tile plow each year.
"When the rains come, it's usually gone by the time we get out there to see what happened. Our goal is, if we get an inch of rain or more, within 12 hours we want to be out there flying to see where the water is sitting," Tony says.
Farmers who tile their own fields often must do it in rainy conditions, which obscures where the main or lowest spot of the field is. Tony says the drone helps find the low spots and saves him time.
He's also started using cover crops to fight compaction. "On our tile ground, we like to put radishes on because they go down and break up the soil a little better. We're worried about compaction, and the radishes help water infiltrate better," Tony says.
Tony is a newly appointed member of the Clark County Soil and Water Conservation District. He says he will continue to experiment with cover crops, knowing he wants to preserve topsoil, "because we're probably not going to get much more dirt, and we want to make it the best we can."
MAINTENANCE: Tony Baird repairs his family's farm truck in preparation for the next growing season.
To save on costs, Tony says he, his grandfather and a longtime employee do all their own spraying.
"We try to do as many things as we possibly can. Sometimes that's the only way to make it pencil out right," Tony says.
Tony uses fungicide every year on his soybeans, and says he's selected corn hybrids that receive a yield benefit from fungicide regardless if there's disease pressure or not. He also sidedresses all his nitrogen fertilizer.
"We've been able to really see a turnaround in our yields with sidedressing in our rainy conditions here," Tony says. "We use a Y-drop. It goes on our sprayer as soon as we're done spraying corn and beans; we switch over to Y-drop and start nitrogen, and then we come back and spray fungicide."
Subscribe to receive top agriculture news
Be informed daily with these free e-newsletters
You May Also Like
---