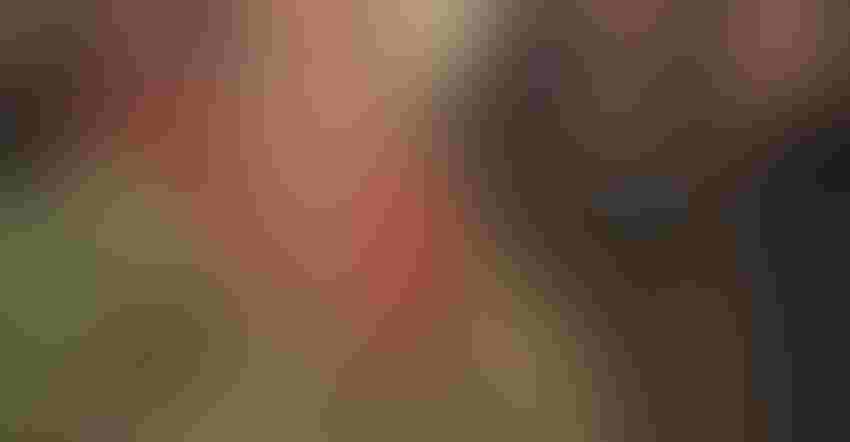 NEED FOR WORKERS: Keith Haines, the 12th-generation owner of Larchmont Farms, says the farm is a big advocate for the current H2A guest worker program.
Keith Haines is clear with what he looks for in a farmworker.
"We don't ask for rocket scientists. We want guys who are good with their hands and work," says Haines, the 12th-generation owner of Larchmont Farms in Elmer, N.J., the largest peach grower in the state.
It's one reason Haines is a big advocate of the government's H2A program at a time when farm organizations and lawmakers are calling for big changes to it.
For Haines and co-owner Tom Dunn, there is no other option. It's either use the program or rely on undocumented workers. Concerns over the government cracking down on undocumented workers was a big reason the farm started using H2A in 2000.
"We wanted a more viable and legal way of getting workers, even if we had to pay well-above minimum wage," Dunn says.
Using the program is costly, Haines says. They must pay for the workers' visas, transportation costs and housing. They also must pay an adverse effect wage rate, which is well-above the state's $8.85 minimum wage, to attract local people interested in farm work.
"The idea being that the wage has to appear at least attractive enough for local people who want to work here to take the job," Haines says.
The farm includes 1,000 acres of peaches and a few acres each of apples, cherries and other tree fruits. They used 138 H2A guest workers this year and plan to use 150 guest workers in 2019. Haines says they want to build another migrant camp to accommodate an additional 72 workers.
"So, we are hoping to be around 200 H2A guys within the next five years," he says.
Big costs, big gains
The adverse effect wage rate varies from year to year. The government sets it based on regional surveys of field and livestock workers. In New Jersey, the rate went from $12.19 in 2017 to $12.05 in 2018. But it's going up to $13.15 in 2019, which Haines says is a big shock to the farm's finances.
"And it's a wage that, while we grumble about it from time to time, we happily pay because the quality of the work we've gotten from the people that have come up, it's nothing short of amazing," he says.

BIG PRODUCTION: Larchmont Farms grows 1,000 acres of peaches, most in New Jersey, along with a few acres of apples, cherries and other crops.
Haines says 90% of his guest workers return each year. The farm works with National Agricultural Consultants, a firm based in the Carolinas that helps farms deal with guest worker paperwork. 
Most of the workers come from two areas of Mexico: Hidalgo, on the country's east coast; and Chiapas, the state that borders Guatemala.
Dunn says the workers make more in one day on the farm than they do working a week in Mexico.
"I think it's the attitude in the fact that these guys know when they're going to go home," he says. "And so it's not like, 'OK, it's Sunday, I don't want to work.' Everybody comes in every day, and they'll work in the rain, and they'll get the work done because they know on Sept. 15, or whenever it is, they're going home."
Big challenges
The farm's production and size are reasons they can afford the number of guest workers they employ. But Haines says the program is likely too costly for smaller farms.
"It's a scary cost to get going," he says. "A lot of farmers are like, 'I don't know if I want to spend all this money.' But it's worth it in the long run because you get a lot of great results."
There are also challenges with the workers themselves. If they work on the farm but are later identified as undocumented, Haines says they won't be able to return legally for at least a year or two, or even longer. Some of his best workers, he says, always run into documentation issues that delay their employment for the year.
H2A workers must also work according to the farm's contract for migrant employment, so if they have a contract specifically for peach pickers, the migrants can't be used to pick apples or any other crop.

CURIOUS FARMERS: Haines talks about his farm's use of guest workers with a group of young farmers from Pennsylvania and New Jersey.
Another caveat of the H2A program is that if a local worker wants employment and can show they have previous experience in the job, Haines must hire that person over the migrant, no exceptions.
The National Council of Agricultural Employers says the government should freeze H2A wage increases for 2019.
According to a Dec. 3 article in The Packer, the council and other farm groups want more information on how the government collects farm wage data and how that's used to calculate the adverse effect wage rate.
Farm labor wages will increase, on average, 6% in 2019, far higher than the 2.8% for all other wage earners, according to the article.
Subscribe to receive top agriculture news
Be informed daily with these free e-newsletters
You May Also Like
---