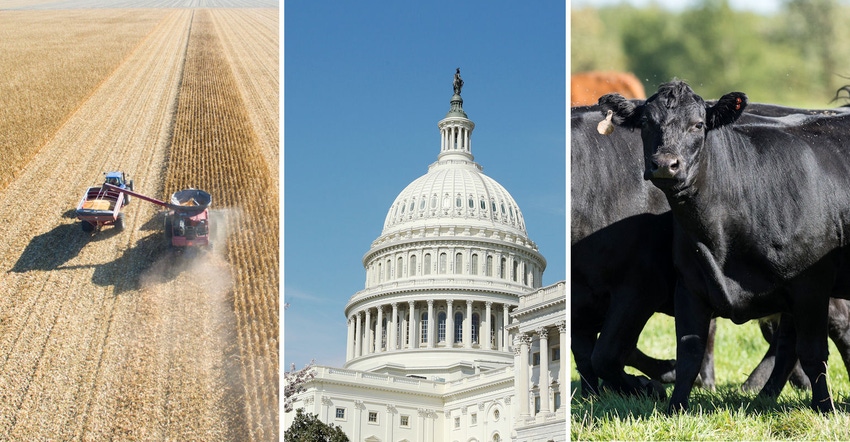 NolanBerg11/flySnow/SteveOehlenschlager/ThinkstockPhotos
Need a quick catch-up on the news? Here are seven agricultural news items you may have missed this week.
1. An analysis released Thursday by the International Trade Commission finds the United States-Mexico-Canada Free Trade Agreement would boost the U.S. economy. The forecast estimated total U.S. dairy product output would increase by $226.8 million, or .1%. U.S. agriculture and food exports overall would increase by $435 million. – Reuters
2. Many ag producers are alarmed by signs the Trump administration would accept Chinese purchase target pledges for commodities like soybeans and pork without a promise to lift retaliatory tariffs. There's also word that China is considering shifting its tariffs to non-ag products at the request of the Trump administration. The shift is because the U.S. doesn't intend to lift its own duties on $50 billion of Chinese imports even if the two countries reach a trade agreement. – Farm Futures
3. Cover crop acres increased by 5 million acres from 2012 to 2017, according to the Census of Agriculture. In 2012, farmers planted more than 10 million acres of cover crops. In 2017, they planted more than 15 million acres. – American Agriculturalist
4. Optimism about export demand is driving hog prices higher in the United States. Pork exports are expected to set a record in 2019, even though exports did not start 2019 on a strong note. – National Hog Farmer
5. The central theme of the 2017 Census of Agriculture is the hollowing out of the middle. All categories of midsize farms declined over the past five years. The number of farm operations dropped 3.2%, while the average farm size increased by 1.6% to 441 acres. Industry consolidation continued. Farms of nine acres or less increased 22%. – The Washington Post
6. Iowa Renewable Fuels Association Executive Director Monte Shaw said moves by former Environmental Protection Agency head Scott Pruitt contributed to less ethanol being blended in 2018 than in 2017. Shaw said that broke a streak of increasing ethanol usage that stretched back more than two decades. – Omaha World-Herald
7. Alan Roebke has a plan, the Roebke Plan, that he says can do for corn, wheat and soybeans what the sugar program does for Minnesota's sugar growers. He calls for the federal government to raise commodity loan rates and increasing ethanol content in gasoline. – Duluth News Tribune
And your bonus.
A convoy of 52 trucks and trailers from four states carried hay, fencing, milk replacer, bagged feed, veterinary supplies and more to farmers impacted by flooding in Nebraska and Iowa. In Pennsylvania, farmers have donated more than 124 tons of hay for Nebraska producers impacted by flooding. – Ohio Farmer, American Agriculturalist
Subscribe to receive top agriculture news
Be informed daily with these free e-newsletters
You May Also Like
---