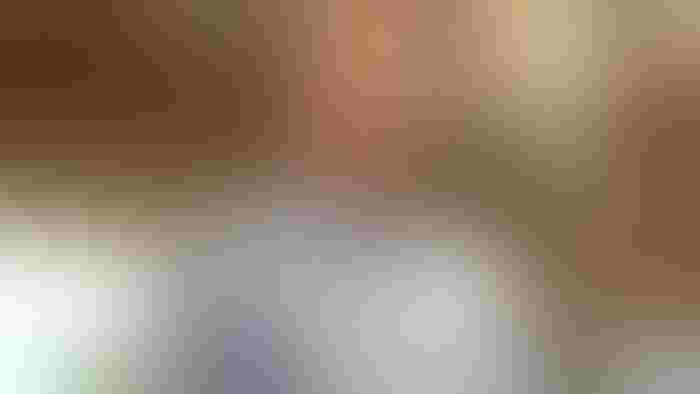 When David Meiss built a new farm shop in 2012, he was replacing a dirt-floor shop that had survived a tornado.
"We jammed our equipment in, and you couldn't walk between it," recalls the Gridley, Ill., farmer and 2023 Prairie Farmer Master Farmer.
The older shed had deteriorating posts, split rafters and other structural issues. Paint was peeling, and there was a single light in the middle of the building. Repairing equipment meant waiting for a sunny day, pulling equipment outside and putting cardboard down on the gravel for crawling around.
Meiss priced a repair, and it was 60% of the cost to build new. So he built new.
The new and definitely improved version is an 80-by-161-foot farm shop and machine shed built by a local company, Blunier Builders. The uninsulated cold storage end measures 80 by 98 feet, and the heated shop portion is 63 by 80 feet, and includes a farm office, kitchenette, bathroom and lofts for farm toys and exercise equipment.
"They always say you can't build it too, big but I almost broke that rule," Meiss jokes. "But it's not jammed full all the time, and it's very comfortable and easy to use because of that."
Meiss went with a heated floor, deciding that if they were investing in a shop like this, they wanted to make it right with heat.
"I reminded myself that I was building a shop for my lifetime and my kids' lifetime," Meiss says. "If it'll last 40 years without any trouble, at least three generations of my family can enjoy it. And anything after that is a bonus."
In 2020, when he decided to add a loft over the workbench area, he hired Brandon Witzig, a local builder whom Meiss describes as a "master craftsman."
Meiss' father lived through the Depression and saved pretty much anything that could ever be used again — which means the family had a haymow full of barnwood, old 2-by-8s, tin, steel, battens and more. Meiss' job as a kid? Pulling nails and stacking lumber. But that lumber and Witzig's creativity were a match made in heaven.
"We went up in the haymow, and he was so excited!" Meiss says. "He threw out ideas, like making it look like an old storefront."
Just like that, a vintage plan was born. They built the front side of the loft with old wood supports, and they gathered an old one-bottom hand plow, a milk can and more, and added them to the front. Witzig used everything from old tin to an old lambing pen gate, and he built an incredibly heavy workbench out of saved lumber.
Here's a look at the rest of his shop decisions and how he made them:
Insulation and interior. Meiss went with spray foam insulation in the walls, and he used perforated steel on the top 8 feet of the interior walls for sound reduction. That makes a huge difference in reducing echo and noise.
Doors. He chose two overhead doors; the insulated door is 30 by 16 feet, and the cold storage door is 36 by 16 feet. "It's maybe a little decadent to have the overhead door on the cold storage end, but it's easier for my wife, Debbie, and it's faster to shut in a storm."
No gable doors. Meiss located both doors on the north side, with one accessing the shop and one accessing the shed. Engineers told him if you have an end door and a side door, it's more likely that a bad windstorm could suck in one end and raise the roof.
Trusses. An 80-foot trussed roof is fairly large, and Meiss' original bids offered two philosophies on trusses. One company double-trussed at every 10 feet. The other company said to use single trusses but place them every 7 feet. He went with the single-truss option because it meant a little less money, plus posts every 7 feet increases the building's strength.
Lighting. Meiss built right before LED lighting became popular but used T5 lighting in both ends of the building. Since then, he's added end-to-end plug-in LED lights over his workbench.
No posts in ground. All posts sit on top of the concrete slab, in a hot-dip galvanized H anchor.
Anti-rust. Meiss wanted all stainless steel screws on the inside and outside, knowing that when a shed starts showing rust, it starts with the nail or screw head.
Water. He put a cistern to work as a big tank to collect water from about a third of the shed roof. He uses that for washing equipment, which helps him avoid using their hard well water and the spots that result.
Solar. Meiss added a set of solar panels behind the shop, which were installed in 2020 and 2021. The idea is to be almost net neutral. "Our power co gives us credit for the power we put back on the grid," he explains. "Right now through August, we put quite a bit of power back on the grid. Then in September and October when we fire up the dryers, we'll eat that back up."
Office. In addition to a quiet space for conversations, Meiss wanted a bathroom and shower in case of an accident — which led to the office-living-kitchen-bathroom area. It turned out to be a build-it-and-they'll-come kind of situation; one year later he hired a great young employee who drives 90 miles to work for him. In the busy seasons, he stays on the farm throughout the week, and this space offers the chance to relax and get away in the evenings.
18-foot sidewalls. Meiss says this height has worked well for him. He doesn't store a lot of parts upstairs, but uses the loft space for a farm toy area for his grandkids (complete with pool table and dart board) and for a home gym.
No drip
If there's a single annoyance farmers have in many farm shops and sheds — besides lack of space — it's the morning drip. Meiss visited seven or eight sheds during the winter before he built his, and nearly every one either was dripping, or he could see wet lines where they'd dripped earlier in the day.
"On my old shed, the purlins got to where they were always moist from the condensation, and that's what rotted," he explains.
In collecting estimates and information from three different building companies, he got a lot of ideas for solving that problem, including insulation boards or a steel panel with a felt underside to absorb moisture. But back in 2012, that was pretty pricy.
The company he ultimately went with, Blunier Builders, had a different solution. They put oriented strand board on top of the purlins, which works as insulation and doesn't allow air to meet the steel. Ultimately, it keeps condensation away from purlins. The OSB also supports the steel roof in a bad hailstorm and, as a bonus, reduces the sound from rain. Meiss says it's made the whole building much stronger.
"I feel like I accomplished two different things with that solution," he says, though he allows that rising OSB prices mean it's not the economical solution it was 10 years ago.
Subscribe to receive top agriculture news
Be informed daily with these free e-newsletters
You May Also Like
---