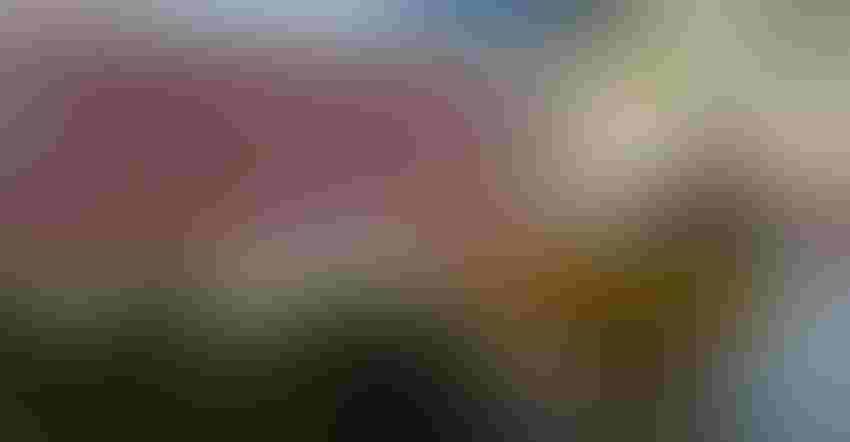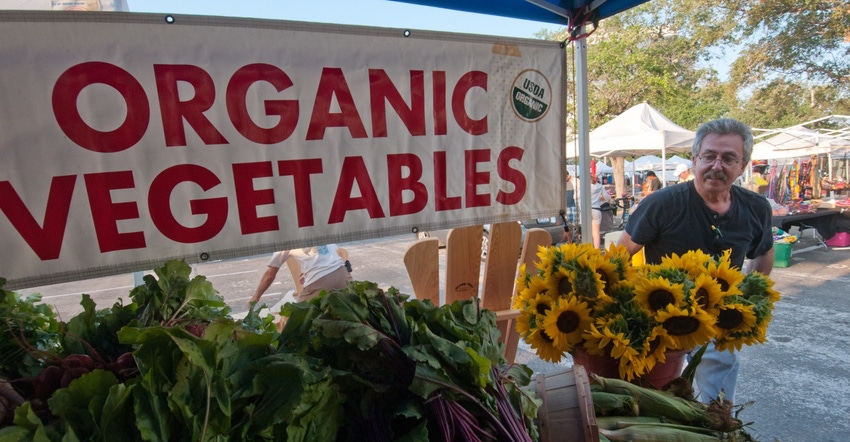 USDA photo by Lance Cheung
Organic farmers and ranchers faced numerous supply chain and economic challenges throughout the ongoing COVID-19 pandemic. A new $20 million investment from USDA's new Organic and Transitional Education and Certification Program as part of USDA's broader pandemic assistance will help organic producers achieve and maintain their certification, implement organic practices and expand market opportunities.
"The demand for organic is undeniable, but many farmers struggle to transition to certified organic from conventional practices," says Johanna Mirenda, farm policy director at the Organic Trade Association.
Organic food sales expanded at a rate of 12.8% in 2020, compared to a rate of 4.6% in 2019, according to the 2021 Organic Trade Association's industry survey. In 2020, organic accounted for 5.8% of all sales. Organic produce sales accelerated at a rate of 10.9% in 2020 and the organic fruit and vegetables category now has a penetration of 15.1% of the total fruit and vegetable market.
"2020 was a year that rocked every single supply chain, including organic," adds Mirenda. "But with more people eating in and looking for ways to stay healthy, we actually saw strong growth across the board."
During the COVID-19 pandemic, certified organic and transitional operations faced challenges due to loss of markets, and increased costs and labor shortages, in addition to costs related to obtaining or renewing their organic certification, which producers and handlers of conventionally grown commodities do not incur. Transitional operations also faced the financial challenge of implementing practices required to obtain organic certification without being able to obtain the premium prices normally received for certified organic commodities.    
"Producers and handlers of organic commodities incur significant costs to obtain or renew organic certification each year," says Agriculture Secretary Tom Vilsack. "The economic challenges that arose due to the pandemic made obtaining and renewing organic certification financially challenging for many operations. 
OTECP funding is provided through the Coronavirus Aid, Relief, and Economic Security Act or CARES Act. Certified operations and transitional operations may apply for OTECP for eligible expenses paid during the 2020, 2021 and 2022 fiscal years.
Mirenda notes, "USDA's Organic and Transitional Education and Certification Program is a critical step toward making organic certification more attainable for more producers. We look forward to working closely with USDA to make sure the program works in a way that meets producers needs and helps expand organic production to meet the growing global demand for climate-smart products."
"For each year, OTECP covers 25% of a certified operation's eligible certification expenses, up to $250 per certification category (crop, livestock, wild crop, handling and State Organic Program fee). This includes application fees, inspection fees, USDA organic certification costs, state organic program fees and more," says Eric Deeble, National Sustainable Agriculture Coalition policy director.    
This supplemental funding in cost-share will help restore the cuts that were made to the program last year, when the reimbursement rate was reduced to a maximum of 50% of certification fees, down from 75%. For the first time, producers transitioning to organic will be eligible to receive funds associated with certified transition costs. The Organic Trade Association says it has long advocated for making certification cost-share available to transitioning farmers. "Restoring certification cost-share funding was also a top priority that we advocated for with the Biden-Harris administration," OTA notes.
Crop and livestock operations transitioning to organic production may be eligible for 75% of a transitional operation's eligible expenses, up to $750, for each year. This includes fees charged by a certifying agent or consultant for pre-certification inspections and development of an organic system plan.    
For both certified operations and transitional operations, OTECP covers 75% of the registration fees, up to $200, per year, for educational events that include content related to organic production and handling in order to assist operations in increasing their knowledge of production and marketing practices that can improve their operations, increase resilience and expand available marketing opportunities. Additionally, both certified and transitional operations may be eligible for 75% of the expense of soil testing required under the National Organic Program to document micronutrient deficiency, not to exceed $100 per year.  
Signup for 2020 and 2021 OTECP will be Nov. 8, 2021, through Jan. 7, 2022. Producers apply through their local Farm Service Agency office and can also obtain one-on-one support with applications by calling 877-508-8364.
OTECP builds upon USDA's Organic Certification Cost Share Program which provides cost share assistance of 50%, up to a maximum of $500 per scope, to producers and handlers of agricultural products who are obtaining or renewing their certification under the NOP. This year's application period for OCCSP ended Nov. 1, 2021.  
Additionally, USDA's Risk Management Agency announced improvements to the Whole-Farm Revenue Program including increasing expansion limits for organic producers to the higher of $500,000 or 35%. Previously, small and medium size organic operations were held to the same 35% limit to expansion as conventional practice producers. Also, producers can now report acreage as certified organic, or as acreage in transition to organic, when the producer has requested an organic certification by the acreage reporting date.    
Subscribe to receive top agriculture news
Be informed daily with these free e-newsletters
You May Also Like
---