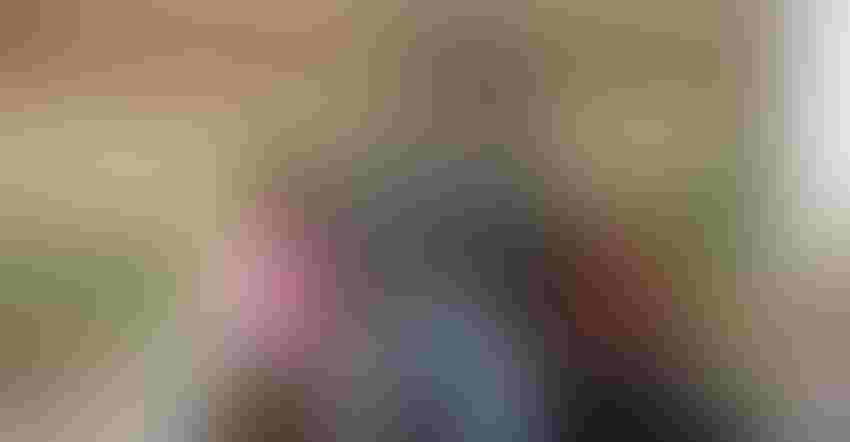 JOYFUL: Mr. Jerry was a joy, and these two kids will always remember him and his stories — telling them over and over and laughing for years to come.
Sometimes God knits together lives in ways that we never see coming. Like our neighbor Jerry.
Jerry Whitlow lived down the road and helped on the farm. But far beyond that, he was a beloved third grandpa for my kids.
Jerry passed away earlier this summer, but our memories are rich. Like every time I climb into a semi or tractor in the fall and imagine his voice on the FM. Harvest feels a little melancholy this year.
Nathan spent days and days of his young life riding in the tractor and auger wagon with "Mistew Jewwy." For hours on end, they laughed and teased and sang songs and planned fishing trips. And when the work was done, they went fishing. There were seasons of Nathan's young life where I heard "Mr. Jerry" as frequently as I heard "Mom" — usually in relation to, "When can I go ride with Mr. Jerry?" Because Mr. Jerry was his favorite.

TOGETHER: Mr. Jerry and Nathan never stopped talking in that cab.
Nathan wasn't alone. Mr. Jerry bought Jenna's first bottle calf and taught her big lessons along the way.
We ate meals in the field together, and nobody brought the fun like Mr. Jerry. I've never met anybody with so many unbelievably hilarious life stories — we were forever saying, "NO. WAY. Really?!" My husband, John, told me one in the throes of childbirth one time, and I'll be darned if I didn't stop and laugh.
Jerry had been sick for a while, and we were grateful for one last fishing trip, one more chance to say goodbye. Nathan struggled through big feelings of loss and grief that couldn't have gone any deeper had Jerry been his grandpa by blood. Grief was Mr. Jerry's last big lesson for him.
We've marveled at how God brought our families together, and how willing Jerry and his wife, Connie, have been to share their lives with us.
In the end, it's proof you don't have to be related to be family. May we all have a Mr. Jerry.
Comments? Email [email protected].
Subscribe to receive top agriculture news
Be informed daily with these free e-newsletters
You May Also Like
---