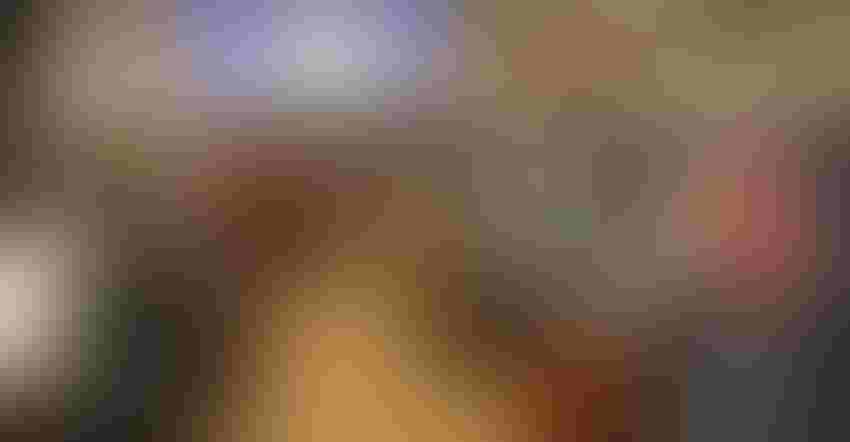 FULL HOUSE: The South Dakota Soil Health Conference attracts a large crowd.
Lon Tonneson
Judging by farmer attendance at some of the December and January winter meetings, here is my list of topics that were "hot" and those that were "not":
Hot — Marketing, risk management and farm programs. About 400 people turned out for the South Dakota Corn Growers Association's and Farm Credit Services of America's Growing On meeting in Sioux Falls, S.D. Most of the attendees seemed to hang on every word of advice from Steve Johnson, Iowa State University farm and ag business management specialist.
SDCGA and Farm Credit Services held similar meetings at several other sites across South Dakota. Nearly 1,300 people attended the series.
Hot — Soil health. The South Dakota Soil Health Conference and the North Dakota State University DIRT (Dakota Innovation Research and Technology) Workshop both focused on something that wasn't talked about much until recently – soil biology. More than 600 people attended the two events.
Maybe not hot — Precision ag. Only 50-70 people attended the North Dakota Precision Ag Summit. Only a half dozen or so farmers attended. But there were a couple great presentations at the conference. I'll be writing articles about those. Given the potential, this should have been hot.
Maybe not hot — Sustainable agriculture. The turnout the day I attended the Northern Plains Sustainable Ag Society Food and Farming Conference didn't seem that impressive. NPSAS has long been an organization for organic farmers and ranchers. More people — whether they farm conventionally or organically — should have been in the audience to hear the keynote address. It was about how to treat your farm more like a business and less like a lifestyle or hobby.
The key question: Do you know what your gross margin is? Is it 20%, 40% 60%? If you don't know (and I didn't), stayed tuned. I'll be writing about that topic as well.
Your take
What meetings did you think were worth your time this winter and why? What did you learn? Email me at [email protected] and I'll share it in a future post.
Subscribe to receive top agriculture news
Be informed daily with these free e-newsletters
You May Also Like
---