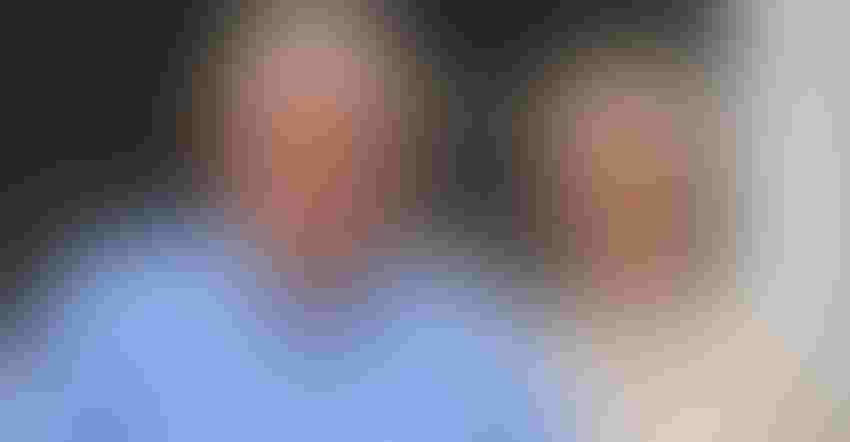 PEOPLE OF FAITH: Jim and Jane Gillooly have lived out their faith together for the past 55 years.
Tom J. Bechman
Barry Bishop, Campbellsburg, Ind., has known 2020 Indiana Master Farmers Jim and Jane Gillooly since he purchased cattle from them in 1982. Bishop, named a Master Farmer in 2018, says his friendship with the couple is what led him to nominate them as Master Farmers. Some of the statements he included in his nomination letter sum up Jim and Jane's lives succinctly.
"While Jim has excelled at every aspect of his profession, the area I would most like to emphasize is his concern for family, friends, neighbors — basically everyone he meets," Bishop says. "His attitude of putting others first has been an inspiration and a mentor to me and my family, as well as many others in his circle of family and friends.
"They both put the needs of others ahead of their own, and the community around them has seen that often. This servant attitude is what I believe most qualifies them for consideration as Master Farmers."
Barry Jordan, Rensselaer, Ind., knows more than just a few things about cattle in his own right. He commented on Jim's contribution to the cattle industry in supporting his nomination.
"I think the thing that truly shows his qualification for this award is his dedication to always make life better and more successful for those in agriculture," Jordan says. "He is a world-renowned cattle judge. This has never been an easy task for those who take on this responsibility. Jim's unique and astute ability to evaluate an animal's makeup and physical traits have put him in high demand to judge shows throughout the U.S. and around the world.
Related:Gilloolys value faith, family and friends
"In addition, he has the ability to clearly and accurately describe and defend his evaluation. Cattle exhibitors can sense his deep desire to fairly place their animals, to share what he saw and to explain the differences."
Sincerity matters
Joe Peden, Monroe County, Ind., is a fellow cattleman and was named a Master Farmer in 2005. Here is what he says about Jim and Jane:
"Jim and Jane's accomplishments in life could be summarized by saying that their first priority is their Christian faith," Peden says. "They are filled to overflowing with integrity, honesty, kindness, generosity and prayerful concern for others. They have instilled these qualities in their children and grandchildren as well."
Keeping employees is challenging for almost everyone these days. Greg Stuckey has worked for the Gilloolys for 40 years. He was honored to share his thoughts in supporting their nomination.
"Jim is the first one to help out anyone who is in need of advice, help or guidance in respect to improving their cattle herd," Stuckey says. "The amount of effort he has dedicated to other cattlemen and neighbors to help them succeed is immeasurable. Jim [can] converse with the most highly educated and with the individual that has a limited aspect of how to make an agricultural program succeed with equal grace. That is a quality or gift that is not seen much these days. He is one of those rare individuals you can talk with and feel that he is truly interested and truly cares. Almost immediately, one would feel a friendship develop."
Kerri Dalton shared these thoughts about her mother, indicating why she is such an important part of her parents' success. "There is no doubt in the minds of many who have spent their life farming that behind every good farming man is a very patient, loving, caring and strong wife and mother," Dalton says. "My mom has had many roles as family bookkeeper, cow checker, calf deliverer and nursery maid, and many more.
"She has been the calm during, in the middle of and after many storms, and has soothed many a wounded soul after a concerning season of crop farming and cattle raising. … She has been the one praying behind the scenes while trying not to worry or be anxious, knowing that farming-related mishaps can happen at any moment."
About the Author(s)
Subscribe to receive top agriculture news
Be informed daily with these free e-newsletters
You May Also Like
---