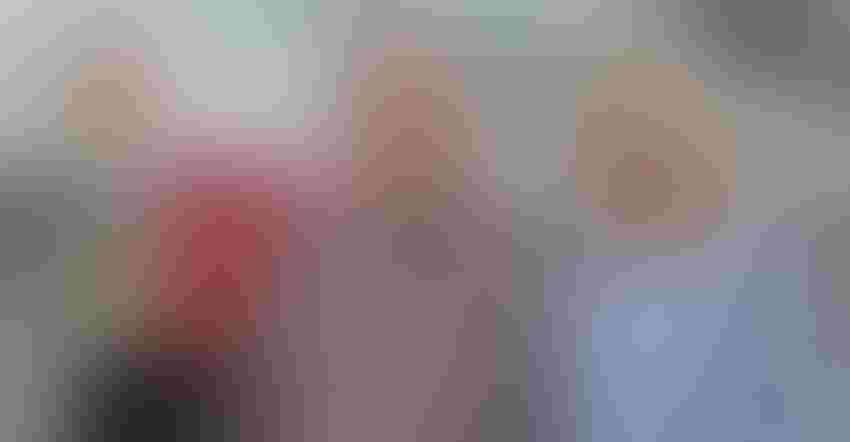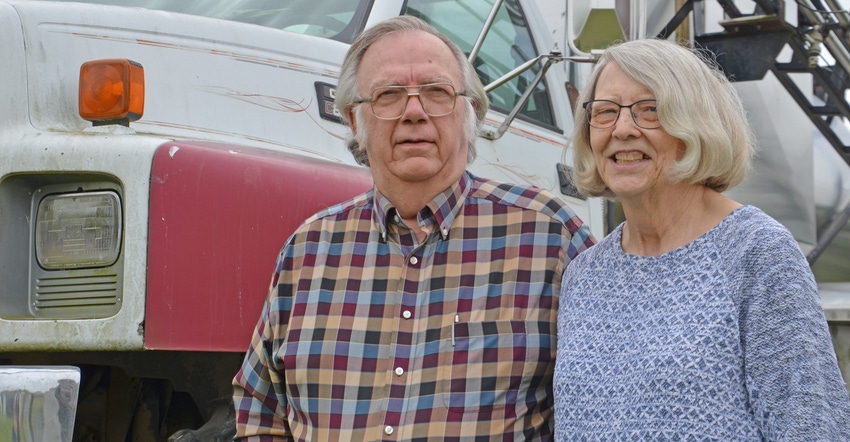 SERVING OTHERS: Jim and Carol Jo Droege have found unique ways to serve their community and agriculture throughout their lives.
Tom J. Bechman
Jim and Carol Jo Droege are 2020 Indiana Master Farmers. Growing up, Hans Schmitz looked up to Jim as a hardworking farmer with a healthy interest in other things. Schmitz spent time at the Droege farm because he and Jim's son were good friends.
"Daylight would see Jim out of the house to the farm office, whereupon farm chores with the grain operation, feeding pigs, doing his own taxes for the operation or a number of other things would be completed," Schmitz says. "Upon day's end, Jim would either take off to a meeting with the myriad of community organizations with which he volunteered, or a book would enter his hand, usually a biography of a founding father or Revolutionary War leader. His work ethic was only eclipsed by this thirst for knowledge. Jim Droege served as an excellent adult role model in my youth."
Today, Schmitz, Posey County Extension ag educator, sees Jim on a different playing field, and is still impressed.
"I regularly speak with Jim due to his service on the county Farm Bureau board, the soil and water conservation district and other entities," Schmitz says. "When a local TV newsperson contacts me looking for a farmer interview, Jim is my first contact. We communicate consistently on new county ag statistics and crop conditions, ensuring we have consistent messaging to the community about agriculture in Posey County."
Related:Droeges believe in conservation and community
What others say
Mark and Sheryl Ann Seib work alongside Jim in various groups. The Seibs say he is a kind and caring individual who is quick to put others before himself, adding, "He works tirelessly to make the community a better place to live."
One of the ways the Droeges serve their community is through Partners in Food, an organization that raises money and donates meat and other foodstuffs to food pantries. Jim is one of the original four founding members. A neighbor, Marvin Redman, is another co-founder.
"Jim serves as spokesperson for Partners in Food," Redman says. "Each year we hold an appreciation meal that more importantly serves as an informational meal. Jim serves as emcee and keynote speaker, sharing the stage with reports from all the food banks served that year.
"Some of the food banks report they would not exist without the help and reliability of Partners in Food. Partners in Food, meanwhile, would not exist without Jim Droege."
Bill Field, Purdue University Extension ag engineer and farm safety specialist, became acquainted with Jim when he and Carol Jo agreed to be part of a video reenacting a close call Jim experienced in a grain bin entrapment incident.
"The final product [the video] was very impressive," Field says. "It's not often that someone who has experienced a close call is willing to go through it again for the purpose of helping prevent others from experiencing the same type of incident.
"Conservatively, I estimate that over 18,000 have viewed the video, not counting those who viewed it from direct sales across the U.S. I believe this resource has saved lives. Jim's lifetime commitment to agriculture is well-recognized."
Jim has volunteered countless hours toward soil and water conservation efforts, including spending two years as president of the Indiana Association of Soil and Water Conservation Districts. Ray Chattin, a Knox County farmer and timber producer, and member of the State Soil Conservation Board, comments on his contributions.
"Jim's leadership and work ethic are an enduring legacy to Posey County and Indiana," Chattin says. "In my many years of traveling to meetings with Jim, I was always impressed with his sense of community, his willingness to innovate and advocate for the good of agriculture."
About the Author(s)
Subscribe to receive top agriculture news
Be informed daily with these free e-newsletters
You May Also Like
---