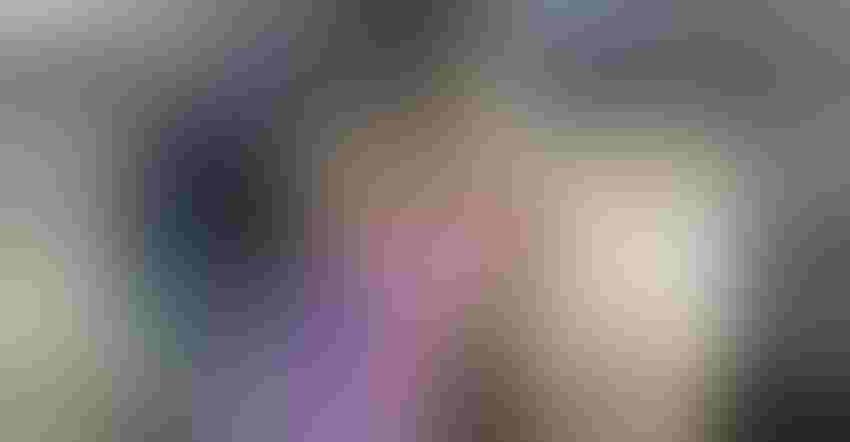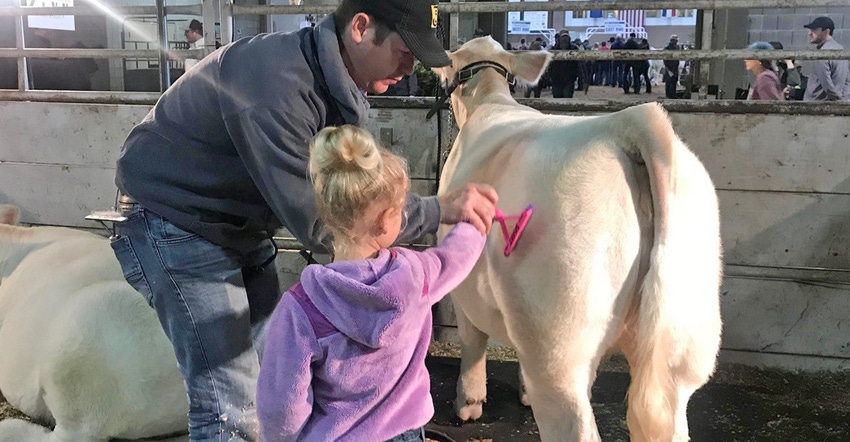 TEACHABLE MOMENT: Kevin Johansen shows daughter, Harper, how to comb a Charolais heifer. Kevin and his wife, Jamie, are active in the Missouri Young Farmers and Ranchers committee.
Jamie Johansen understands the issues facing today's younger farming generation. After all, she is a fourth-generation farmer raising beef cattle along with her husband, Kevin, near Lebanon, Mo.
The newly selected 2019 Missouri Farm Bureau Young Farmers and Ranchers chairwoman says no matter what the commodity or location, young farmers are presented with challenges.
"Some of our farmers are thinking about them," she says, "but not talking about them."
But they are real. Johansen peels back the outside layers and offers an inside look at a few thoughts nagging in the minds of today's young farmers and ranchers.
Dollars and cents
"I think we will always and forever be faced with the financials of how," Johansen says. "How do we get into farming? How can we make it work?"
The next generation comes at farming with love, passion and commitment to the industry, but Johansen notes it must make sense financially. That is where the problem arises.
"Whether you are coming back to the farm or starting out on your own, it has to support you and your family," she says. Johansen recalls a number she heard while sitting in on a breakout session in the recent Young Farmers and Ranchers conference that 82% of farm dollars come from off the farm. "It should be the opposite," she says. "We should be saying 20% comes from off-farm."
Changes to beginning farmer programs could provide a path for farm ownership. Currently, because of off-farm jobs, many young couples can't qualify because they have too many assets — such as homes, cars or boats. Many are left to rent the family property, liquidate assets or save up more money by working additional off-farm jobs.
"It is just hard for young farmers to get the boost they need to start," Johansen adds.

BETTER TOGETHER: Jamie and Kevin Johansen are committed to making their farming operation in southwest Missouri work. They know part of it involves staying involved in farming organizations such as Missouri Farm Bureau. 
Stress
Despite their eagerness and enthusiasm for agriculture, young farmers are not immune to worry. Markets, trade and Mother Nature stresses the next generation.
Then there is the concern over when and how to take over the farm while keeping strong family relationships. Young farmers are thinking estate planning even when their parents are not. How they go about bringing up those conversations creates additional stress, something not endured by those in traditional 9-to-5 job settings.
Johansen says anxiety and depression affect all ages. However, she hopes young farmers getting together with their peers can relieve some of the pressures, if only by talking it out.
"We took an 'attitude of gratitude' as our theme for this year's conference," she says. "We wanted to try to lift others out of the negativity surrounding the farm economy and farm market." Young farmers were challenged to think simple and be grateful. "From the air we breathe to the friends and family we have," she says, "there is always something to be positive about."
Relationships
For many, farming is a solitary career. Individuals often spend countless hours working alone feeding livestock or in a tractor cab. Then for their sacrifice, they often are the target of media or consumer scorn from how they treat animals to producing high fructose corn syrup.
For Johansen, gathering with peers always is about building a network — a support system. "It is an awesome opportunity for us to learn from each other," she says.
Organizations such as Missouri Farm Bureau Young Farmers & Ranchers help. "I hope we are a source of education," she says. The group provides resource tools no matter the type or size of operation, whether it is five chickens, two cows or 6,000 acres of row crops.
Conference workshops offer tips on financial planning, farm transition and mental health. More importantly, she says, young farmers walk away with a core group of like-minded individuals that have the same passion and commitment to the industry.
"We need to make sure we are opening up, sharing what we have and taking what we learned and keep these conversations, these relationships, alive when we return to home," she says. "At the end of day, we need each other."
Johansen says despite all the trials her generation is ready to work. "We will not always talk about gloom and doom," she says. "For us, it is about being able to see our challenges and encourage each other to make it through."
About the Author(s) Editor, Missouri Ruralist
Mindy resides on a small farm just outside of Holstein, Mo, about 80 miles southwest of St. Louis.
After graduating from the University of Missouri-Columbia with a bachelor's degree in agricultural journalism, she worked briefly at a public relations firm in Kansas City. Her husband's career led the couple north to Minnesota.
There, she reported on large-scale production of corn, soybeans, sugar beets, and dairy, as well as, biofuels for The Land. After 10 years, the couple returned to Missouri and she began covering agriculture in the Show-Me State.
"In all my 15 years of writing about agriculture, I have found some of the most progressive thinkers are farmers," she says. "They are constantly searching for ways to do more with less, improve their land and leave their legacy to the next generation."
Mindy and her husband, Stacy, together with their daughters, Elisa and Cassidy, operate Showtime Farms in southern Warren County. The family spends a great deal of time caring for and showing Dorset, Oxford and crossbred sheep.
Subscribe to receive top agriculture news
Be informed daily with these free e-newsletters
You May Also Like
---