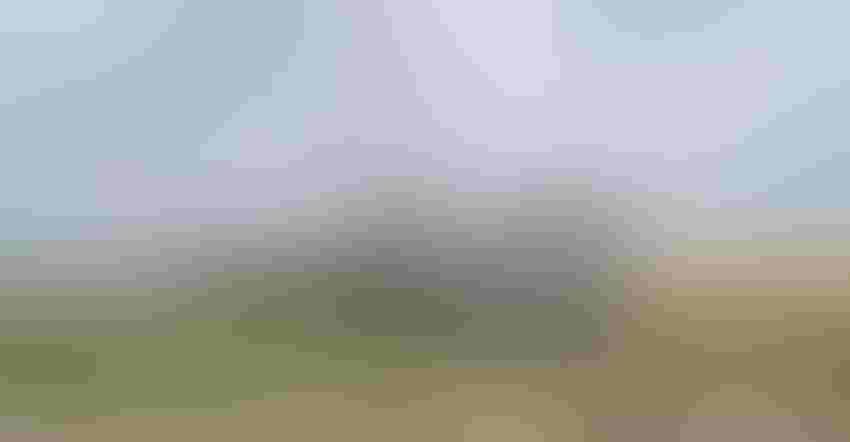 RURAL SPIRIT ON DISPLAY: This line of trucks awaiting loading during wheat harvest is helping to bring in the harvest for a family needing help after a personal tragedy. It's a great embodiment of the best of rural America, but is it the entire reality?
P.J. Griekspoor
"America's farmers are not what some people think." So begins a new video from the MN Millennial Farmer, posted Oct. 28 on Facebook. As I write this, it has already been viewed more than 2.6 million times. The star of the show, Zach Johnson, invites people from all walks of life to see the good in rural America.
He and several other farmers are combining a neighbor's beans as the family grieves the loss of a father, husband, friend, neighbor and great farmer. Such images of friends reaching out to help a neighboring family in need generates positive and affirming responses of the best that is rural America. It truly is a heartwarming scene.
That said, are we really that good, that compassionate and that affirming in other ways as well? The perception of ourselves is likely closer to the mythical image of who we think we are than the reality. After all, we rarely like to show the darker side in public, correct?
Rather, we put our best face on, offer a helping hand or clasp hands, give bear hugs and smile for all the world to see. Then, we go to our corner and remember our grudge; the lost bid for that piece of land, or that lease that the neighbor took away from us, as if it were yesterday when it all came down.
Social media also offers a window, not only on the world's stage, but it invites the world to see us in all our glory, warts and all. The Twittersphere, and Facebook, where agriculture prominently displays captivating images of country life, both reveal excruciatingly poor attitudes, biases and phobic opinions that can often be condescending at best and downright ugly and hate filled in the worst possible sense.
Any rural-related topic will do. Talk about firearms regulations and things become ugly real quick. Throw in abortion, immigration or gender issues and we have a potential nine alarm raging inferno in the making.
We haven't even started on issues important to agriculture; trade, the trade war and tariffs, the RFS and ethanol waivers, low commodity prices, rural economic development, etc. And don't even think about throwing in politics or religion into this discussion, or it will be World War III.
Why talk about it, then? It is a window's view of our world, and would we not want to know how public opinion forms when they see us at our best and worst?
Something even more sinister is going on as well. As we exchange ideas, not only on social media but also in coffee shops, at work, even on farms, we have become desensitized to confrontational language and intolerant attitudes. Where an occasional outburst of anger may have been unusual a few years back, it is the current norm. 
Toleration of differing opinions is no longer cool but losing one's cool or disassociating oneself from another individual in response to an opinion is. Losing a friend over a simple difference of opinion is cool, too. When a minor disagreement no longer gives way to reengagement and a fresh attempt at understanding one another dies an early death, we have lost something we can no longer get back.
There is an erosion of trust between individuals, even between friends. No longer are we willing to voice an opinion due to fear, having been burned and humiliated too often. Some friendships are broken, perhaps permanently. This is the real rural American experience for a good number of its residents. 
So, where do we go from here? We have lost our innocence, and we do not know how to get it back. Although I do not have all the answers, I am certain we must begin to restore trust and faith in our fellow man. We must learn again how to listen effectively, to understand what people are trying to say. It is the key to knowing who they are.
One thing Zach Johnson mentioned in his video: he pointed out the different colors of machinery the farmers were using to help their neighbor in need. It really did not matter that they were red or green. What mattered was the farmer operating it, accomplishing one primary purpose.
Agriculture's face in America reflects a kaleidoscope of images, all of which are as diverse and good as anything we see in our vast country. But we must work together to make it better, for all of us.
Penner is a Marion County farmer and past president of the National Association of Wheat Growers. His email is [email protected].
About the Author(s)
Subscribe to receive top agriculture news
Be informed daily with these free e-newsletters
You May Also Like
---