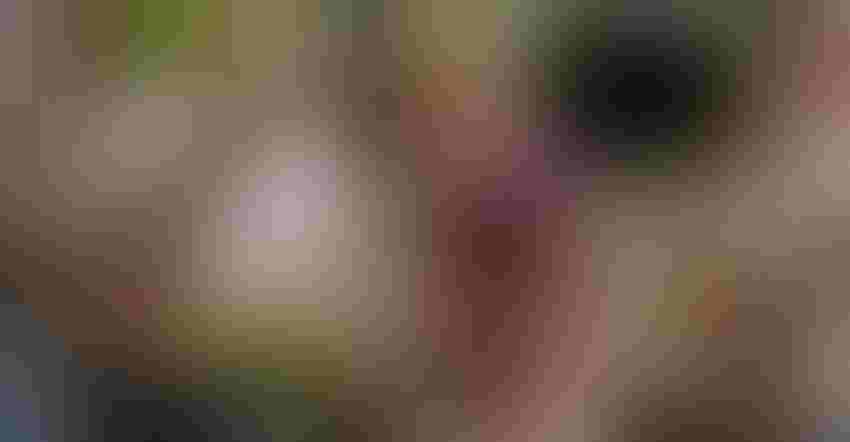 University of California farm advisors who assist growers with agronomic issues are regularly challenged by reduced state and federal funding. Here, Extension Orchard Systems Advisor Elizabeth Fichtner works with walnut growers to understand why segments of some of their trees were dying.
Todd Fitchette
The annual battle to adequately fund University of California Cooperative Extension programs continues to frustrate Glenda Humiston, vice president of the UC Agriculture and Natural Resources Division.
As the annual rate of inflation continues to eat at the flat budget allocations from the state, Humiston struggles to find the revenue necessary to serve farmers and others who benefit from Extension programs.
"It's just so frustrating," she said. "Cooperative Extension is miraculous. If you really think about it, for the money we receive and the return on investment that this state has seen with new crops, new varieties, and economic development in all sorts of sectors – yet the state can't come up with money to adequately fund us."
Humiston was appointed VP of UCANR in mid-2015 after serving more than 25 years in public policy development and program implementation. That included serving as deputy undersecretary for natural resources and environment at the USDA in the Clinton Administration.
Nothing like Extension
She says she took the position because of her experience with Cooperative Extension in previous positions, and a need she saw to vastly improve public funding of its various programs.
"Frankly, there is nothing else out there like the Cooperative Extension model," Humiston said. "That's part of the reason I took the job. I'd been working with Cooperative Extension for over 30 years in previous positions. In those positions I needed Cooperative Extension to be there and to have access to them."
In each of the last several years UCANR has lost about $5 million in funding through inflation and mandated expenditures on top of flat allocations by the State of California.
To attempt to mitigate this, Humiston has forged partnerships with commodity groups and other agricultural associations to help fund the necessary research farmers have come to rely upon from their Land Grant institutions. She continues to work on new projects that could co-fund needed farm advisor positions across the state.
One of these positions seeks to pair livestock producers and landowners in the state to effectively reduce flammable vegetation, an issue that all Californians have suffered through as poor wildland management has led to massive conflagrations leading to loss of life and billions of dollars in economic losses.
Educating legislators, regents
Humiston is also trying to educate legislators and UC regents – none of the 19 current members on the Board of Regents are actively involved in agriculture – on the merits of the agricultural research provided by the 158 advisors and 120 crop and commodity specialists currently working for UCANR. This is down from 202 specialists and 326 advisors in 1990.
Federal Capacity Funds and California's General Fund are the main sources that fund the current crop of advisors and specialists. This continues to force Extension agents to apply for competitive grants and seek outside funding from commodity groups and other sources to continue their research efforts. Among these efforts are projects aimed at reducing or eliminating the use of dangerous pesticides, controlling insects known to kill crops and reduce marketable yields, and breeding commodities that can withstand climate change and drought.
[Friday: A budget conversation with Jeff Silvertooth, who oversees Extension programs for the University of Arizona.]
Subscribe to receive top agriculture news
Be informed daily with these free e-newsletters
You May Also Like
---