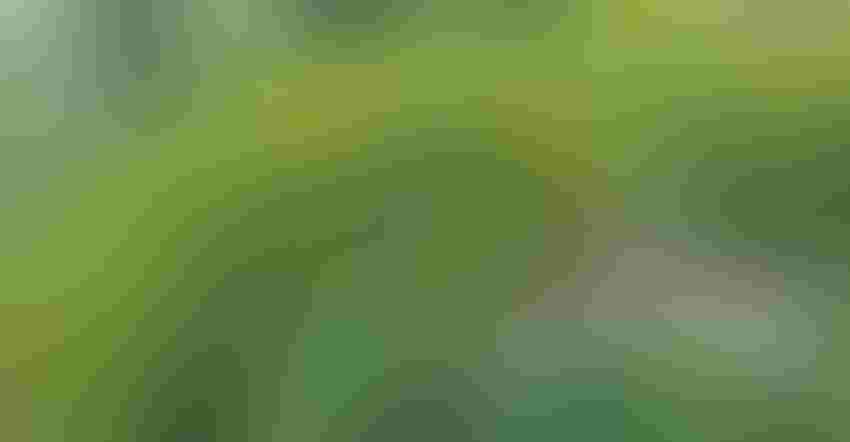 ADDING COLOR: Goldenrods add color to landscape. And while allergy medication commercials may show people sneezing in fields of goldenrod, these plants do not trigger a sneezy reaction.
James Trager
It's time to dispel two myths about a native plant called goldenrod. First, that it causes hay fever. Second, that goldenrod doesn't belong in gardens.
Myth 1: Goldenrods cause hay fever
Have you seen the allergy medicine commercials on television that portray happy people strolling through a field of blooming goldenrod plants? They lead us to believe that allergy medications keep us safe from goldenrod pollen. But goldenrod isn't the problem because goldenrod has heavy pollen that is carried by bees, not the wind. So what causes sneezing in mid- to late summer when goldenrod is blooming?
It's ragweed, a plant that blooms at the same time and has light pollen that is carried on a breeze. Ragweed flowers are dull green, while goldenrod is bright yellow. Showy yellow flowers make the meadow beautiful for the TV camera and the dry-nosed actors that seem to love them.  
Myth 2: Goldenrods don't belong in gardens
Tall goldenrod (Solidago altissima) is a native prairie plant that grows in large patches along roadsides and is an aggressive weed in gardens. In a garden setting, it can sprout from seed, flower and sucker 1-2 feet in a single season. In wild tallgrass prairies, other aggressive species keep it from taking over.
But garden-worthy goldenrods do exist, especially when you give them a little extra effort and attention. However, goldenrods are not low-maintenance native plants. Left alone in a garden, some species will dominate over other plants because they are exceedingly good at spreading from seed. So how do you garden for goldenrods?
Let's look at seeding behavior first. The most aggressive seeders include Solidago rigida (sun), Solidago buckleyi (shade), Solidago rugosa (shade), and Solidago ulmifolia (shade). These species should be used in seeded projects for prairie and woodland reconstruction and abandoned lot revitalization. The lesser aggressive species include Solidago speciosa (sun), Solidago ridellii (sun-rain gardens), Solidago nemoralis (sun), Solidago missouriensis (sun), Solidago drummondii (shade), Solidago flexicaulis (shade), Solidago caesea (shade), and Solidago arguta (shade). This second list of species are garden-worthy, especially when mulched and dead-headed.
Caring for goldenrods
Mulching does two things. It helps keep the soil moist and reduces watering needs. More importantly, when 1 to 2 inches deep, mulch prevents goldenrod seeds (and other seeds) from sprouting. The best mulch for perennials is ground leaf mulch. Keep in mind that it's important to spread the mulch evenly.
Dead-heading is the practice of cutting off all of the developing seed heads just after goldenrods finish blooming, but well before the seeds ripen and blow away. Even though goldenrod pollen is not carried by the wind, their seeds are, so be sure to cut off the heads immediately following blooming during the first two years after planting when new gardens are filling in and getting established. Unfortunately, dead-heading deprives birds of the food they eat in fall and winter. If this is a concern, don't dead-head in year three and beyond, mulch heavily in late winter, and thoroughly weed out unwanted seedlings.
Goldenrod is one of the most important native plants for adult monarchs and other butterflies. It produces an abundance of nectar at just the right time in late summer and fall when monarchs begin their southern migration through the central U.S. to Mexico City.
Goldenrods add a cheery yellow color to the garden from midsummer into fall when asters are also in bloom. Together, this combination can brighten the dreariest yard and feed the hungriest monarch population. You can't go wrong with goldenrods as long as you remember to garden for goldenrods.
Woodbury is a horticulturist and curator of the Whitmire Wildflower Garden at Shaw Nature Reserve in Gray Summit.
Subscribe to receive top agriculture news
Be informed daily with these free e-newsletters
You May Also Like
---