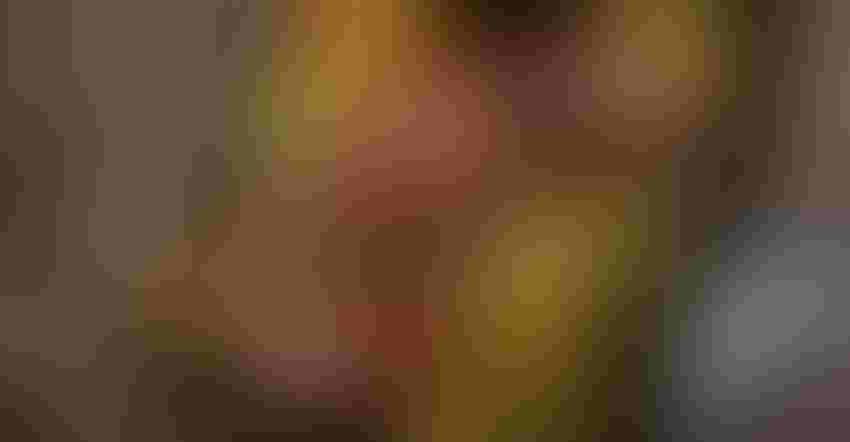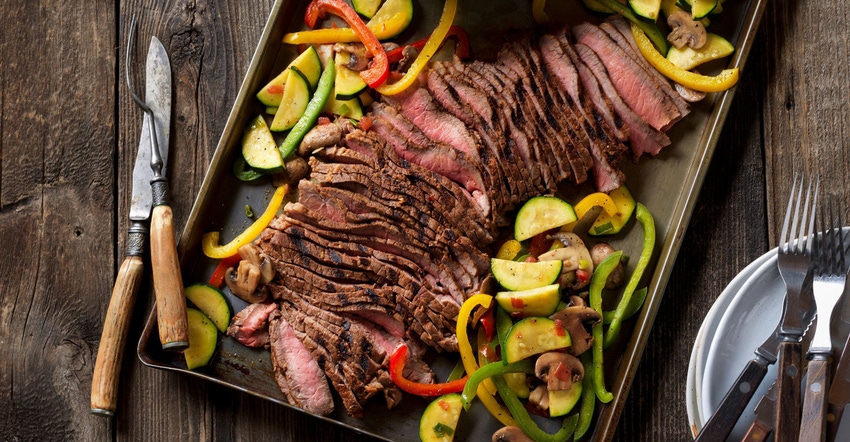 COOKED: This platter of steak and veggies feeds six.
National Cattlemen's Beef Association
I grew up showing cattle and filling our freezer with the steers we showed. To us, a balanced meal meant meat from the freezer and vegetables from the garden.
Things have changed.
The basic dietary guidelines now encourage us to make half our plate fruits and vegetables, a quarter lean protein and another quarter whole grains and lean dairy. Red meat is definitely not in vogue anymore. And that's a concern for any beef producer.
Tufts University's Health & Nutrition Letter outlined the concerns about red meat in a recent article. "It's red meat in particular, along with processed versions such as bacon and salami, that's been in the bull's-eye of recent research," the article states. "Eating too much red meat has been linked to chronic conditions including heart disease, diabetes and cancer."
The article goes on to state that the blizzard of scary studies doesn't mean you have to swear off red meat altogether. But they recommend Americans include fish at least twice a week, along with an occasional steak or burger. Choose the leaner cuts, limit portion size and use fresh rather than processed meats, they say.
That's good advice for anyone, but it can also be a good way for beef producers to counter the negative thoughts about red meat as we head into grilling season.
"When I come across someone who says they don't eat red meat, I ask them why," says Stacy Lorenz, director of outreach and promotion for the Illinois Beef Association. "Why do they think it's not healthy? What are your concerns?"
Then she gives them the facts — that beef has 10 essential nutrients, and there's nothing better tasting than beef on the grill, she says.
Here's a recipe from the National Cattlemen's Beef Association that tastes great, with plenty of vegetables and those 10 essential nutrients we all need.
Grilled Southwestern Steak and Colorful Vegetables
1 beef top round steak, cut 1 inch thick (about 1.5 pounds)
Marinade:
¼ cup fresh lime juice
¼ cup prepared mild salsa
1 tablespoon chopped garlic
1 tablespoon olive oil
1 teaspoon ground cumin
½ teaspoon coarse grind black pepper
Colorful vegetables:
2 tablespoons olive oil
1 medium green or red bell pepper, cut into ¼-inch strips
8 ounces sliced button mushrooms, ¼ inch thick
2 cups sliced zucchini, ¼ inch thick
¾ teaspoon ground cumin
½ teaspoon salt
¼ teaspoon coarse grind black pepper
1 cup finely chopped tomatoes
¼ cup chopped green onions
Combine marinade ingredients in small bowl. Place steak and marinade in food-safe plastic bag; turn steak to coat. Close bag securely and marinate in refrigerator 6 hours or as long as overnight, turning occasionally.
Remove steak and discard marinade. Pat steak dry with paper towels. Place steak on grill over medium, ash-covered coals. Grill, covered, 12 to 14 minutes (over medium heat on preheated gas grill, 16 to 19 minutes) for medium rare (145 degrees F) doneness, turning once.
Meanwhile, prepare vegetables. Heat 2 tablespoons olive oil in large nonstick skillet over medium-high heat. Add bell pepper; cook and stir 1 to 2 minutes or until crisp-tender. Add mushrooms, zucchini, cumin, salt and black pepper; cook and stir 3 to 4 minutes or until crisp-tender. Add tomato and green onion; cook and stir 1 minute.
Carve steak into thin slices; season with salt as desired. Serve with vegetables. Serves 6.
Per serving: 277 calories, 13 grams of fat, 3 grams of saturated fat, 77 milligrams of cholesterol, 303 milligrams of sodium, 8 grams of carbohydrate, 2 grams of fiber, 45 grams of protein.
Fargo is a dietitian for Hy-Vee in Springfield, Ill. Send recipe ideas to her at [email protected].
Subscribe to receive top agriculture news
Be informed daily with these free e-newsletters
You May Also Like
---