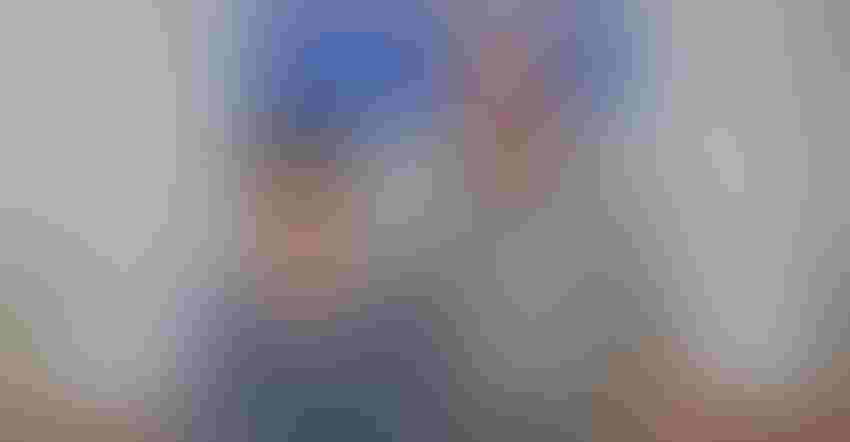 FAITH FIRST: Following their faith has helped Gloria and Dave Sommer overcome challenges and enjoy the benefits farming can offer.
Tom J. Bechman
David Sommer, Berne, Ind., recalls possessing a passion for farming even as a young boy. Once he graduated from high school in 1963, his passion kept him at home, farming with his dad, Willis.
One early challenge was his commitment to his country, serving six years in the Indiana National Guard.
"Gloria and I were in this together by the mid-'60s, and we grew the farm little by little," Dave says. He and his dad officially incorporated some equipment and 460 acres as Sommer Farms Inc. in 1978.
"Then came the 1980s," Dave sighs. "It was tough, but when we came out the other side, there were some opportunities, and we continued growing slowly."
The couple increased their cow numbers. "I spent lots of time in the milking parlor," Gloria says. "The kids practically grew up there."
Tight budgets weren't the only challenge they faced. In 1988, a major barn fire destroyed their milking facility. Faith and friends helped them through it.
"Max and Karen Beer live nearby, and they offered their milking parlor," Dave recalls. "We strung an electric fence across the fields to move cows over. They milked, then we milked. Often, it was Gloria milking. It was about three months before we could milk here again."
Moving forward
Kevin Girod, daughter Lisa's husband, joined the farm in the 1990s and is still an integral part today, especially with the crops operation. They use technology to push yields as much as possible.
Related:What others say about David and Gloria Sommer
"We have manure custom-hauled so we can get it to fields where we need it, and we use it as a resource," Dave explains. "We usually inject manure on about 600 acres each year."
They use grid soil sampling through a crops consultant, with the goal of sampling each field every two years, and apply nutrients using variable-rate technology to bring levels to where they should be.
The farm uses minimum tillage, often running a field cultivator over soybean stubble before planting corn. They also use a vertical-tillage tool in certain situations. They modify tillage practices somewhat, Dave notes, because of the significant number of acres injected with manure each year. Once planting begins, their youngest son, Lance, plants corn while Girod plants beans at the same time, trying to maximize available working days.
Some fields require grass waterways to minimize soil erosion and help prevent gullies. They also installed filter strips to protect water quality where they fit.
Right decision
The dairy operation consists of about 300 milking cows, plus 300 replacement heifers. Lance concentrates on the cattle.
In 2013, they were at a crossroads, milking fewer cows than today but realizing that to get larger, they would need more hired help. Then someone suggested robotic milkers.
"I wasn't too keen on the idea at first. It requires a big upfront investment," Dave says. "Basically, you trade the investment to drastically reduce labor costs later. We did a lot of travelling to look at other installations, and lots of thinking. Finally, we made the leap."
They installed five Lely robots. "Looking back, it was the right decision," Dave says. "It's a fit for us because we don't have extra labor."
He notes, though, that robotic dairying actually requires more management. Lance tracks each cow through computer connections, spending lots of time in the barn.
Today, Dave and Gloria concentrate on getting heifer calves off to a good start. They use an automatic feeder for calves still on milk. As heifers grow, they move to different pens within the same barn.

NEXT GENERATION … OF HEIFERS: Dave and Gloria take care of calves today, starting with these young heifers still on milk replacer. Sommer Farms raises its own replacements.
Robots weren't the last investment Dave and Gloria made. They significantly upgraded their grain center in 2019, adding more storage capacity.
"That's an investment for the next generation," Dave says. "We're proud of all of them, and hope the operation continues."
David and Gloria Sommer at a glance
Age: 74 (David)
Location: Berne, Adams County, Ind.
Started farming: Dave began farming with his mom and dad, Willis and Ruth, after graduating from high school in 1963.
Married: 1967
Farming entity today: Sommer Farms Inc. consists of a dairy with robotic milkers and a crops operation. Family members involved include Kevin Girod and Lance Sommer.
Crops: Corn, soybeans, wheat, alfalfa and forage sorghum for feed
Tillage methods: Minimum tillage, sometimes using vertical tillage
Livestock: 300 milking cows plus about 300 replacement heifers of varying ages
Employees: Family members previously mentioned, plus Jon Kohne and grandsons Brady and Bryan Girod
Children: Lisa and (Kevin) Girod, Leann and (Denny) Schwartz, Lanette and (Brent) Buchan, Lance and (Nan) Sommer, 10 grandchildren, one great-grandchild
Leadership: Dave, Gloria and Sommer Farms were Corteva Featured Farmers at the 2019 Indiana State Fair, and the farm was a host for the 2015 Purdue Farm Management Tour. Dave is a past board member of the Adams County Planning and Building Commission, representing agriculture. Gloria was grand marshal of the Adams County 4-H Parade in 2012 and served on the 4-H council. Both Dave and Gloria are active in Pleasant Dale Church.
Nominator: Brad Kohlhagen, Purdue Extension ag educator, Adams County
Notable: Gloria Sommer and Karen Beer are sisters who grew up on a farm. Their parents were Floyd and Bernice Engle. Their farms are independent, but they live so close that they often meet halfway on their lawn mowers for sisterly chats. Karen and her husband, Max, are also 2020 Indiana Master Farmers.
About the Author(s)
Subscribe to receive top agriculture news
Be informed daily with these free e-newsletters
You May Also Like
---