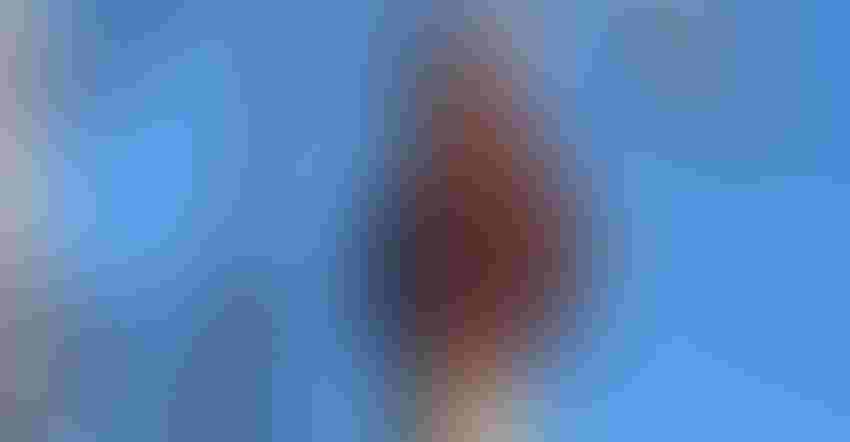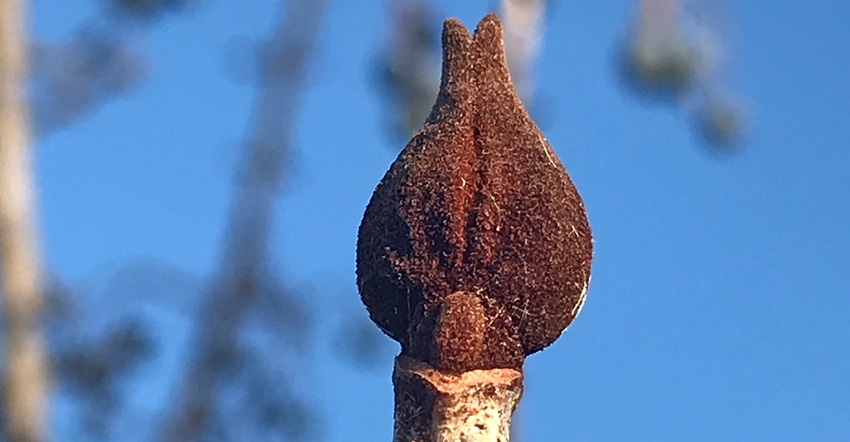 EYE INTEREST: The rusty blackhaw is a native plant that often demands a second look. Its shape and appearance make it seem like an old. dead plant, but it is very much alive.
Scott Woodbury
Rusty blackhaw winter buds are the color of old barbwire with a scurfy texture like ground coffee.
This Missouri native is one of my favorites to observe in winter. Blackhaws are relatively common in Ozark woodlands and should be carefully marked and preserved.
The rusty blackhaw is one of my favorite small-flowering trees because it has four seasons of interest, is remarkably adaptable, fits into small gardens and has a pleasing shape.
Plant specifics
Although it grows well in full sun, it gets overly twiggy and generates suckers, requiring corrective pruning to keep it in shape. In shade, it is open-branched, with more views of the branching structure and alligator-barked trunk. Very old plants will grow slowly into an upright tree, although it takes decades.
At maturity, if grown in shade, rusty blackhaw is upright, relatively narrow and somewhat vase-shaped. It grows 8 to 10 feet tall and 6 to 8 feet wide in 20 years. That's slow, but not as slow as post oak or shagbark hickory.
It is sometimes mistaken for its wide-spreading, mounding cousin, northern blackhaw, which grows 20 feet wide and 10 feet tall in 10 years. Northern blackhaw has smooth, dark, winter buds.

FRUITFUL PLANT: Berries appear on the rusty blackhaw during the fall. This native plant offers visual interest all year long with white flowers in spring, blue berries in fall and brown buds in winter.
Flowers in spring
In spring, rusty blackhaw has white flower clusters that attract native bees searching for sweet nectar. These bees overwinter as eggs in nearby previous-year plant stems. To encourage native bees in your garden, cut perennials. not the viburnum, about 10 to 12 inches high instead of at ground level every late winter, and never remove the short stems.
By April, new leaves grow up to hide the old stems. Remarkably, bees hatch at the same time the flowers emerge, just as they have been for millions of years. But this ancient ritual can't happen without nectar to feed these bees, from native viburnums and other spring-blooming natives that exist in nature and in your garden.
Edible fruit
In summer, the fruits turn verdigris, then transition to a blush of rose before turning dark purple when they are ready to eat. Like grapes, they get sweeter the longer they stay on the plant and eventually resemble raisins.
The pulp has a grainy texture like tamarind, which is better processed than eaten raw. At this point, they are sweet, yet a little mealy. Although I enjoy eating a few of them every year picked on a fall hike, I rarely find enough berries to cook into jam, which is an old Ozark tradition.
For gardeners, unreliable fruiting is rusty blackhaw's downfall. So also is its tendency to produce suckers and stray branches that may give your juvenile shrub a lopsided appearance.
Woodbury is a horticulturalist and curator of the Whitmire Wildflower Garden at Shaw Nature Reserve in Gray Summit, Mo. He also is an adviser to the Missouri Prairie Foundation's Grow Native! program.
About the Author(s)
Subscribe to receive top agriculture news
Be informed daily with these free e-newsletters
You May Also Like
---