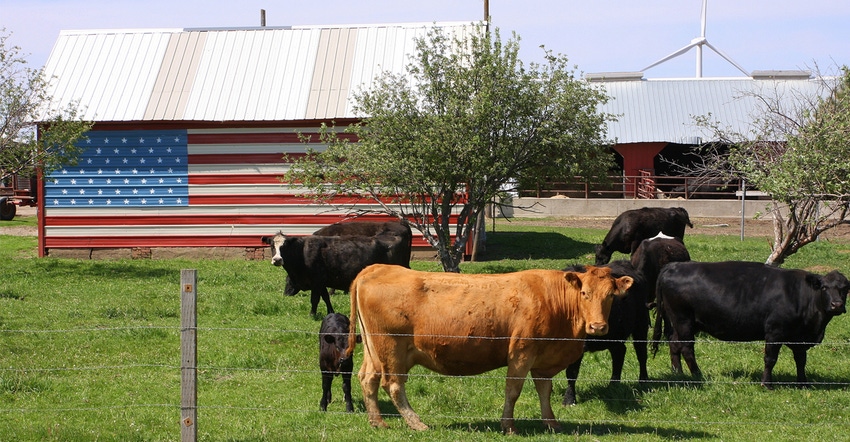 DAY IN, DAY OUT: U.S. farmers and ranchers put in long hours every day of the year to produce food and fiber for an ever-growing population, much of the time under harsh criticism.
DarcyMaulsby/Getty Images
You're No. 1!
I'm not telling you anything new when I write that agriculture is hard, unforgiving work. At times, it can even seem unrewarding. All too often it seems like it's the 2% against the rest of the world.
Far too many people have never had dirt under their fingernails, yet a lot of those are the same people who believe they have the knowledge of how you should be raising your crops and livestock.
Farmers and ranchers are some of the best people I know. And the men and women who call agriculture their business, their vocation and, probably more importantly, their life, bust their butts day in and day out to feed a world that at times seems ungrateful. But yet, you continue to provide the safest and most plentiful supply of food and fiber for our growing population.
And what much of the populace fails to see is that you the farmer and rancher are doing this with less of a footprint, both physically and environmentally.
Ag Day honors your work
March 22 is National Ag Day, the one day each year that is set aside for schoolchildren and communities to become more aware, or to be reminded, of the impact agriculture has on their communities and world.
According to a National Ag Day press release, the National Ag Day program encourages every American to:
understand how food and fiber products are produced

appreciate the role agriculture plays in providing safe, abundant and affordable products

value the essential role of agriculture in maintaining a strong economy

acknowledge and consider career opportunities in the agriculture, food and fiber industry
It's nice that the rest of the country sets aside a day to recognize the hard work and sweat that you put in every day of the year, regardless of conditions.
The theme for this year's Ag Day is "Growing a Climate for Tomorrow." Of course, climate change grabs a lot of headlines, and all too often fingers are pointed at farmers and ranchers as the cause of said climate change. Belching and farting cows, of course, are the root of the greenhouse gas emission problems that are causing climate change, or so we are being led to believe.
To blame the bodily functions of our 93 million cattle and calves in the United States for the ills of our environment is shortsighted. Simply compare the skyline over an urban center to that of the rural plains of our country. I'll take my chances with the burping and farting cows over the honking of auto horns and exhaust any day of the week.
Just as U.S. cattle can't be blamed completely for climate issues, neither can the U.S. hog industry. According to the Pork Checkoff, today's U.S. pork producer is truly doing more with less. Hog production is up, but producers do more while using 75.9% less land, 25.1% less water and 7% less energy with 7.7% fewer carbon emissions compared to six decades ago.
Change for the better
Technology and research have also helped the U.S. crop farmer do more with less. Farmers have become better stewards of the land by making better use of the fertilizers, herbicides and pesticides they use to produce the foods for human or animal consumption.
More farmers are becoming even better stewards as they are slowly adapting to the ways things used to be, learning from what Mother Nature tells us about how to treat the soils, much like she did prior to the prairie sod being turned over. Reduced, or even no, tillage, and organic and regenerative agriculture are practices now being subscribed to by more farmers.
These practices not only positively impact our air, water and climate, but also help improve people's attitude toward today's farmers and ranchers.
Regardless what others may say or think, you are the best at what you do, providing a safe, abundant and cheap food supply. Don't let anyone tell you any different. We will keep telling your story on how and why you do it, and please join us by sharing your stories.
You will continue to do your part, because that's the right thing to do. Hopefully, the rest of the country takes notice on March 22. But we will be there, just as you will be, every other day of the year.
Thank you for being No. 1 at what you do.
Subscribe to receive top agriculture news
Be informed daily with these free e-newsletters
You May Also Like
---