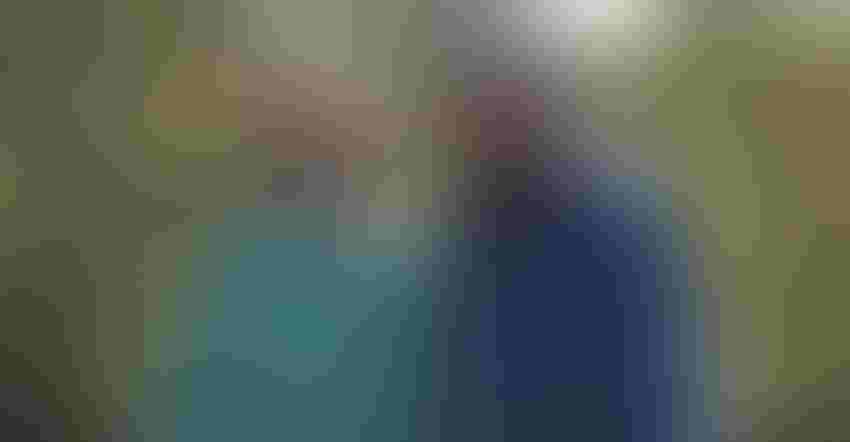 IN THE ORCHARD: This file photo captured Robert Crane with his now late wife, Luetta, in their orchard.
By Stan Maddux
Ninety-year-old Robert Crane still gets around well enough to walk the southwest Michigan orchard passed down from his father. The latest member of the Michigan Farmers Hall of Fame also drives out there sometimes on his Kubota four-wheeler.
The only time Crane wasn't farming is when he flew planes as a pilot during his four years in the U.S Navy.
"He's a funny, funny guy, and he's still got his sense of humor, too," says Laura Bale, one of his daughters.
Crane and his late wife, Luetta, were inducted into the Michigan Farmers Hall of Fame at the Calhoun County Fairgrounds in September.
He held up a picture of his wife during the taking of a portrait of him and his family that now hangs on the wall at the hall of fame in Marshall. She passed away in 2014.

REMEMBERED FONDLY: Robert Crane holds a pictured of his late wife, Luetta. Both were inducted into the Michigan Farmers Hall of Fame.
Crane Orchards in Fennville is not just for picking fruit like it was when his father, H.B. Crane, acquired the property in 1917.
People still flock there to gather apples, peaches and other fruit grown on 180 acres, but they can also get a bite to eat at Crane's Pie Pantry Restaurant or take something home from the hard cider winery.
The center of the restaurant is inside a barn where cows were kept when Robert was a child on the farm, Bale says.
The barn was used for storing tractors and other equipment when Bale was growing up at the orchard.
With five children to feed, she says her parents were strapped for cash when Robert in 1968 began pressing apples into cider to supplement the family's income.
Luetta came up with the idea for the restaurant as an extra revenue stream. "She was not afraid to take chances," Bale says.
At the beginning, strictly homemade pies were on the menu when the doors of the restaurant opened in 1972.
Sandwiches on bread and buns made in-house, along with soups and salads, were later added at the request of customers wanting food to go with their pie, which was made with fruit straight from the orchard.
Bale says the restaurant has grown considerably since the kitchen was up in the loft, and pies, fresh out of the oven, were taken down to customers. Now, there are two kitchens, both on the main level, and seating for up to 80 people.
Bale says there's often a two-hour wait for a table on weekends during their busiest time in September and October. After reserving a table, many people head out to pick fruit and go for a hay ride or wander through a corn maze.
They can also browse the wealth of World War II and other historic memorabilia on display, including models of war planes hanging from the ceiling.
"It's like a museum. There's lots to look at while waiting," Bale says.
Harry Pratley, president of the Michigan Farmers Hall of Fame, says the Cranes fit the criteria perfectly for induction. Generally, he says, inductees have made their livelihoods strictly by farming and have contributed to agriculture in the state in some form of fashion.
Inductees have also given back to their communities through service on various boards and organizations.
People enshrined at the hall also go in as a couple. "Not much happens without the wife," Pratley says.
Visits are paid to nominees, Pratley explains, just to make sure they meet the criteria for induction. He also goes into the rural areas to scout for potential inductees.
Pratley says he was especially impressed with how the Cranes made a better go of it financially without adding acreage, which often happens with struggling farms. "I thought it was kind of a unique way for somebody to make use of what acres they had," he says.
History of hall
The hall of fame was established in 1982. It was disbanded in 201, but resurrected in 2016 by Pratley and his wife, Sharon, after they learned of its plight.
Sharon was interested in saving it because her parents, Roy and Martha Rocco from Ellis Corners, were among the 230 or so inductees.
The Battle Creek couple also relocated it from Barry County and built a strong network of volunteers to help run the facility. "We're in good shape now," Harry says.
Also inducted this year were Gerald and Barbara Surbrook, and Mark and Sheryl Kies.
According to the hall of fame, the Surbrooks are longtime dairy farmers in Jackson County, while the Kies' from Allen County raise corn and beef cattle.
The Surbrooks installed the first large-scale irrigation system in Jackson County in 1977. Gerald has also served on various boards like the Michigan Livestock Exchange, Michigan Milk Producers and the Rives Township Board, where he was supervisor for eight years. Barbara has been a 4-H leader for 30 years.
The Kies own about 1,300 acres and rent 1,600 acres. Both have been active with Michigan Farm Bureau at the local and state levels. Mark also served with the Michigan Corn Growers Association, the Michigan Corn Marketing Program and the Farm Produce Insurance Authority Board. Currently, he serves on the USDA Farm Service Agency county committee.
Sheryl teaches agriculture education at Hillsdale schools through Michigan Farm Bureau's Promotion and Education Program.
The Cranes were also busy out in the community with Robert holding seats on the school board and other committees.
Maddux writes from New Buffalo, Mich.
Subscribe to receive top agriculture news
Be informed daily with these free e-newsletters
You May Also Like
---