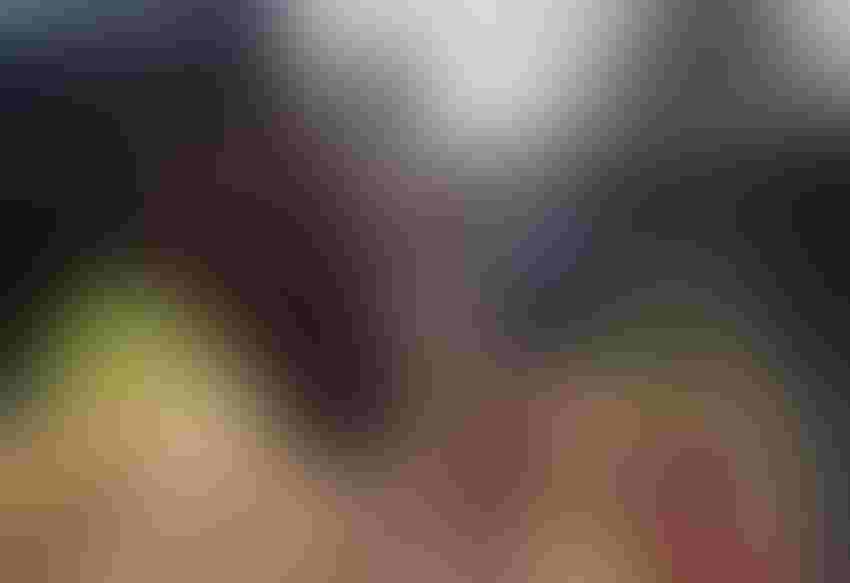 I will never forget the first day the two of them met. Rachel's horse Zeb was basically still a colt learning where he fit in on the ranch, and soon-to-be named Cupcake was a day worker hired to help with the annual calf shipping day.
The early mornings are hot in August, but both steeds sweated through their calf roundup assignments like champs. As "Cuppy" departed for the day aboard the gooseneck trailer, Zeb whinnied loudly for him to "come back soon." And he did.
Daddy bought Cuppy not long after his visit, and he became Daddy's go-to mount, mainly because only my sister was allowed to ride Zeb. Cuppy acquired his namesake from my childhood pony who shared his flea-bit gray color and his propensity for caring for others. This guy never got in a hurry, even when he was heading for a roll in the creek. New Cuppy also enjoys a good roll, especially in the freshest manure he can find.
Maybe opposites attract. For Zeb and Cuppy, opposites undeniably work well together, especially when one of them is adamantly the alpha. Zeb, a shiny, fancy zebra dun, knows he's a natural born leader and has high work expectations from my sister. Meanwhile, Cuppy's soft self is delighted to be told what he needs to do every day and greatly appreciates a good head scratch. From day one, these two were bonded. You will not take one for a ride without ponying the other. They do their best work as a team.
For example, thanks to Zeb's "spirited" nature, Cuppy is the default "company horse." From testy toddlers to talkative twenty-something girlfriends, he has patiently carried whomever is asked of him with his usual aloof grace. Zeb is under the impression that baby-sitting anyone who is not an experienced rider is not part of his job description, so this title for Cuppy is perfectly acceptable to him. Again, Cuppy just enjoys the head scratches.
Zeb also has decided that he is not a fan of male humans. While he tolerates J.B., he would likely not pass up an opportunity to kindly remove one of his soft toddler fingers if they were presented to him through a wire panel. By the same token, he flat-out refuses to respect my brother-in-law or any of his male friends. The idea that my sister would allow him to be ridden by such amateurs infuriated him to the point that during a recent ride, he and Cuppy conspired to remove both grown men from their saddles. Zeb considered that a win since neither has asked to "go riding" since.
This spring, Cuppy has been suffering from laminitis and is on a restricted diet with limited access to pasture grass. Not surprisingly, his furry, friendly self is enjoying the attention he receives at this new barn residence. Zeb, on the other hand, could not be more disgruntled about this separation situation. To protest, he initially paced as close as he could from his pasture fence to Cupcake's pen and spoke frequently to make sure everyone knew he was unhappy. He became so vocal with his insistence to be closer to Cuppy that Rachel decided he could have visitor hours during the day. The morning routine included Zeb fussing at his gate until we turned him in to bolt immediately to Cuppy's quarters, touching noses and pawing at the gate.
Even this contact wasn't enough for Zeb. One day he rattled the gate to Cuppy's pen so often that the chain jumped off (or he took it off with his teeth or both), releasing Cuppy back into the wild. Thankfully, they were both so busy celebrating in the trap that they totally forgot the gate to the main pasture was open. Rachel returned just in time to remedy the situation. After that incident, Cuppy was allowed occasional play/graze sessions with Zeb in the trap but only while wearing a muzzle.
Granted, every time we release muzzled Cuppy to play with Zeb, Zeb drops the concerned best friend act and reverts to bossing him around, making him kick and run in circles, like old times. Cuppy doesn't seem to mind the forced physical therapy, though. As they stand side-by-side in the spring sun over the water trough switching flies with their tails, they rest quietly knowing they'll always have each other. Zeb will make sure of it.
Subscribe to receive top agriculture news
Be informed daily with these free e-newsletters
You May Also Like
---