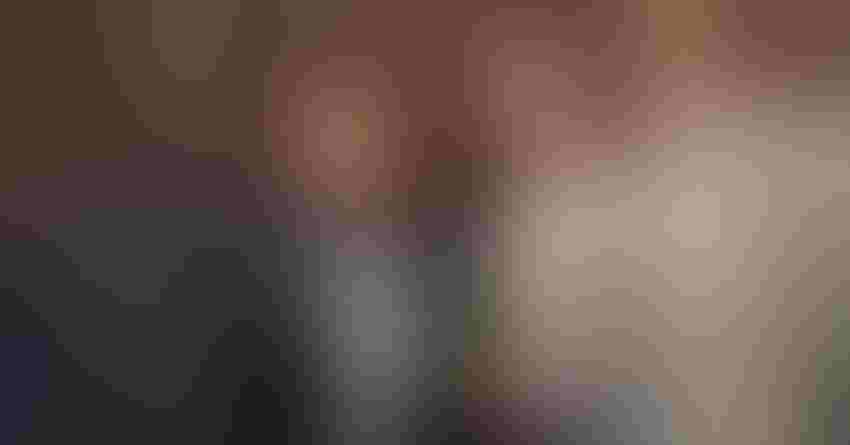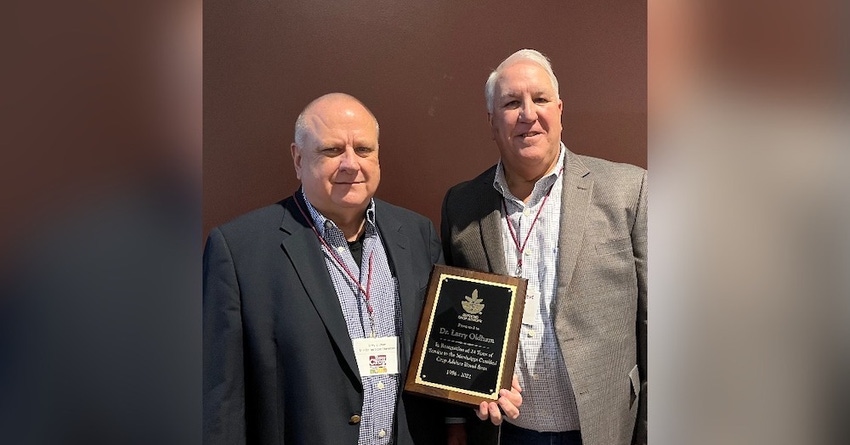 Larry Oldham, (left) Extension soils specialist with Mississippi State University, is pictured with Bruce West, chair of the Mississippi CCA Board. Oldham was recently honored for 24 years of service to the CCA program in Mississippi.
Ginger Rowsey
In 1994, when the term Certified Crop Advisor was still new, Larry Oldham, Extension soil specialist with Mississippi State University, believed crop advisors with a verified certification could take field management decisions to a new level. 
"As more farmers began turning to consultants for advice in decision making, we knew we had a responsibility to provide research-based training to the professional advisors that farmers had come to rely upon," Oldham recalled. 
The CCA certification was established in 1992 to provide a benchmark for practicing agronomy professionals in the United States and Canada. In recent years, the CCA Program has expanded to Mexico, as well as outside North America. 
Oldham was integral to getting the CCA program up and going in Mississippi — a state that at one point had more certified crop advisors than any other Southern state. 
Oldham has served as executive director of the Mississippi CCA program since 1998. Bruce West, current chair of the Mississippi CCA board, said Oldham has proctored every test for the last 24 years. He also kept advisors in the Magnolia State in compliance and encouraged overall improvement in the profession through continued education. 
Oldham is retiring on Jan. 31. His dedication to the CCA program in Mississippi was recently recognized during the annual Row Crops Short Course meeting. Before his official last day, Delta Farm Press caught up with Oldham to discuss the CCA program and his involvement over the years. 
DFP: What inspired you to get involved in the CCA program? 
Oldham: All those many years ago it was heavily hinted to me when I was coming out of graduate school to look into the program because it gave a sense of professional responsibility. If you have a certification, you might know what you're talking about. Because there are people who, quite frankly, don't always know what they are talking about. In agriculture we're dealing with very expensive inputs that are used on wide swaths of the landscape. When you're telling people to use these things, you best know what you're talking about. So, there is a responsibility that comes with it. 
DFP: Why do you think the CCA program has lasted? 
Oldham: With the Certified Crop Advisor program there is a benchmark. You have to prove what you know through an examination procedure. There's some academics, but actually practical experience is very much emphasized, especially in the beginning. Another thing, Certified Crop Advisors are getting continuing education credits. It's called getting your hours. It's all about making sure people are up to snuff on the latest developments in what has been a marvelous evolution of agricultural technology in the last 25 years. 
I think this program needs to continue to develop the next generation of agricultural professionals in the area of crop inputs and soil management. Again, this process is to demonstrate to the people advisors serve on the land that they know what we're talking about and they're customers can have faith in the recommendations they provide.  
DFP: How has the program grown? 
Oldham: We had more numbers when we started. But we've also had a great deal of consolidation in agriculture during that time period. There are fewer entitities. But the science and sophistication is light years beyond what it was. As an example, when I first started working with this program our primary mode of communication was fax machines. I haven't received a fax in at least a decade. Some of my younger colleagues keep asking me, "Why do you have so many paper files?" Well, back in the day we had to have paper. That's just a small example of how we have changed. 
DFP: What are you looking forward to in retirement? 
Oldham: We're relocating to central Kentucky. I'm looking forward to pursuing some non-agricultural and non-soils related interests.  
About the Author(s)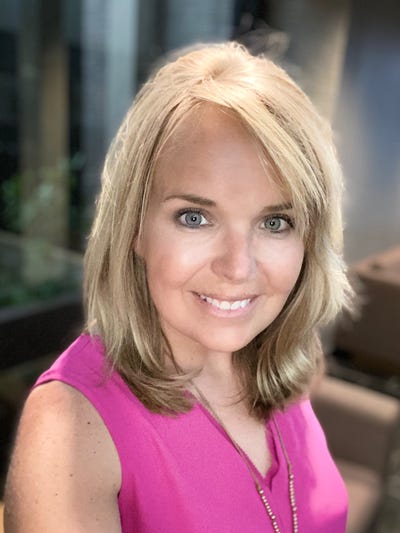 Ginger Rowsey joined Farm Press in 2020, bringing more than a decade of experience in agricultural communications. Her previous experiences include working in marketing and communications with the University of Tennessee Institute of Agriculture. She also worked as a local television news anchor with the ABC affiliate in Jackson, Tennessee.
Rowsey grew up on a small beef cattle farm in Lebanon, Tennessee. She holds a degree in Communications from Middle Tennessee State University and an MBA from the University of Tennessee at Martin. She now resides in West Tennessee with her husband and two daughters.
Subscribe to receive top agriculture news
Be informed daily with these free e-newsletters
You May Also Like
---